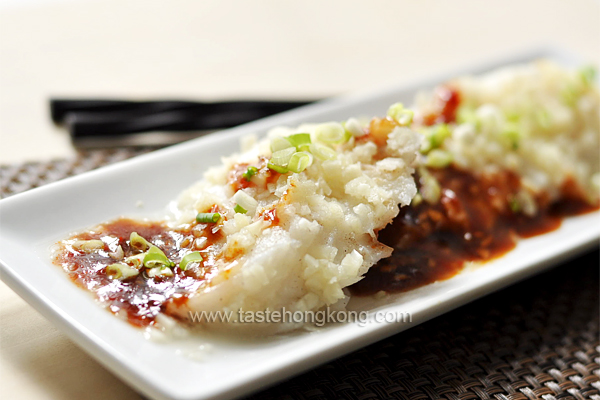 I like steamed fishes which are succulent and smooth, enjoying them especially when served piping hot. Steaming is a popular Chinese Cantonese cooking technique, when adopted for cooking fish helps retain most of their original tastes and textures. But accordingly to Cantonese chefs, not all kinds of fishes qualify for such way of cooking.

Only freshly killed fishes should be used for steaming if we are to take chefs' advice seriously. And minimal ingredients, mostly ginger and green onion slivers, should be applied on them.
I know I have got used to eating fishes the Cantonese way, also the predominant cooking style here in Hong Kong. Yet like the receptive culture here, I also realize that I (and also most people around me) have also developed an appetite for foods of different regions in China, Asia and beyond. Perhaps these might explain why I have bought a fillet of halibut delivered from Greenland, and cooked it by Cantonese steaming, which however is crossed over with a Sichuan style sauce renowned for its hot flavors.
The frozen halibut, after cooked, remains moist while also tasting hot and sour with the sauce but having no clues of fishy smells. I will excuse myself for regarding this as a nice alternative to the classic steamed fishes.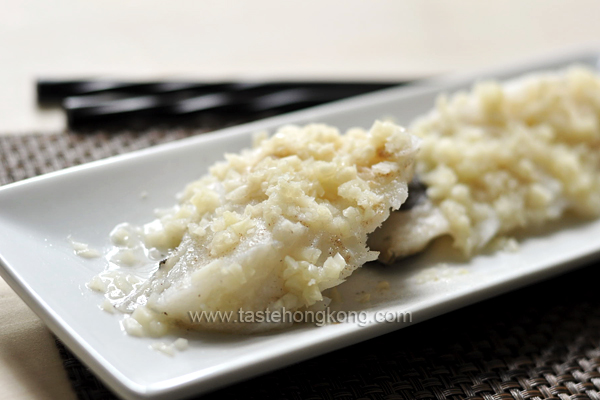 Ingredients
400g halibut fillet
7-8 cloves garlic, finely chopped
1 sprig spring onion, finely sliced
Sauce
1 1/2 tbsp Sichuan chili bean paste, aka douban jiang 豆瓣酱
1 1/2 tbsp Chekiang vinegar
1 1/2 tbsp sugar
2 tsp rice barn oil
1/4 tsp white wine, I use Tianjin Meiguilu Chiew 玫瑰露酒
1/2 cup water
1/2 tsp soy sauce, or to taste
1/2 tsp cornstarch + 1 tsp water for thickening
Marinades for fish
1/4 tsp salt
1/4 tsp ground white pepper
1/4 tsp white wine
Method
Thaw fish fillet; clean it under running water. Put it in a plate and rest it in basin. Pour about 1 cup of hot water over one side of the fillet then turn to the other side and do the same with another cup of hot water. This helps remove the frozen smell of the frozen fillet as I did for this.
Pat dry. Slice it if necessary, I cut mine into an uniform thickness of about 1 1/2 cm.
Set up your steamer or a rack in wok with 2 to 3 cups of water like here for steaming. Cover lid, bring water over high heat to a boil
Lay fish fillet (or fillets) on a steam-proof plate in one layer. Cover it evenly with chopped garlic.
As water boils (steam emits), open lid and lay the plate with fish securely on the rack. Time 6 minutes.
Meanwhile, in a sauce pan over low heat, combine chili bean sauce, vinegar, sugar, oil and water. Swirl to mix well and bring them to a boil. Sample taste, add and adjust soy sauce as required (cause the saltiness of chili bean sauce varies). Thicken with corn starch paste. Now you have your sauce ready as soon as the fish is cooked
If a chopstick pass through the fish fillet easily, it is done. Drain way any water in plate – you need to insulate your hands while holding the hot plate – by gently tilting it but not slipping away the fish and garlic.
Pour sauce over the fish and garnish with spring onion. Serve hot with rice.
Enjoy!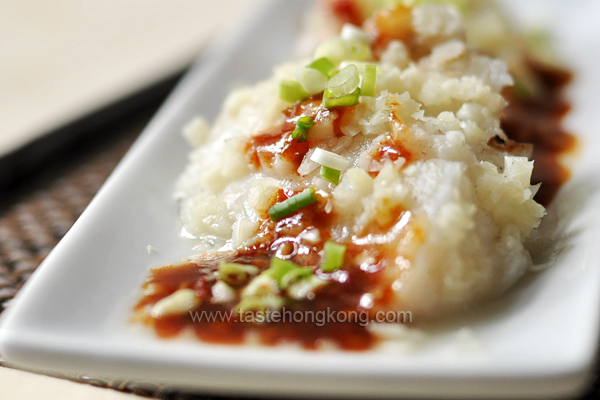 To get immediate updates and new recipes from my blog, you may also SUBSCRIBE them via RSS feeds. See you there.