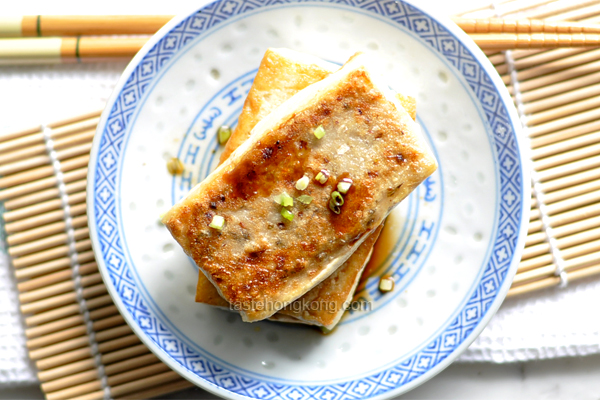 Fried stuffed tofu 煎釀豆腐 was once a popular dim sum dish here dating back to the days when traditional dim sum trolleys were still in used in many restaurants. At that time, there were aproned ladies to propel the trolley (with a built-in hot plate) with which they fried the tofu and various dim sum, such as stuffed peppers 煎釀青椒, water-chestnut cakes 煎馬蹄糕, radish cake 蘿蔔糕, etc.

Well, gone are those days seeing trolleys roving down the aisle as we enjoyed our tea and dim sum dishes.
But stuffed tofu has remained a staple of our home cooking here in Hong Kong.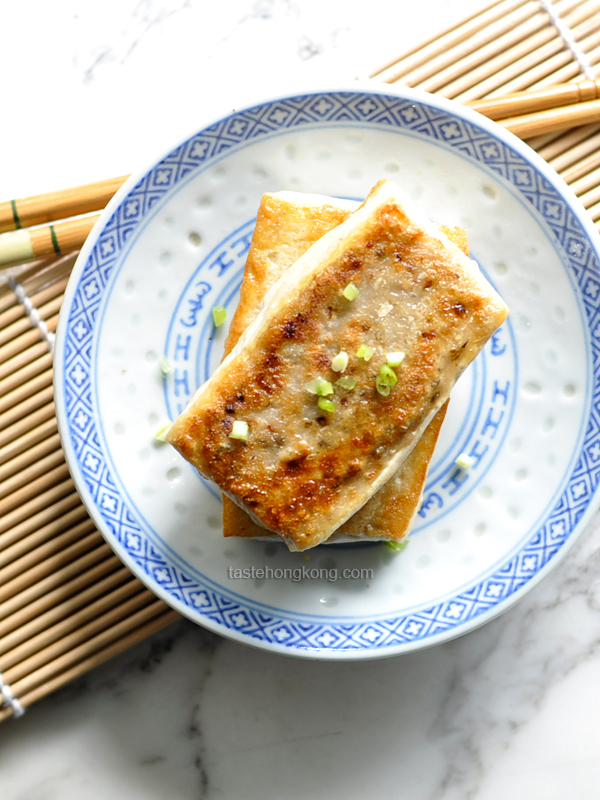 And as convenient as buying tofu, we may easily get fish paste for making the filling from wet markets or supermarkets. At wet markets, in addition to readily mixed fish paste (a mishmash of ground fish meat, starch, seasonings and sometimes with the added of green onion or coriander), there are also pure ground fish meat (also from carp 鯪魚) with which we may add our own seasonings and make our own fish paste.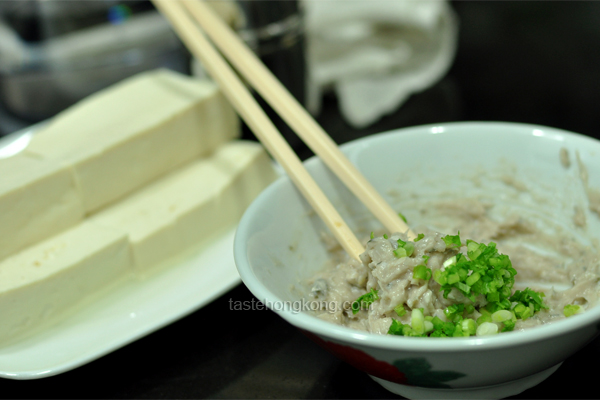 If you have time to ground a fish fillet from scratch, then you may also consider using fishes with firm meat like mackerel or cat fish.
Or , if not using fish meat, you may use beef or pork, ground and also to be beaten into an elastic mass.

Ingredients
450g firm tofu
ground fish meat, 100g
finely chopped coriander or green onion, ~ 1/2 tbsp
~ 1/4 tsp salt (for salting tofu)
~ 1/2 tsp corn starch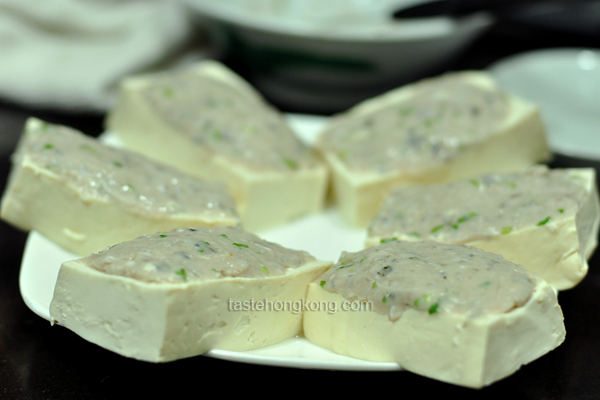 Seasonings for making fish paste
1/4 tsp corn starch or potato starch
1/4 tsp sea salt
1/8 tsp ground white pepper
1 tsp water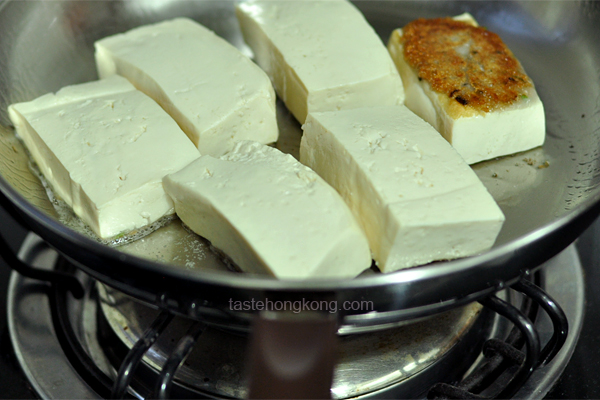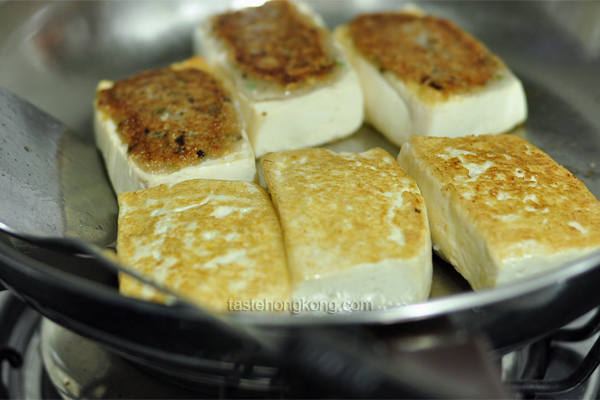 Method
Prepare fish paste
Add all seasonings into ground fish meat. Using a pair of chopsticks, stir the meat in one direction until it turns a sticky and elastic mass. It is important to do the stirring in ONE DIRECTION, about 10 minutes, or the meat won't turn bouncy. Add chopped coriander or green onion, stirring in same direction to mix. Divide the fish paste into 6 portions. Set aside or store in fridge if not use immediately.
* If you use a readily mixed fish paste, skip this step but add seasoning as required.
Salt tofu
Slice tofu into about 2 cm thick rectangle slices (and with a surface of about 8x4cm) . Sprinkle salt over both sides of tofu slices, and let them stand for about 15 minutes.
Blot dry tofu
Right before stuffing, blot dry tofu with clean towel or paper towel. Do not do this too early as tofu exudes water continually.
Stuff tofu
Lay tofu slices flat on dish in single layer and dust a very thin layer of corn starch on their flat surfaces facing upward. Using a small knife, make a roughly 2cm long slit lengthwise in center and halfway down the thickness of each tofu - I do this by holding the tofu in my hand (surface dusted with corn starch side up) . Then push open the slit (but be gentle) from underneath with any one of your fingers. Using a small knife, fill the opening with a fraction of fish paste from any one portion, roughly two to three times the size of the opening, allowing part of the paste to top the tofu. As you stop pushing from underdeneath, the fish paste shall kind of cling to the tofu. Continue to top the tofu with remaining fish paste with the remaining portion. Wet the knife, and gently spread the fish paste evenly on the tofu slice. Repeat this step with remaining tofu slices.
Fry tofu
Over medium flame, heat pan to the point when your palm, resting several cm above it, can feel the heat. Then add oil and distribute it evenly by swishing the pan.
Wait till there are some gentle ripples in the oil along the edge of the pan (see pictures here, a post with tips on "How to Fry Tofu with Crust"). Turn to low flame, gently place in stuffed tofu (fish paste side down) one by one. As tofu is landed to the pan, do not flip it immediately until the down side turns golden and done, which shall take about three minutes. Using a turner, flip to the other side and keep pan-frying again till golden, about 2 minutes.
*Make sure the pan is heated enough with oil, so that the stuffed tofu shall release easily from (rather than stick to) bottom of pan as it is fried.
Serve
After pan-fried, the stuffed-tofu is already delicious to taste with a dash of soy sauce or chili sauce, which is how we enjoy it as a dim sum. For variations, I would braise the tofu further (in fermented black bean sauce) and turn it into another side dish to go with rice.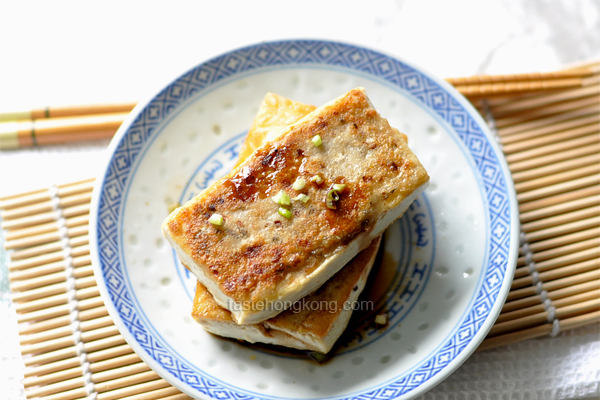 Enjoy!
To get immediate updates and new recipes from my blog, you may also SUBSCRIBE them via RSS feeds. See you there.