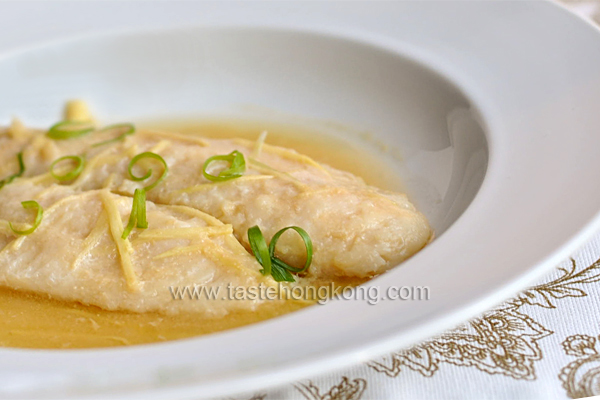 When the marinaded catfish fillets were readily placed in the oven, I set the appliance to grill.

Yet they came out without any sign of being charred because they were in effect submerged partially in a sauce and covered by foil.
I prepared the sauce almost in no time since it was simply a mix of Japanese sake and miso paste. In Asian or Japanese cooking, I believe, ginger is usually grated before adding it to a miso-based sauce. Here, I borrowed the Chinese way of steaming fishes for preparing this. You guessed it. I lay a handful of ginger slivers to their bottoms and on top of them.
I admit that I have been very responsive to frozen smells, yet with the sake and ginger, even I am that sensitive, I detect nothing frozen but flavorful, smooth, and as if the fishes were gently poached.
To grill the fishes like poaching, I fetch a baking dish good for holding the fishes and sauce. Or you may use a heavy duty foil to wrap each fish so that the ginger flavors are enclosed in the 'parcel'. Just be careful that the sauce is folded properly inside.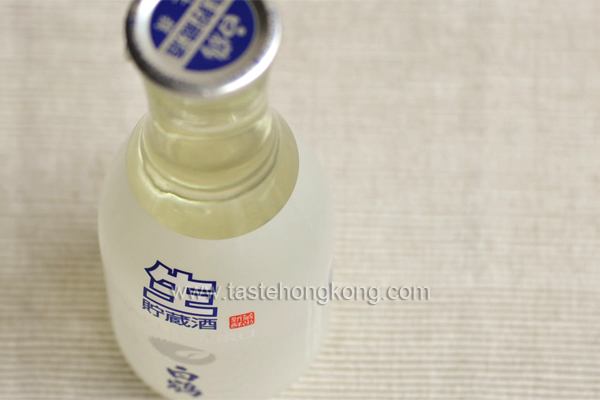 Ingredients
2 frozen catfiish fillets (腍魚柳), ~150g each
2 tbsp sake
4 cm ginger, julienned
1 sprig of green onion, julienned
Sauce
4 tbsp sake (Japanese rice wine)
4 tsp white miso paste
1/2 tsp sugar
add in 3 tsp miso paste first, and check saltiness before adding more
Marinade for fish fillets
a pinch of salt, ~1/8 tsp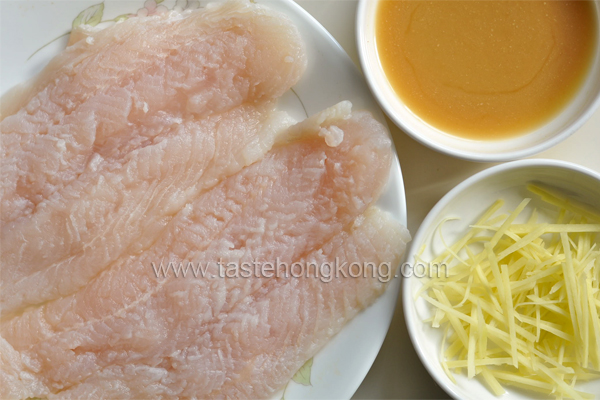 Method
Defrost fish fillets, rinse. To eliminate frozen smell, pour over some boiling water over the fish fillets as suggested here.
Marinade fish with salt for about 15 minutes
Distribute half of the ginger slivers on a baking dish then place the fish fillets flat on them.
Mix well the sauce and pour it all over the fish fillets. Let them stand for another 15 minutes. Meanwhile, preheat oven to 180 degree C for 10 minutes.
Then evenly top the fishes with the remaining ginger slivers, cover dish by foil. Grill in oven with the same heat for 15 minutes.
Serve hot. I actually added more green onion into the sauce after taking the shot.
Miso is always a versatile ingredient. In addition to using it for cooking soup, broth or as a sauce, you may also braise meat with it. Here is a simple yet hearty recipe on Braise Pork with Miso Paste written by Mary, author of keeplearningkeepsmiling.com where I always love to visit. I'm grateful for her writing me a detailed, knowledgeable advice on a home appliance I am interested in. Thank you, Mary!
I didn't buy that nice bottle of sake myself. It was a just-in-time gift from Miss K, who sacrificed it from her own stock when she knew I was going to miss the shopping hours of the supermarket.
While I was about to utter my words of thanks to her, she grabbed a pear from her fridge and removed its protective packaging and dressed it on the bottle of sake for me to bring home …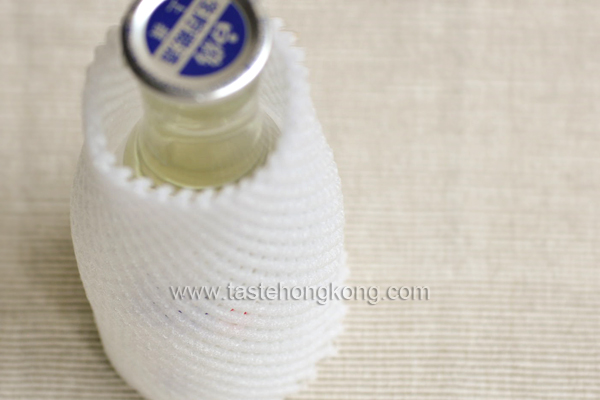 I was speechless, but definitely wish to dedicate this recipe to Miss K, my dearest friend!
To get immediate updates and new recipes from my blog, you may also SUBSCRIBE them via RSS feeds. See you there.