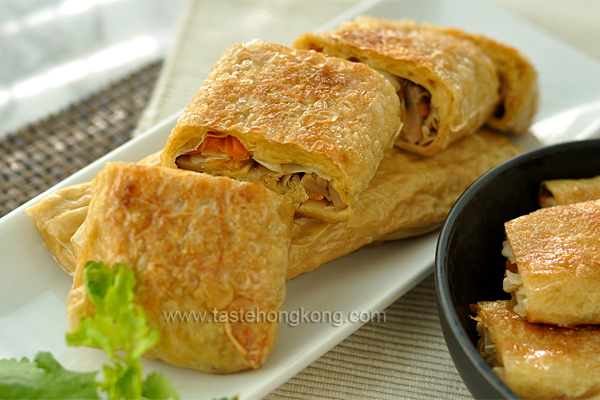 Shanghainese call this beancurd sheet rolls (or yuba wraps, or tofu skin rolls 腐皮卷), 'Vegetarian Goose', a traditional dish they often served as appetizer.

I love this boneless and meatless 'Shanghai goose' probably because it has in its filling two of my favorite ingredients, tofu (beancurd) skins and fresh bamboo shoots. Sometimes, however, I have to go for the canned ones since bamboo shoots are quite seasonal. Lately, I use shredded cabbage in lieu of the shoots and I have been loving it too despite that the texture is somewhat distinguishable from ones with the the bamboo shoots.
For other fillings, I follow more or less the traditional way, having dried black mushrooms, carrot and beancurd sheets (yuba). Right, you read that correctly, there are yuba wrapped inside the yuba sheet. As a filling, however, the yuba has to be torn into smaller pieces and seasoned a bit.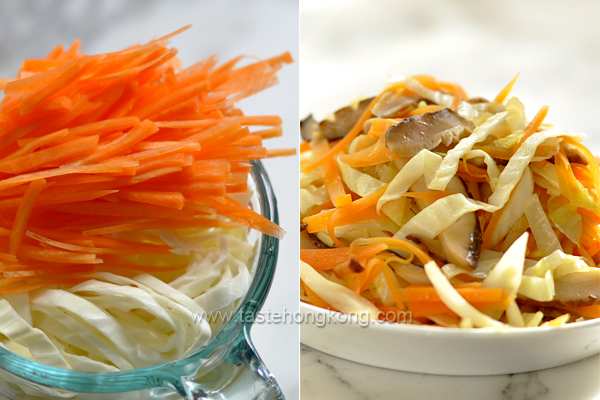 The vegetables together with the mushrooms, julienned, are best if they're briefly stir-fried to eliminate the raw taste. Sometimes, I just purposely prepared more of the filling and have that one stir-fry rewarded me with 'cook one get two' dishes!
You may choose to enjoy the rolls as soon as they are steamed, but fried, they provide more flavors and pop in the mouth for added crispiness. Fried or not, I always like serving them with a sauce, mostly used are worcestershir sauce and black vinegar.
For variations, consider adding pickled mustard and/or yellow chives in the fillings.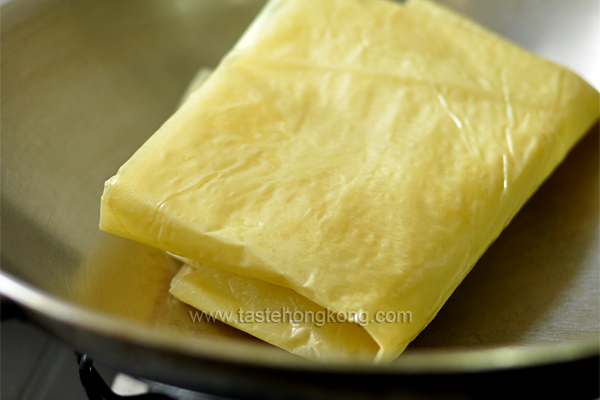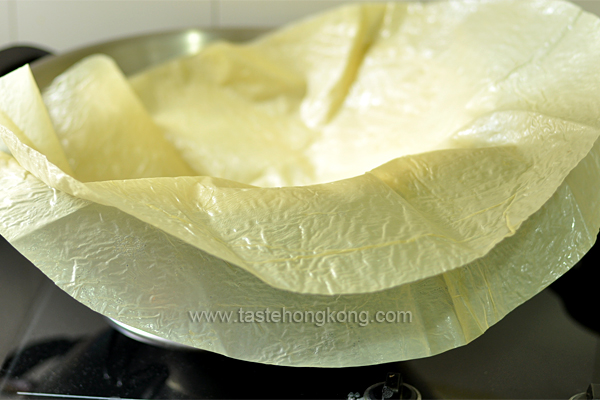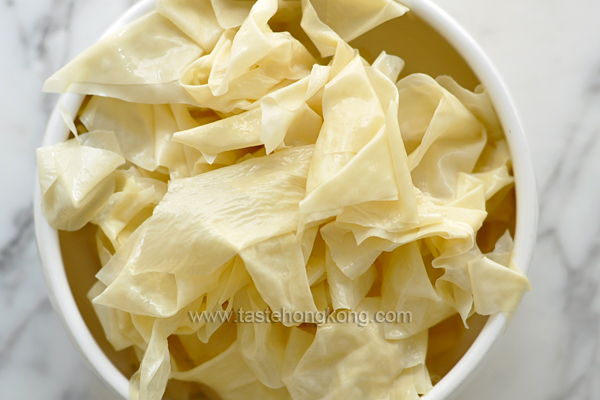 Tricks
Although similar to wrapping spring rolls, there are a few tricks on how to wrap with beancurd sheets:
– While wrapping a roll, cover the remaining beancurd sheets with a clean damp towel to make them remain pliable than turning brittle (don't wet the cloth too much, or the sheets will turn soggy)
– Make sure the rolls are sealed, any doubt, seal the end with batter
– Cover rolls with cling film before steaming to keep them from drying
– Before arranging the rolls on a dish for steaming, grease the dish first to avoid sticking
– Leave some space between rolls, again to avoid sticking.
– Besides, look for pliable beancurd sheets for wrapping (crunchy ones are used for making desserts).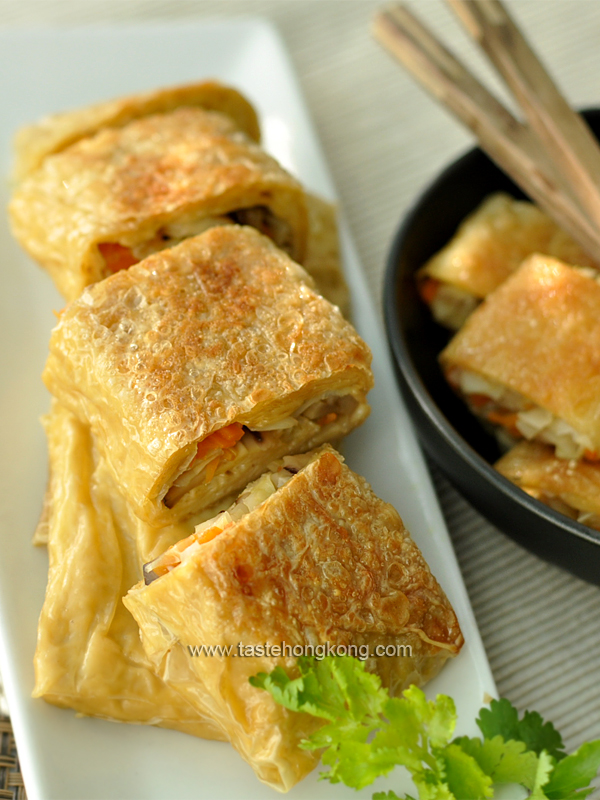 Ingredients
4 beancurd sheets (I used round ones of ~60cm diameter)
1/2 carrot, skinned and shredded
2 cups (slightly packed) shredded cabbage
3 medium-sized Chinese dried black mushrooms, rehydrated, squeezed to dry and shredded
2-3 shallots, thinly sliced
1-2 tbsp cooking oil
~1 tbsp flour batter, optional
yield 4 rolls
Seasonings
1 tbsp soy sauce
~2/3 tsp sea salt
1 tsp sugar
2 tsp sesame oil
pinch of ground white pepper
2/3 cup water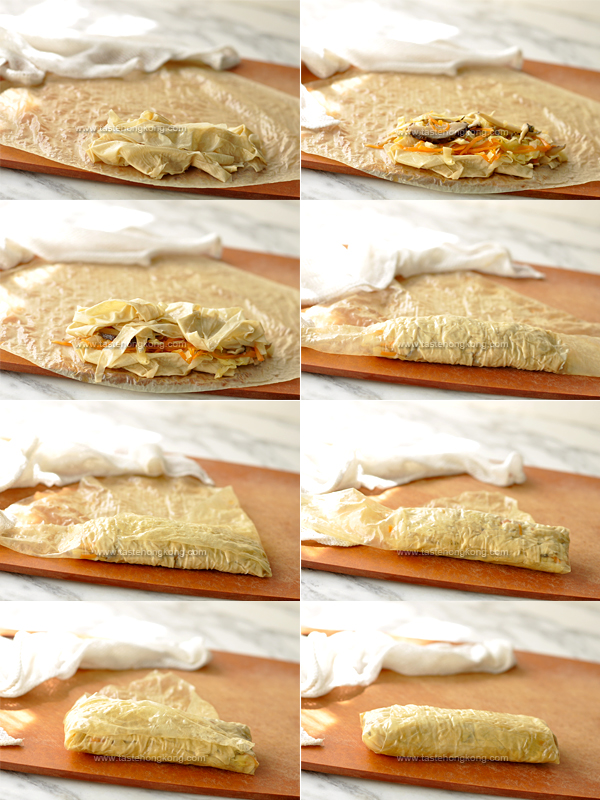 Method
Whisk well all ingredients for seasonings, sample taste. Add more salt if required.
Heat oil in wok over medium heat; toss in shallot, sauté until lightly brown. Add in mushroom and carrot shreds, flipping and turning, about one minute. Drop in cabbage, stirring, and pour in about 1/4 portion of the mixed seasonings, tossing until the vegetable is just tender. Dish up and set aside.
Wipe every beancurd sheet with a clean wet cloth. Scissor each into 4 equal sectors, yielding a total of 16 pieces.
Cover 4 pieces of beancurd skin by a clean wet cloth, and tear the remaining 12 pieces into smaller pieces. Mix remaining seasonings with the torn beancurd sheets.
Roughly divide the torn sheets into 4 portions.
Place 1 piece of beancurd sheet on the work surface, keeping it flat and straight. Put half portion of the torn beancurd sheets near to the curve end, cover it with the fried shreds and top them with another half portion of the torn sheets. Fold the closest edge over the ingredients. Roll and fold up one side; roll again, and fold up another side (folding alternatively is just to even out folds). Then finish rolling the wrap, wet the end a bit to seal (or seal with some batter if using).
Repeat with the remaining 3 beancurd sheets.
Grease a steam-proof dish, arrange the beancurd sheet rolls in one layer, without touching one another. Steam over medium heat for about 10 minutes.
Slice the steamed rolls into about 3 cm chunks, and serve (hot or cold) with worcestershir sauce or black vinegar.
If you like having a layer of crisp bean curd sheet, pat dry the steamed rolls a bit and pan-fried them with oil on both sides over medium-low heat before slicing. Serve hot.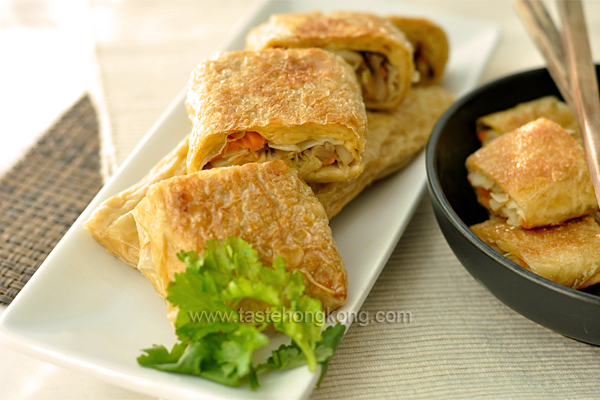 Enjoy!
To get immediate updates and new recipes from my blog, you may also SUBSCRIBE them via RSS feeds. See you there.