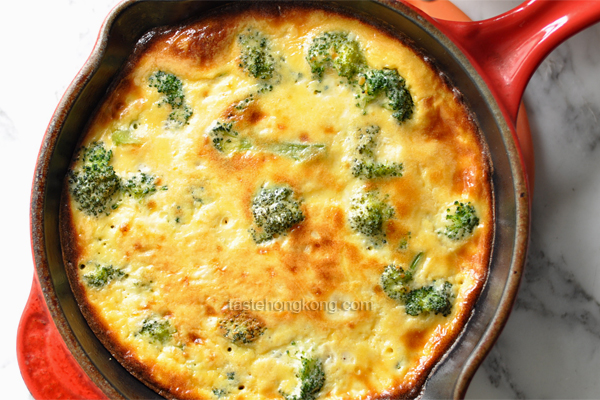 Yes, I made this with a Japanese staple – miso, but the idea was inspired by the popular French quiche, an open-pie with with a savory custard filling. If my version is also considered as one of the many quiche varieties, probably it may be the least traditional, consisting no meat, no milk and no cheese, but the fermented bean paste (miso) here lends the dish a different flavor.
Let me tell you, it doesn't taste like a meatless dish to me.

Lately, I made this on a hot day and skipped making the crust, cutting down much of the calories in the recipe and time for preparation.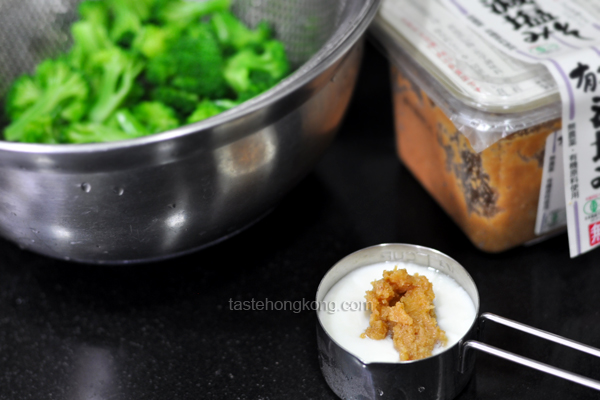 This quiche requires several key ingredients, but they are just eggs, broccoli, and as I said – miso! And there are plain yogurt too, which was homemade and had been stored in fridge for a couple of days, to substitute the milk or cream.
Broccoli is my recent favorite for adding into the egg custard, because it hardly makes the dish soggy as other lefty veggies may do. And I'd recommend to sauté it a bit for added flavors.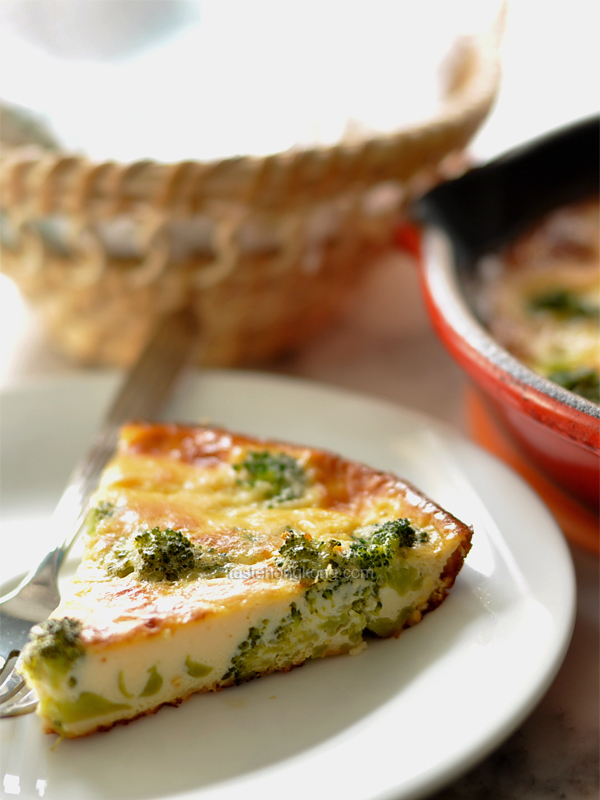 Ingredients
2 medium eggs
60g broccoli, ~1/2 head
3 tbsp plain yogurt, I used my homemade version
1 tbsp white miso
2 cloves garlic, finely chopped
1-2 tsp cooking oil (I used coconut oil)
pinch of salt and ground white pepper
Method
Wash broccoli, cut off the tough stem. Trim the crown into small florets (you may as well retain the 2 to 3 cm stem near the crown and cut it into small pieces).
Bring a couple of water to a boil; scald the broccoli florets for about half a minute. Drain in a colander.
Mix yogurt, miso and ground white pepper until most of the lumps are gone, then whisk together with eggs until fairly smooth.
Meanwhile, preheat oven to 175 degree C.
Heat a pan with about 1 to 2 teaspoon of oil, sauté garlic just until fragrant. Add broccoli florets (make sure they are as dry as possible), stir-frying again for about half to one minute or until they don't look moist.
Heat off, distribute florets evenly and gently pour the egg mixture into the pan. Bake in oven until set (toothpick inserted into the center and comes out clean), about 8 minutes. Place under the broil for about 1-2 minutes if you want the top to brown more.
Serve warm (say with salad, soup and or toast).
Note:
* I used a 16cm cast iron pan, which can be used over the stove and oven. You may also sauté the broccoli florets in a vessel you find convenient and transfer them into a greased pie dish for baking.
* The oven I used is a counter top toaster oven of 1800W
.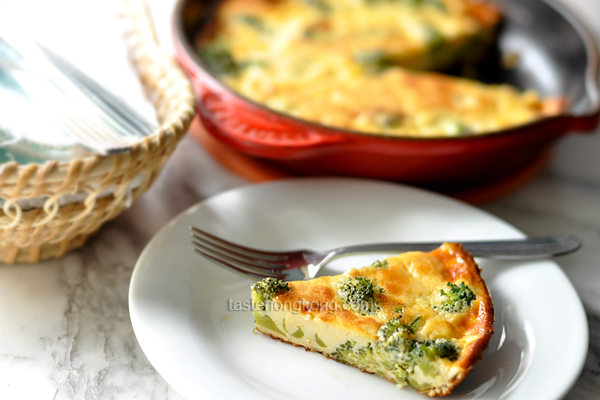 Enjoy!
To get immediate updates and new recipes from my blog, you may also SUBSCRIBE them via RSS feeds. See you there.