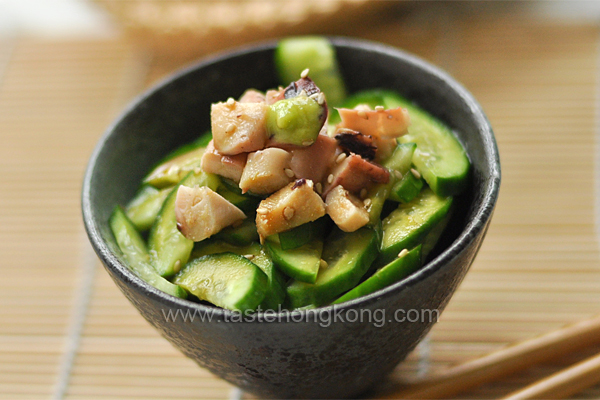 My appetite in the past few months more or less went dormant for foods that served cold. Yes, it seldom enjoys cold dishes during winter time, except with some negotiable capacities for fruit salads and Japanese sashimi.

The rule gets loosen as the weather turns warmer, ha! I enjoyed this simple vegetable salad with a palate-stimulating dressing made from a mix of wasabi, soy sauce, vinegar, and sake.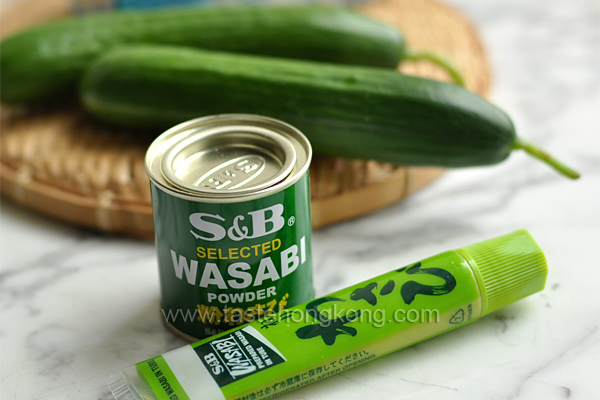 The salad with the cucumber to me is a good appetizer or starter already. But I am happy that I have kidnapped that can of cooked octopus, found in a retail chain known for selling a wide array of snacks. It adds contrasting bites to the crunchy texture of the cucumber as raw octopus (sashimi) does, while getting along well with the vinaigrette.
Using freshly grated wasabi is a great idea. I fetched the powdered form because it was just a foot from me when I craved for this. You may also use the tubed wasabi and save the 1-minute preparation for reconstituting the wasabi powder into paste form.
Just be sure to prepare the powdered wasabi right before serving because it does not keep.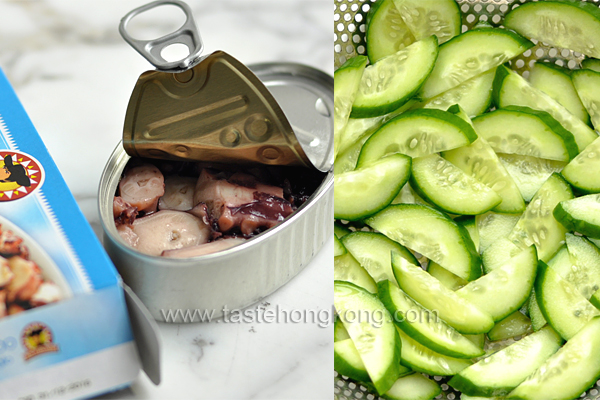 The instruction suggests mixing the powder with water (5:3) to form a paste. I did the same but resting for about ten minutes than one, also with the container upside down (I guess this is to help check that the paste is not runny while developing the heatness), and it turned out fine.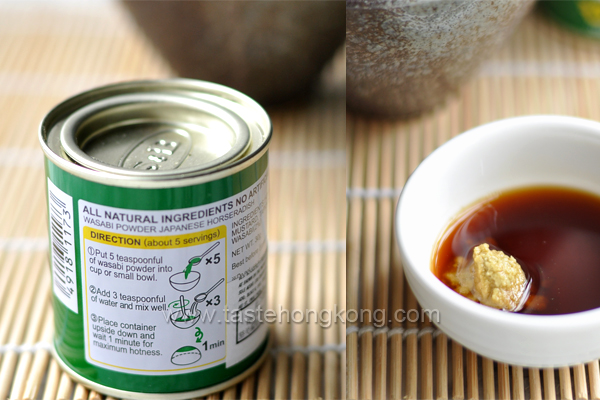 Ingredients
2 small cucumbers or 1 large cucumber, ~200g
~100g octopus sashimi, coarsely diced (I used canned, which is cooked)
1/4 tsp sea salt
pinch of roasted white sesame seeds, optional
Vinaigrette
2 tsp soy sauce
1 tsp sugar
1 1/2 tsp rice vinegar
1 tsp sake
~1 tsp wasabi paste
~1/4 tsp sesame oil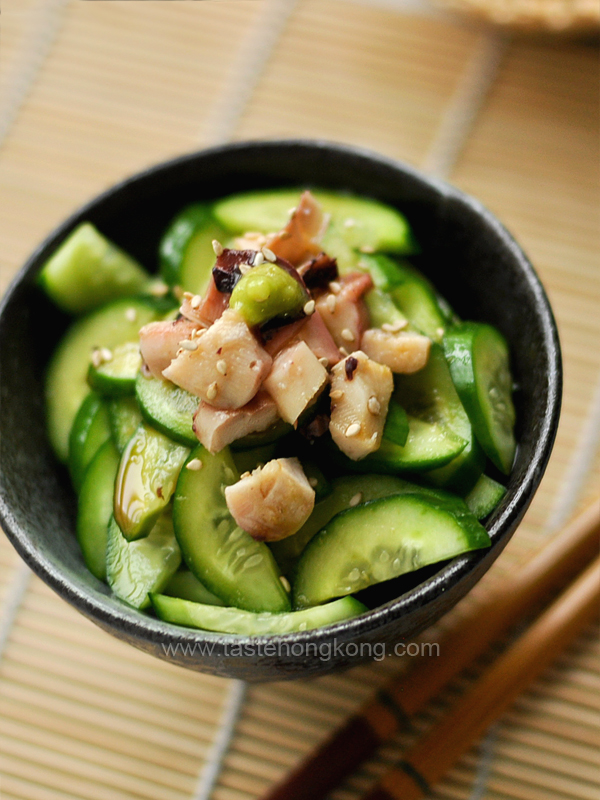 Method
Wash cucumber, halve each lengthwise, and cut them into about 2mm slices, add salt and let it stand in a colander for roughly 5 minutes (you may need to rest it over a dish or bowl to collect the juice – discard later).
Note: To remove bitterness (if any) from your cucumber, do one more step as in this recipe.

Rinse with cool drinking water, and drain; pat dry if required. Chill it (and the octopus) in fridge for 1-2 hours if you like serving it cold. I had it prepared all at room temperature.
Combine ingredients for vinaigrette, whisking well.
In a large bowl, add dressing to sliced cucumber and toss well until well and evenly coated. Taste and adjust seasoning as required. Dish up and top with octopus and more wasabi paste (for added heat) if desired. If you are using raw octopus, which is not seasoned, toss it together with cucumber.
Sprinkle roasted sesame seeds if using.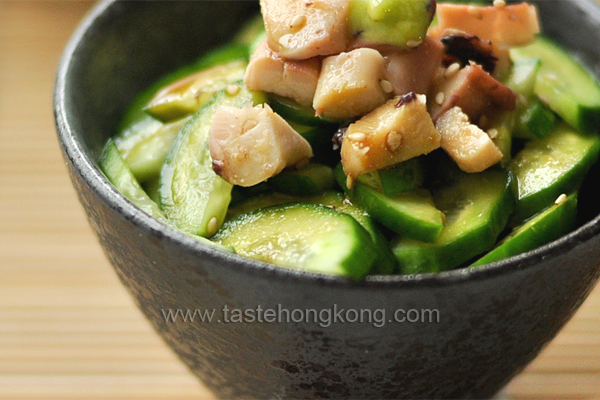 Enjoy!
To get immediate updates and new recipes from my blog, you may also SUBSCRIBE them via RSS feeds. See you there.