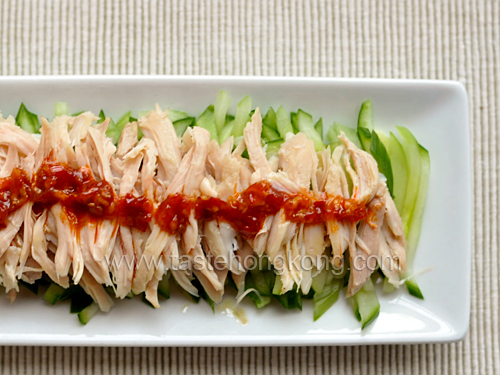 This hand-pulled chicken (in Chinese 手撕雞) is again a cold dish following the last one. Excuse me, it has been constantly over 30 degree C here.
The Chinese way of getting a chicken (or part of it) cooked for this dish is mostly done by boiling, poaching or steaming. I use only chicken drumsticks and choose to steam them together with julienned spring onion and ginger for more flavors. And, with a simple coating over the chicken drumsticks before steaming, I am happy that the meat is juicy and tender after cooked.
Believe me, I did not do such for many other dishes; but I do this directly with my hands this time, tearing down pieces of meat from the chicken drumsticks. My fingers apparently do a better job than with the help of forks. But I would not object any fork-pulled chicken so long as the meat is loosened into fluffier pieces than those cut by knives. To me, this is most or less like a simplified version of White Cut Chicken (白切雞).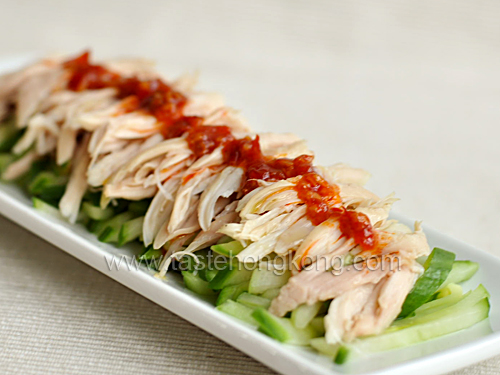 Ingredients
2 chicken drumsticks, ~260g
3-4 springs spring onion, cut into slivers
2 tbsp ginger slivers
1 small cucumber, ~180g
1 tsp coarse sea salt (for marinading cucumber)
Marinades for chicken
juice from 1 tbsp grated ginger
1 tsp cooking wine
1/2 tsp salt
1/4 tsp ground white pepper
Coating chicken
1/2 tsp corn starch
1 tbsp oil
Cooling chicken
1-2 cups ice water
1 cup ice
Sauce
1 tbsp sesame oil
1 tbsp chili sauce, or to taste
soy sauce to taste, optional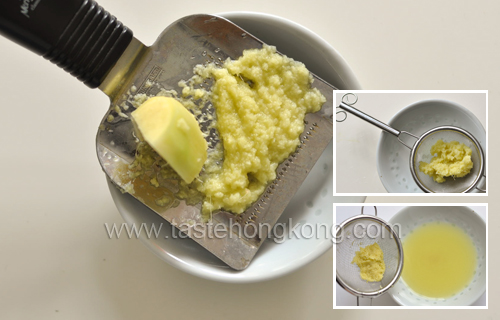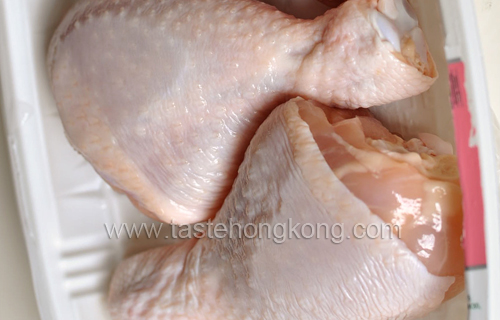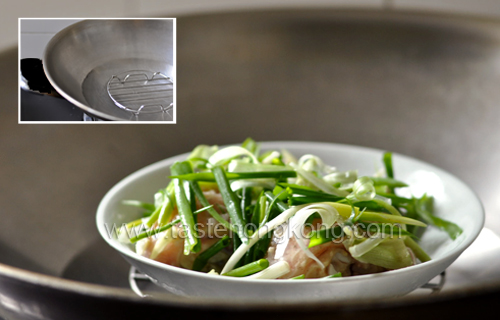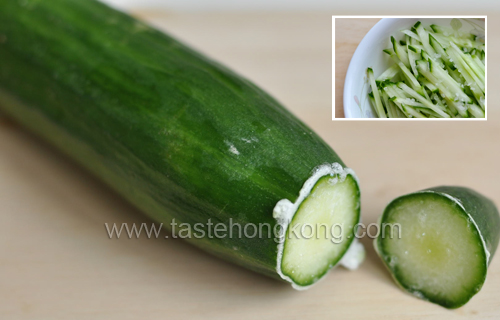 Method
Prepare chicken drumsticks
Rinse, lay them in a dish and place the dish in basin. Pour about 2 cups of boiling water over them. I do this to get rid of as much as the frozen smell. Pat dry chicken drumsticks and pierce them liberally with a fork; rub them evenly with marinades and let them stand for about half an hour.
Prepare cucumber
Rinse, cut off both ends, about 2 cm thick. Rub one end against the stem in circular motions for about half a minute, when some white foams appear on the cut edges. Doing so is to reduce the bitterness from the cucumber. Repeat doing the same for the other end. Rinse off foams and cut the cucumber into slices then into thin strips, about 1/4 cm thick. Massage the cucumber strips with the sea salt, marinade them for 5 minutes, then rinse off salt by clean water. Pat day, and arrange the cucumber on dish.
Steam chicken
After the chicken drumsticks are marinaded, coat them with corn starch, followed by oil before steaming. Lay chicken drumsticks flat in a dish which is good for steaming; cover them with julienned ginger and spring onion. Set a rack in wok with 2 to 3 cups of water, cover lid, and bring water to a boil. Uncover, place the dish of chicken drumsticks on the rack, cover, and steam for 15 minutes over medium-high heat. I set my timer and then distance myself from the source of heat.
To have the chicken just cooked through is the most tricky part of making this dish as it is a function of both timing and heat. Even steaming time is identical, the outcome may not be the same as heat-retention ability of different woks and power of flame may vary. When taking my timing as a reference, do also take note on the possible differences between our cooking appliances and sizes of the meat.
Test doness
Uncover, test doness with a chopstick. If it pass through easily, the chicken is done – another cooking skill we Chinese employ, though it is less scientific than using a therometer. Then, immediately transfer only the chicken drumsticks to a bowl containing ice water and ice; drown the meat completely in it, about 3 minutes. Strain water and pat day. This step shall help seal the meaty juice while stopping any residual heat that might overcook the chicken.
To serve
Pull meat into long pieces from chicken drumsticks. Arrange them on cucumber, cover and chill them in fridge for about 3 to 4 hours or until cold. Dress them with sesame oil and chili sauce right before serving.
Often than not, Chinese hand-pulled chicken is always served with sesame paste. But sometimes I opt for exceptions. Enjoy yours!
To get immediate updates and new recipes from my blog, you may also SUBSCRIBE them via RSS feeds. See you there.