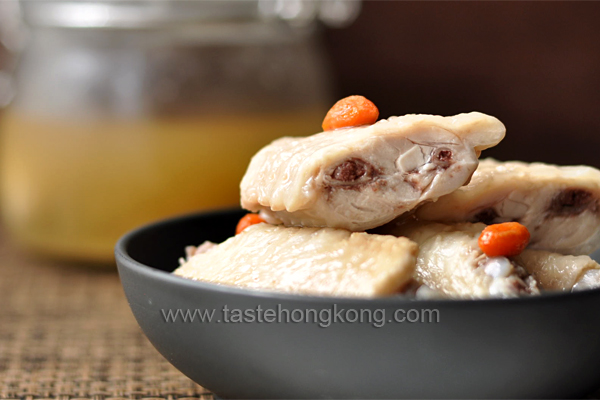 Enjoying this cold dish always make me feel like I'm eating in a decent Shanghainese restaurants. I can't properly explain why, perhaps because I believe this should be one of their signature dishes. Pale-looking though, I must say it does not give much hints about the taste.

Shaoxing wine is one of the most famous varieties of Chinese yellow wine fermented from rice. It originates from the region of Shaoxing, in the Zhejiang province adjacent to Shanghai. Yet, there are several types of Shaoxing wine. If you are looking one for preparing this recipe, I would recommend you to pick the Shaoxing Hua Diao which is said to be the best for making drunken chicken.
On Chinese menu, therefore this dish is often referred as Hua Diao Wine Chicken 花雕醉雞.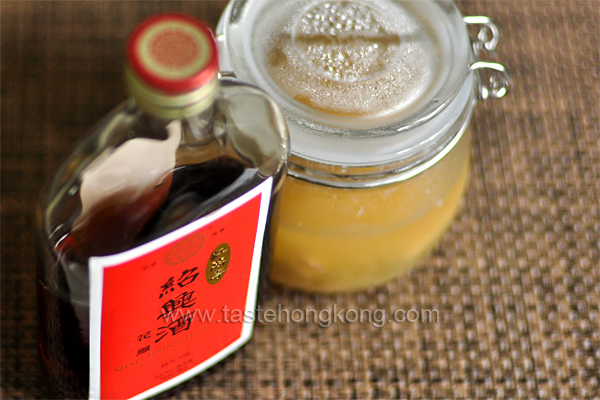 It takes a few simple steps. Get the chicken cooked then cooled, prepare a sauce and put the two together are all the tasks in brief. An effortless step I should also mention is that the chicken being steeped in the sauce has to be stored in fridge for at least four to five hours, preferably overnight, before serving. Then, you will be promised with a meaty and refreshing chilled dish, be it served directly from a bottle or on a plate.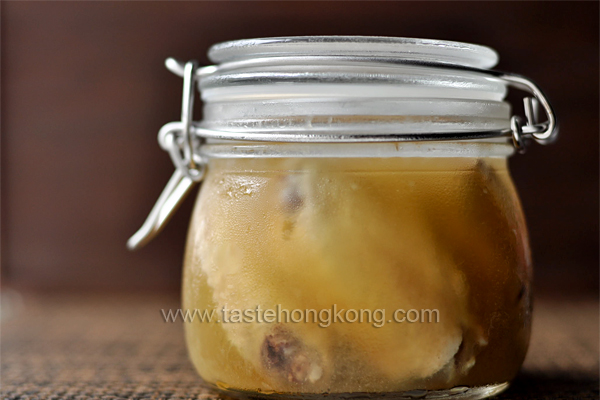 I believe there are quite a number of ways to get the chicken wings cooked. The one with me here requires some patience but is worth doing because it helps get rid of the frozen smells while having the chicken JUST cooked.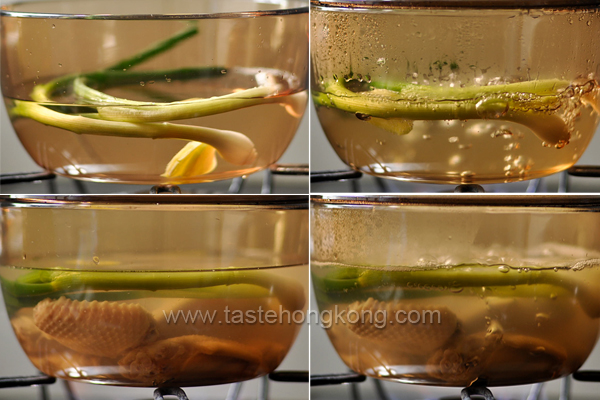 After the chicken wings are blanched in hot water and rest enough in it, I plunge them in ice water like making hand-pulled chicken. So doing, the chicken skin will remain tender but no ruptures; the meat will become firm but not rough.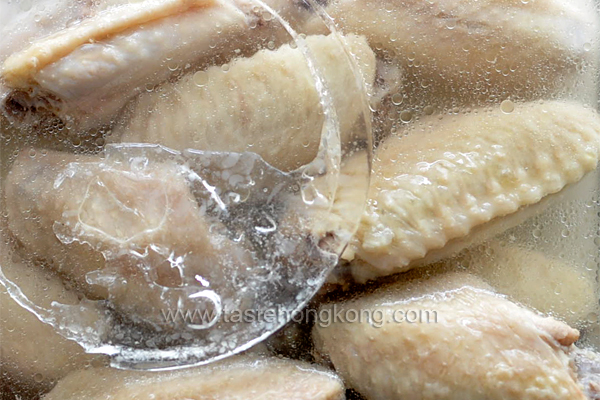 Ingredients
8 medium sized chicken wings
1 tsp wolfberries (goji berries), steep in water for 5 minutes and drain dry
1/3 cup Shaoxing wine
1 cup chicken stock
1/2 1/4 cup fish sauce
1/4 tsp sugar
1/2 tsp salt
1 tsp salt, for marinading chicken wings
2 cups ice water plus some ice
For boiling chicken
2 sprigs spring onions
3-4 slices ginger
1.5 liters water
Method
Thaw (if required), wash and drain dry chicken wings. Then marinade them with salt for about half an hour.
In a pot, add chicken stock, fish sauce, sugar, salt, wolfberries and bring to a simmer. Stir to make sure sugar and salt are dissolved, and remove from heat. Let cool, add wine and mix well. Sample taste, it will be fine if you find it somewhat saltier than a soup. But, add more wine to your liking.
Slightly crush the ginger slices and spring onions and put them into a pot with 1.5 liters water. Bring water to the boil.
Drop chicken wings into the boiling water and cover. Wait till the water boils up again when water bubbles grow really up to the top. With lid covered, turn flame to the lowest and keep boiling for another one minute. Then turn off heat. DO NOT open lid; but allow the chicken wings to sit in the hot water for 30 minutes (take a break, or continue surfing around).
Have the ice water and ice ready. Remove (and strain) chicken wings from the pot of hot water and submerge them in it for a couple of minutes or till they are cool.
Drain dry chicken wings from the ice water. Have them contained in a bottle or jar and fully submerged in the cool sauce. Chill in fridge overnight before serving.
Enjoy!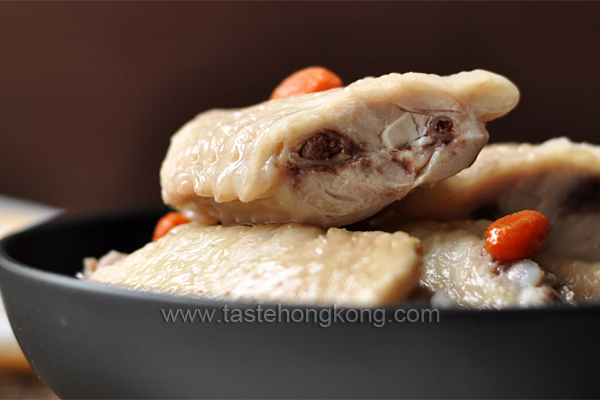 Note
If your pot cannot be seen through, just rest the lid ajar so that you may peep to check out when water boils and bubbles.
Make sure the level of sauce containing in the bottle, or in your selected container, will fully drown the chicken wings. And the container is wrapped or covered in fridge.
For added flavors, consider adding a spoonful of peppercorns into the sauce. Wolfberries do not add much flavors to this dish but they are good for garnishing.
A brief note about Hua Diao 花雕
The Shaoxing Hua Diao I bought is contained in a glass bottle. In earlier days of China, wines were often bottled in pottery. It was said that the pottery jar used for containing Hua Diao has a flowery carved decorator on it. Thus the name.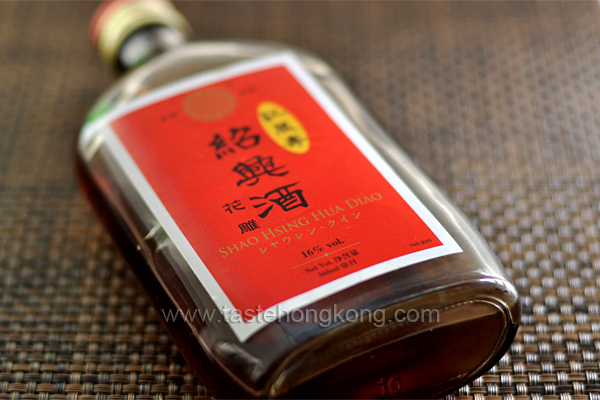 To get immediate updates and new recipes from my blog, you may also SUBSCRIBE them via RSS feeds. See you there.