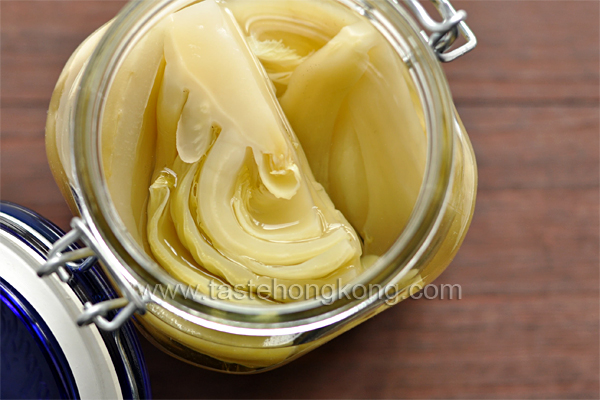 Allow me to give it my praise first. It is pleasantly sweet, sour and crunchy. Like many pickles, it is also appetizing. But among many traditional homemade Chinese pickled vegetables, it might be one of the easiest to make. Yes, it is this Pickled Swatow Mustard Green. In Hong Kong it has a Cantonese name called Ham Suen Choy 咸酸菜, which very much tells that it is both savory and sour.

Eating this could be very addictive once you fall in love with it, be it with stir-fries, with soups or simply for complementing a bowl of noodles or porridge. I am going to share with you here a way to eat it straight out from the jar.
Swatow mustard green is a member of the cabbage family. I won't find it odd if you don't see their relation by just looking at the photo below because its larger leaves are already removed (as it is being sold in the fresh food market). However when it is cut apart, you shall see how its inner stems and leaves are wrapped together like a cabbage. That is why it is also called Heart Mustard Cabbage 包心芥菜 (Cook's Guide To Asian Vegetables).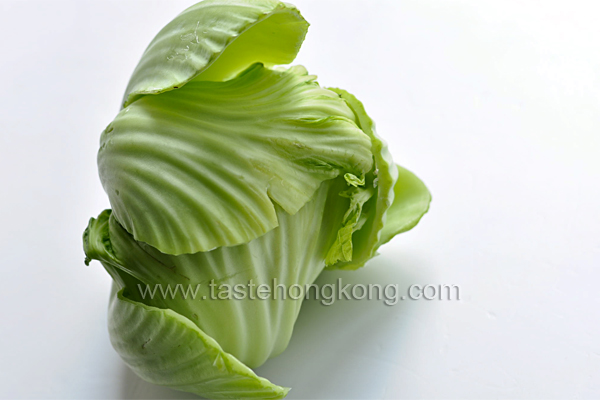 Ingredients
1 swatow mustard green, ~500g
1 tsp sea salt
Solution for pickling
100g rock sugar
1/4 cup rice vinegar
2 tsp sea salt
2 cups water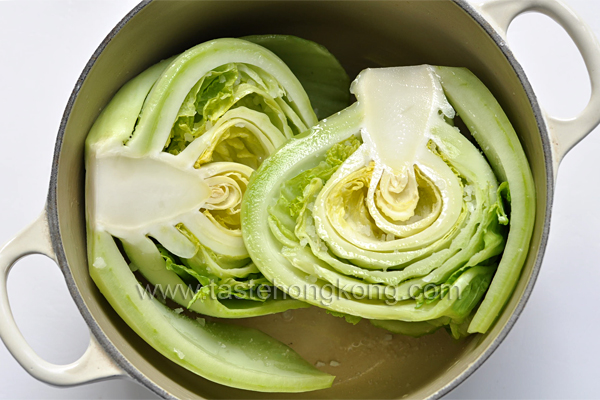 Method
Soak the vegetable in a basin of water for about half an hour. Cut the vegetable vertically into two equal portions (trim away any brown spots) and wash it under running water until clean. Make sure the areas in-between stems are also washed.
Massage the mustard green (especially on its cut surfaces) with 1/2 tea spoon of salt and let it stand for about an hour. This helps draw out bitterness from the veggie.
Mix salt, sugar and water for pickling in a pot, swirl over heat to melt them down completely. Remove from heat, let cool and mix in vinegar.
Bring about 3 to 4 cups of water in a pot to the boil; put the salted mustard green (but discard any juice) in the pot to blanch. The water shall stop bubbling as soon as it is loaded with the vegetable. Wait till the water boils up again, about 1 to 2 minutes, then dish up the mustard green. Drain excess water, let cool and cut each half vertically into two equal portions.
Get a sterilized bottle or jar (with cover) which is large enough to contain both the solution and vegetable (mine is about 1 liter in volume). Plunge in the cooled mustard green into the bottle, and pour in the solution. Make sure the vegetable is fully submerged in liquid. Cover.
The mustard green shall turn yellowish the next day. Wait another 2 to 3 days at room temperature for the flavors to develop further before serving (see below). For storage, transfer to fridge.
Tip
Make sure every thing used to handle the boiled vegetable is cleaned, or you may found molds growing with the pickle.
You may check the taste of the pickling solution before filling it into the bottle to see if it suits your taste.
To serve as an appetizer or side dish
Get a portion of the mustard green out from the bottle. Clean your hands and knife for cutting. Slice the leaves/stems off from the core stem, shred or dice as you wish (discard the core stem if you find it too hard). Season with chili pepper and roasted sesame seeds. Serve cold.
You may also opt to season the pickle further with some more vinegar, sugar or salt to go with your main dishes or to suit your guests' taste.
Enjoy!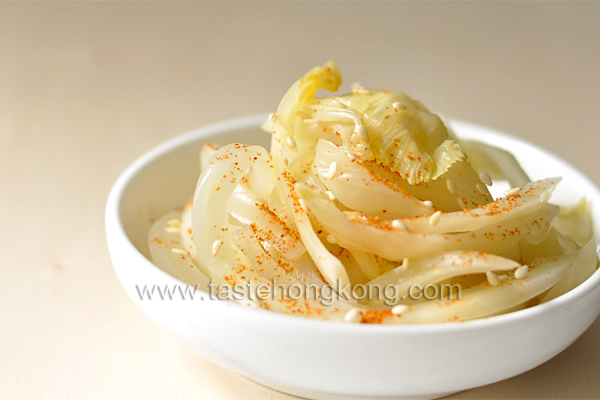 To get immediate updates and new recipes from my blog, you may also SUBSCRIBE them via RSS feeds. See you there.