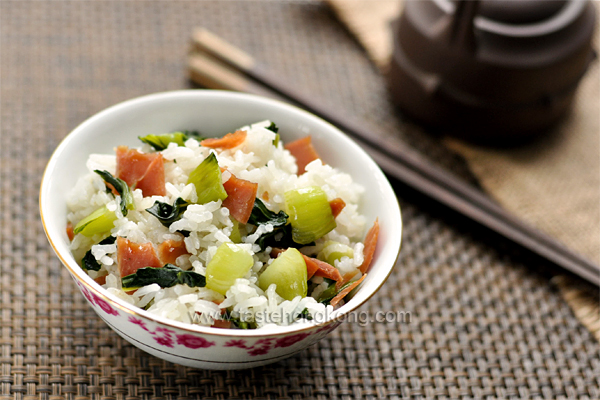 If you have ever enjoyed Shanghai cuisine, I bet you should have tried this. I mean even you didn't order it purposely; it would fill your table as a default companion to the set lunch or set dinner served by the restaurants.

I understand quality Chinese ham is getting more and more pricey, so I won't be surprised not seeing an enough amount of it when eating out this 上海菜飯 aka Shanghai Vegetable Rice with this and this as set meals.
Good thing is, we may easily set our homemade version apart from them. About a spoonful of ham is enough to fill two bowls of steamed rice with mellow richness of cured pork and pleasant oiliness. And, instead of using stock or flavoring agents, you may simply reserve the sauce obtained from simmering the cabbage and ham for cooking with rice.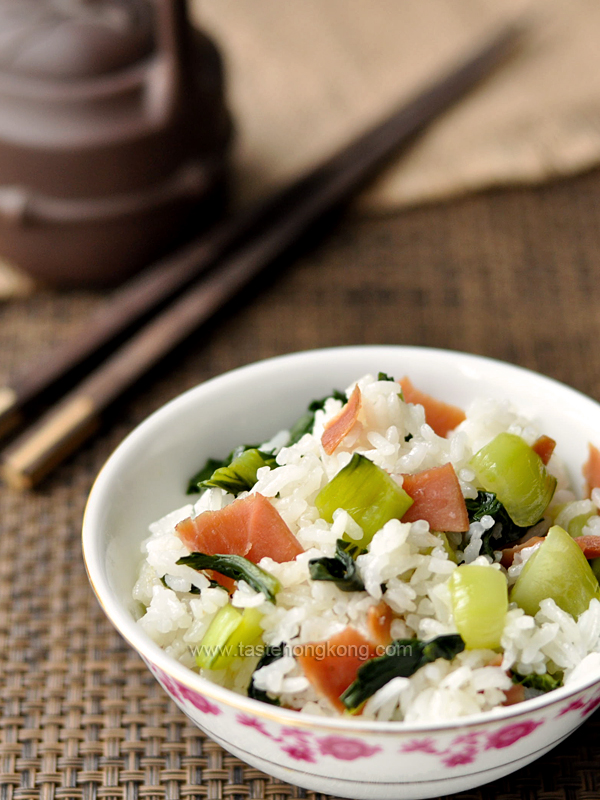 I'm glad that the green cabbage 小棠菜, though native to Shanghai and nick-named as Shanghai cabbage, are available here most of the time. If you don't mind toning down the Shanghainese character of this dish, I would say using bok choy is a convenient and nice alternative.
With a rice cooker, cooking this is a little more than mixing of briefly sautéed vegetable and ham into the steamed rice. In case you don't own one, no worries, you may simply steam the rice as this recipe does.
Ingredients
100g white rice, I used jasmine rice
~150g Chinese green cabbage,
1 heaping tbsp of finely sliced Chinese Jim Hwa ham 金華火腿
~2 tsp cooking oil
1/4 tsp sugar
1/8 tsp salt
yields 2-3 bowls cooked rice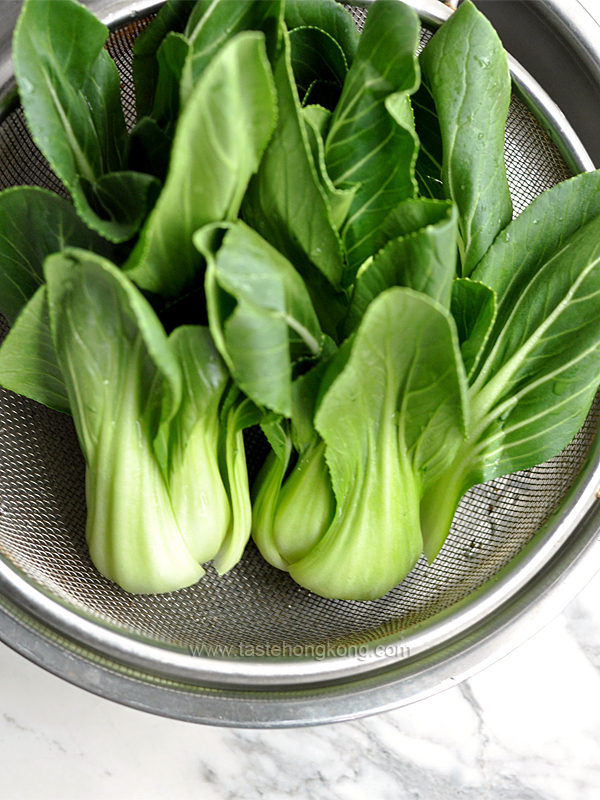 Method
Pull or cut apart each leave from green cabbage, wash thoroughly. I usually soak vegetables in a basin of water for half an hour before washing. Drain dry.
Cut leaves crosswise into thick strips (cut wide stems lengthwise into two before cutting crosswise), about nail size.
Slice ham thinly, again about nail size. Scald the ham briefly would make slicing easier and remove unpleasant smell, if any.
Rinse rice and change the water a couple of times until the water becomes clear. Soak the rice, if required, according to package.
Heat pan with 2 teaspoons of oil over medium heat, briefly sauté ham until fragrant. Then toss in green cabbage and stir well. Add sugar and about 1/4 cup water and simmer for about a minute. Add salt, mix well. Dish up but reserve the sauce.
In a steam proof dish, add water and reserved sauce to rice (water+sauce : rice = 1.1 : 1). Steam over medium heat for 15 minutes, uncover, fluff rice and mix in sautéed green cabbage and ham. Cover, and steam for another 5 minutes.
Serve hot, enjoy!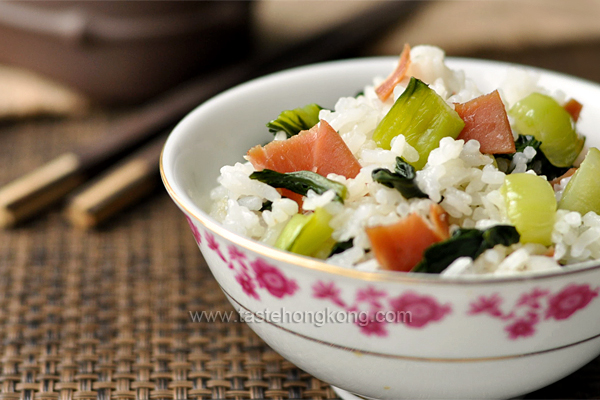 Note:
Bok choy may leach more water than green cabbage when being cooked. So you may want to reduce the water by half (from 1/4 to 1/8 cup) for simmering bok choy.
To get immediate updates and new recipes from my blog, you may also SUBSCRIBE them via RSS feeds. See you there.