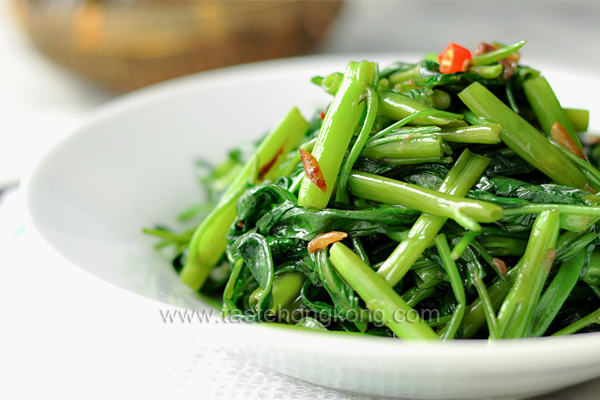 Every time I cook this, I will make sure the flame is turned to high. Yes, in my experience, water spinach needs to be cooked in a hot wok with enough oil. Although it doesn't need to be cooked long but it has to be cooked fast.

When it's done well, the vegetable will turn vibrantly green and attached with intense flavors from the aromatics it cooked with (its hollow stems may even absorb some of the sauce). If not, the water spinach will tell you right away by showing a brownish appearance.
There are different ways to add flavors to the dish, I have here a fairly simple ingredient yet an 'effective aromatic' in addition to the usual garlic and chilies.
It is this bottled anchovies packed in oil from Portugual (bought in a recent trip to Malaysia) that substitutes the Chinese shrimp paste in the original recipe; but they add seemingly the same flavors to the dish. Of course, when skip using the fish, it is also a nice and simple vegetarian dish.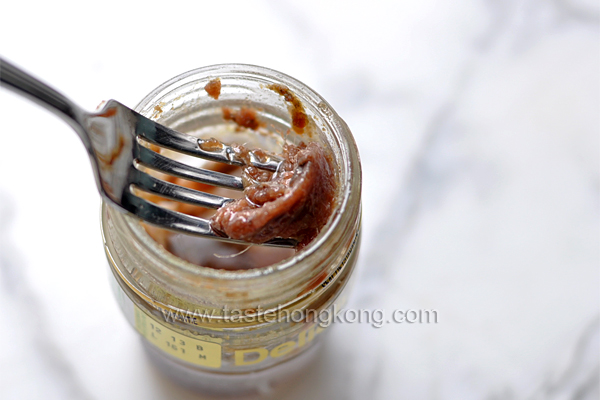 Obviously, what you need for cooking this is simply a wok, but do choose one in a size that is large enough for flipping the vegetables (my veggie fill about 70% of the wok). And you don't want dumping the water spinach in wok all in one pieces. Just pluck leaves off, cut stems into shorter sections, and fry one after another, then everything can be put together easily.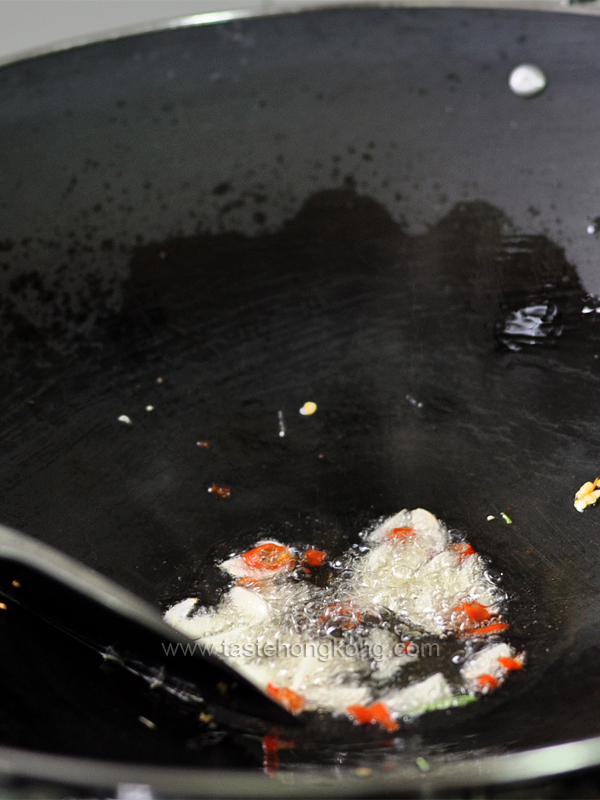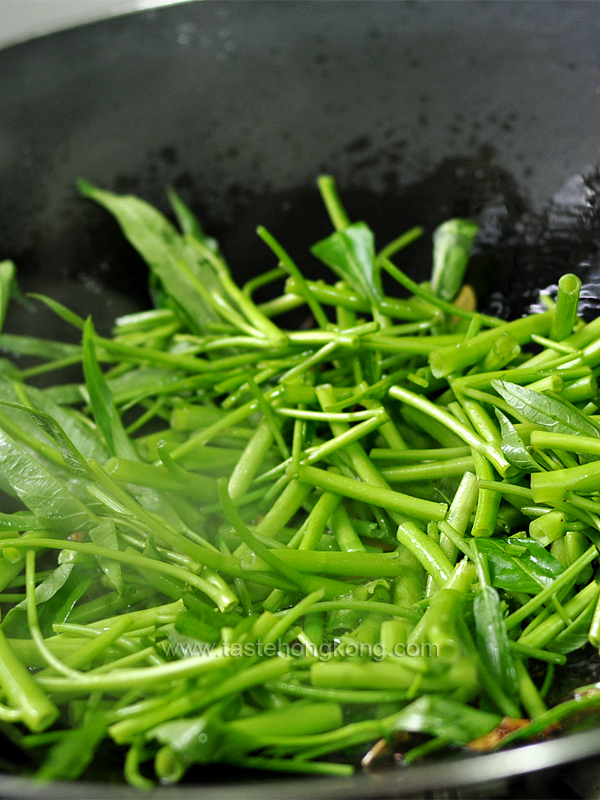 Ingredients
300g green water spinach (tung choi 通菜 aka hollow vegetable)
4-5 cloves garlic, coarsely chopped
2-3 small anchovy fillets, mashed ~ 1 tbsp
~ 2 tbsp cooking oil
1 fresh bird eye chili, sliced
1 tsp palm sugar or brown sugar
1 tsp fish sauce
pinch of salt to taste
Note: No need to use a knife to cut the leaves from stems, just hold a batch of water spinach in one hand and pluck off their leaves with another. The picture below is simply for illustration.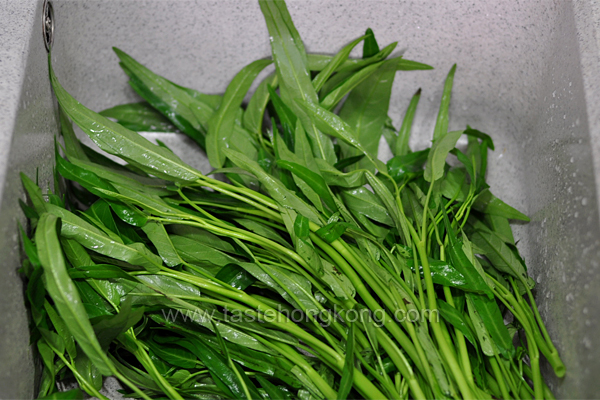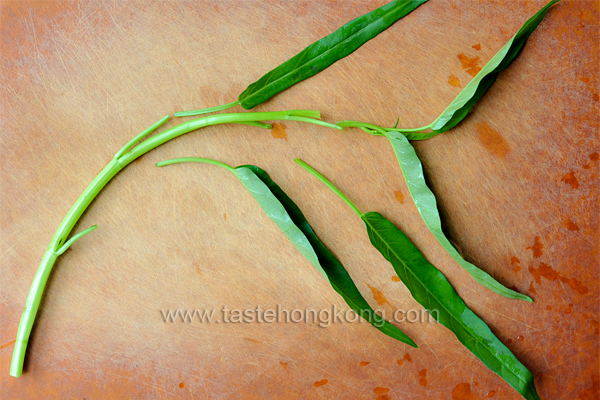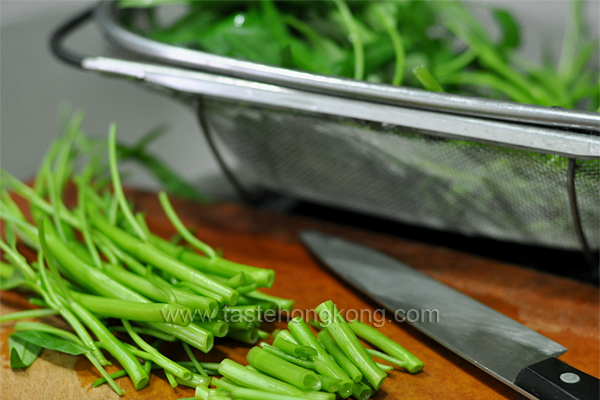 Method
Thoroughly wash water spinach. Drain, preferably no less than 10 minutes. Pluck off leaves from stems, separating the two. Working in batches, cut stems into about 4 cm sections.
Heat wok enough over high heat (you may sprinkle a few droplets of water in it to see if they dance like crazy and evaporate immediately). Add oil, distributing it over lower half of wok. Add garlic, chilies and anchovies, and stir them quickly until the garlic turn light brown (mash the anchovies with the back of turner if required). This shall take less than half a minute if your wok is hot enough.
Toss in stems of water spinach. Then immediately flip and spread out several times while they sizzle a lot (that is why the spinach need to be drained in colander after wash). As they are all coated with oil, add in leaves, fish sauce and sugar, again flipping and spreading them constantly, half to one minute.
As the leaves start to cook down, sprinkle in salt and stir well.
Immediately dish up after done and serve hot.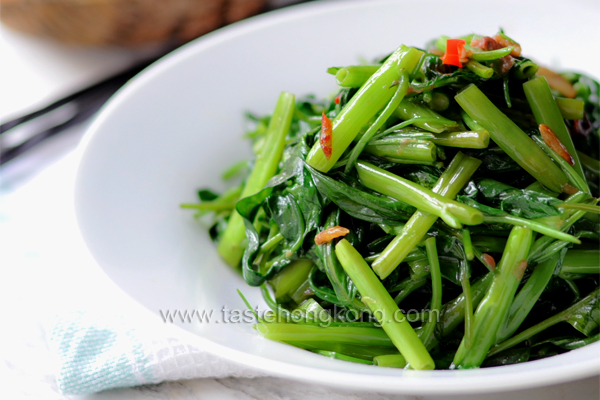 Enjoy!
To get immediate updates and new recipes from my blog, you may also SUBSCRIBE them via RSS feeds. See you there.