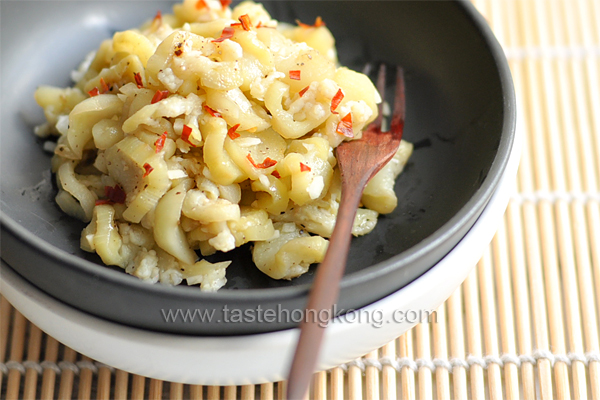 This is quite like a salad. Yet, do you know salad is a foreign concept to Chinese?
If you listen to how 'salad' is pronounced in Chinese, then you might find a clue there …

In Mandarin speaking areas like Mainland China or Taiwan, the term used is 沙拉 (sha la) and here in Hong Kong, where most of us speak Cantonese, it is called 沙律 (sa lad), both of which are actually derived from the English pronunciation.
But we do have dishes to serve as side or appetizer with main, similar to salads – this is one of them.
I have been using sesame oil for dressing up this Chinese cold appetizer; it is perhaps the natural needs in my brain that drives me to that omega-3-packed (EPA and DHA, etc.) ingredient, a forgotten bottle of flaxseed oil in fridge. That's my memory!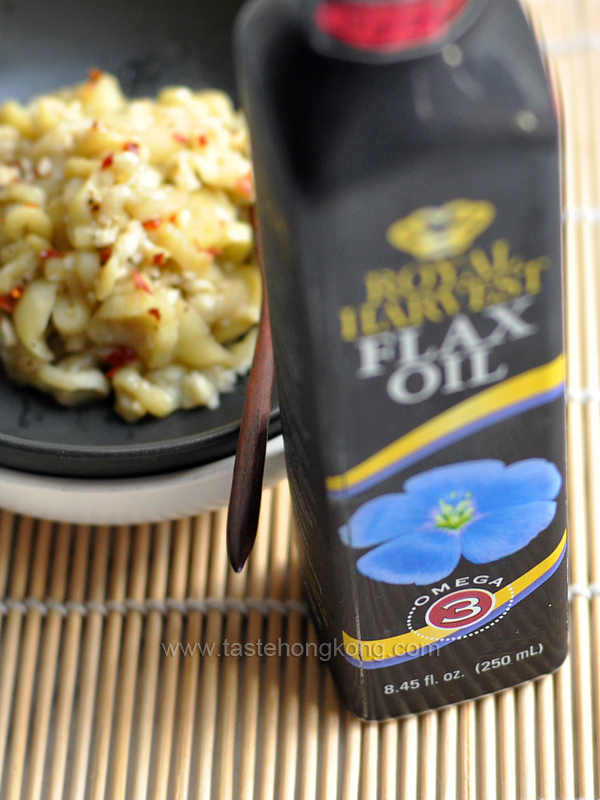 Mr Google, when discussing the many benefits of flaxseed oil, also tells me that it is not recommended for use in cooking since it is far too easily oxidized. But it's fine to add flaxseed oil to foods after they have been cooked (source: whfoods.com).
Fine! That suits my plan. Following the same routine, I just salted and sweated the eggplants before seasoning them by freshly ground black pepper, garlic, vinegar and oil.
The new member – flaxseed oil – then has proved to me that it does get along well with the eggplants and the other seasonings. So I know, after this endeavor, I have found another lovely use of flaxseed oil and this variation will be another keeper.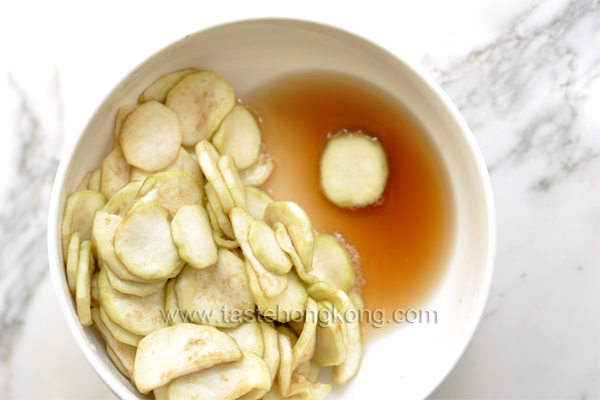 Ingredients
~150g eggplant or aubergine
2 cloves of garlic, finely chopped
1/2 tbsp apple cider vinegar or rice vinegar
1/4 tsp soy sauce, or to taste
1/4 tsp honey
~1/8 tsp freshly ground black pepper
1/2 tbsp flaxseed oil
~1/8 tsp chili flakes, optional
yields 1 serving
For salting and blanching eggplant
~1 tsp sea salt
1 1/2 C water
Method
Peel eggplant, trim away the top part with stem, then cut each crosswise into about 1-2mm thick slices (half it lengthwise if your eggplant is more than 4-5 cm thick). Toss them with 3/4 tsp of sea salt. Let sit for about 15 minutes. Discard the liquid that has leached out. To avoid discolouration, salt eggplant right after slicing.
Meanwhile, whisk together vinegar, garlic, soy sauce, honey, and black pepper; set aside.
Bring water to a boil, dump in eggplant, and keep boiling it for about 1-2 minutes, or until softened.
Drain in a colander, let cool a while (until cool enough to touch). Clean your hands and squeeze out water from eggplant.
Put eggplant in a bowl, mix in the sauce and drizzle oil over, tossing well. Let it stand for about half an hour before serving (I serve this at room temperature). You may also cover and store it in fridge for a few hours if you like serving it cold. Dish up, garnish with chili flakes, if using.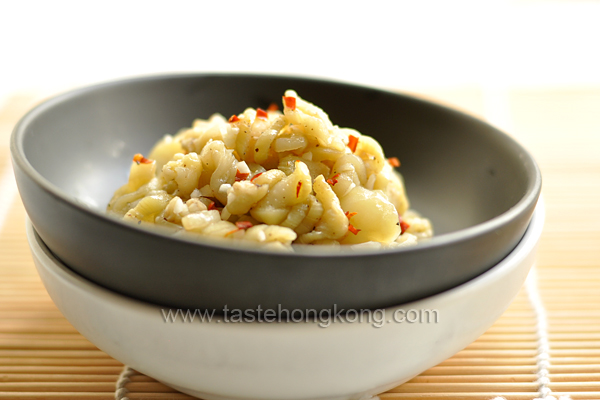 Enjoy!
To get immediate updates and new recipes from my blog, you may also SUBSCRIBE them via RSS feeds. See you there.