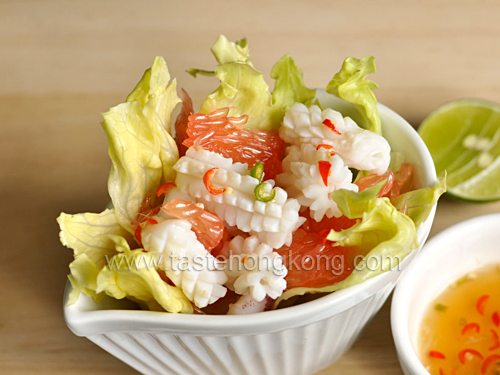 Sorry to Pomelo, the traditional citrus fruit for making this Thai salad. I have replaced its position by grapefruit. I have no discrimination against pomelo; it is just not in the season in my place until autumn.
Exotic though, I like having the grapefruit as a simple yet an equally luscious alternative for this appetizer. It is imported mostly from the U.S. almost throughout the year and I have bought it conveniently together with some other ingredients, the Thai chilies and lime, in the same supermarket.

Scoring the squid with a pattern is not a difficult task once you get to know how to do it. Honestly, however, if my mood do not steer me toward making this, I will go for a simpler version by using either scallops or shrimps.
On the day when you do not mean to have an appetizer, then just serve this with a bowl of rice noodles, there you go a one dish meal.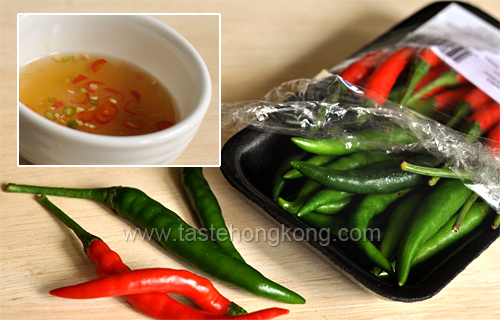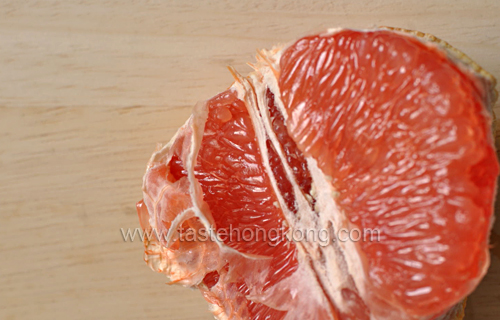 Ingredients
1 squid, ~300g
3-4 leaflets of lettuce, ~80g
3 segments skinned grapefruit
1 tsp salt
Marinades for squid
1/2 tsp grated ginger
1/2 tsp wine
Chili dressing
1 red chili, thinly sliced crosswise
1/2 green chili, thinly sliced crosswise (I use only half piece of this green chili as it is super hot, adjust the amount to your liking)
1 sprig of coriander stems, thinly sliced
2 tbsp lime juice, about 1 lime
2 tsp sugar
2 tsp fish sauce, or to taste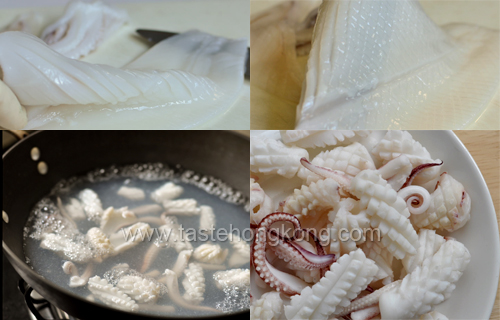 Method
Scoring squid
Tear off the skin of squid, cut open the tube lengthwise (the fishmonger did this for me). Pull apart the head from the body. Then cut away the beak because it is bony and inedible but I am going to retain the tentacles for eating. Rinse and drain dry. Cut the tentacles apart.
Lay the squid slab flat on a chopping board with the inner side facing upward. With a knife, score parallel lines about 1/3cm apart and halfway deep all over on the slab. Score lines again but crossing the previous ones until the whole piece of slab are covered by crisscross pattern. Cut it into about 5x4cm pieces. Marinade the cut squid for 10 to 15 minutes.
Fleshing grapefruit
First make a cross cut near the bottom of the grapefruit, then tear off the thick skin following the cut. After the fruit is naked without the thick skin, just half it by pulling apart. Separate segment by segment, remove their membranes (actually some of the membranes fall off after segmented) and retrieve the flesh which otherwise might have been damaged by cutting. Then, gently tear the flesh into smaller pieces.
Blanching squid
Over high heat, bring about 2 cups of water (enough for covering the squid) in a skillet or a pan to boil and, add in 1 tea spoon of salt. Put in marinaded squid cuts and blanch them till they are done. A rough guide for doneness is when the squid curled and turned completely white in color, about 2 minutes. Do not over-boil them as the squid will turn too chewy. Drain, pat dry squid.
Tearing lettuce
Rinse lettuce, pat dry and tear them into smaller pieces. I like tear them by hand to attain irregular shapes and avoid possible rusty cutting edges caused by stainless steel knife.
Serving
Mix well all seasonings and ingredients for the chili dressing. Cover, store squid, grapefruit, lettuce and mixed dressing separately in fridge for a couple of hours or until chilled. Right before serving, retrieve them from fridge, dress the greens on a dish and top them with squid and grapefruit followed by the spicy dressing.
Note
Chilling the ingredients separately is to make sure the greens will remain crisp while others will not be over-marinaded by the dressing.
To get immediate updates and new recipes from my blog, you may also SUBSCRIBE them via RSS feeds. See you there.