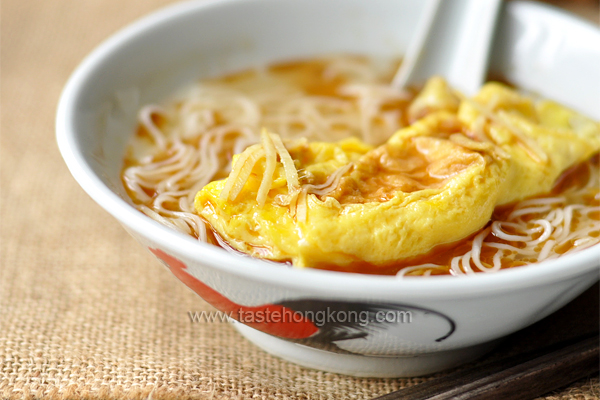 Juggling family affairs and homework with get-together and shopping, luckily I had stayed in good shape. And I still cooked, mostly easy meals though. One of the eats I made for myself before going out to catch up the schedules was this soup with noodles.
Downed a bowl of this, honestly I felt somewhat refreshed.

The recipe I adapted for making this humble yet nutritious soup was said to be a common confinement dish among the peasant communities for centuries. Yes, the soup made at that time was fairly simple because eggs, oils were already luxury foods, not to mention chickens.
Now, I could always cook this with ingredients from my pantry and have the soup readily prepared in less than 15 minutes, how blessed!
Cooking with sesame oil
But, be caution that the mineral-rich black sesames seed oil has a relatively low smoking point, and thus needed to be cooked on moderate heat, otherwise it will burn easily. You may see here how it was used to sauteed garlic and ginger for making another dish, the Three-Cup Chicken.
Making this authentic
To make yours more authentic than this, use fermented white or black sticky rice wine (aka fermented glutinous rice wine ). It is usually the black wine that people use for making confinement dishes, in which both chicken meat and stock are added nowadays.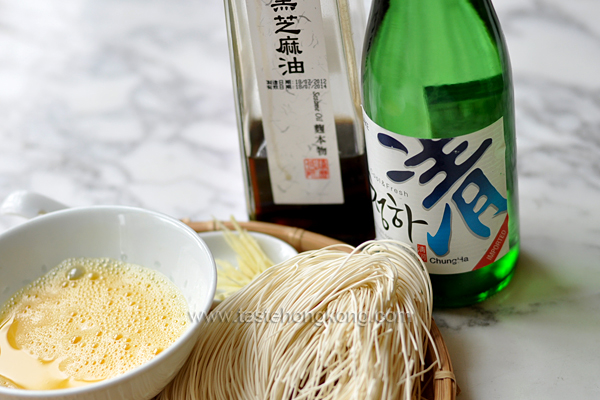 Ingredients
60g dry thin wheat noodles
1 egg
1-2 slices ginger, julienned
4 tbsp rice wine (I use Korean sake)
1 tsp cooking oil
1 tbsp black sesame oil
1/41/8 tsp sea salt
2/3 C water or chicken stock *
1 tsp soy sauce, or to taste
1 tsp sugar, optional

*update: add some more water or stock if your noodles soak up liquid fast, or you may in the first boil undercook them a bit.
Seasoning for egg
1/4 tsp soy sauce
pinch of ground white pepper
Method
Beat eggs, season them with soy sauce and ground white pepper.
Meanwhile, cook the noodles according to instruction, drain water. Set aside, loosening them a bit to make sure they won't strangle together.
Fry eggs with cooking oil. I have them fried on one side and keep rolling like this to keep tender insider and slightly brown on the surface. Dish up.
Sauté ginger shreds with sesame oil over low heat until they are lightly brown and fragrant. If you are using the same pan that fried the eggs. Remove from heat when adding sesame oil to avoid it being burnt (because of its low smoking point).
Splash wine onto the pan and add in water (or stock); bring to a simmer, add noodles and the fried egg. As they return to a boil again, season with salt, soy sauce and sugar (you may want to skip adding sugar if you are using sticky rice wine, which already tastes sweet enough).
Serve hot.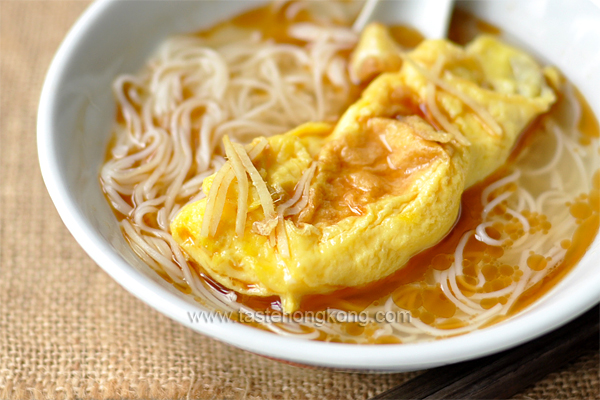 Enjoy!
To get immediate updates and new recipes from my blog, you may also SUBSCRIBE them via RSS feeds. See you there.