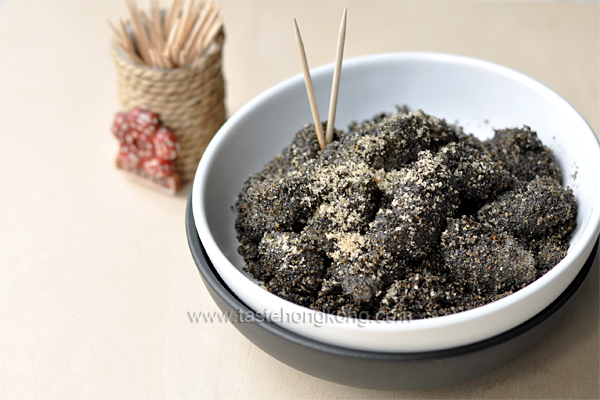 Do you recognize it – a once-popular-roadside-food in Hong Kong?
Not yet?
Does it make any sense if I tell you we call it Loh Mei Chee 糯米糍 in my place? Or, Chee Ba 糍耙 or Muah Chee 麻糬 in other regions in China?

Stiil no?
No worries, it is not your problem. The traditional Chinese mochi is supposed to look brownish yellow than black.
I twisted the recipe, replacing the ground white sesame seeds by black.
White or black sesame seeds, they both are considered as healthy foods, which are amongst the seeds rich in vitamins B and minerals like calcium, magnesium, iron, etc. The black type, also the less processed, however has a stronger aroma and is said to contain a higher content of antioxidant.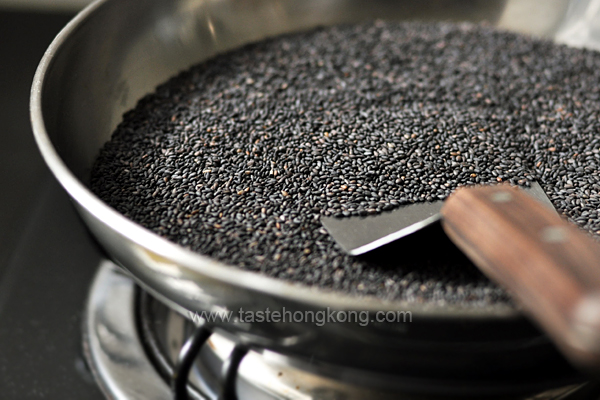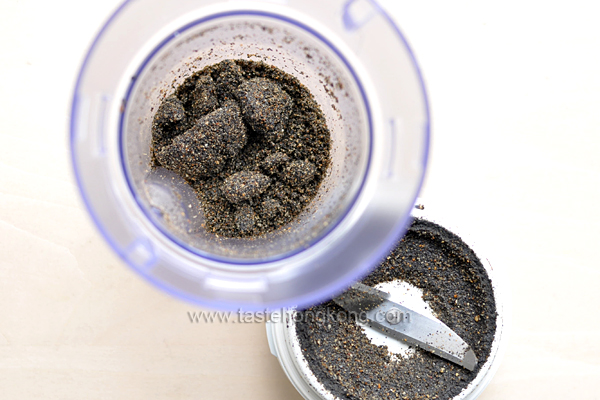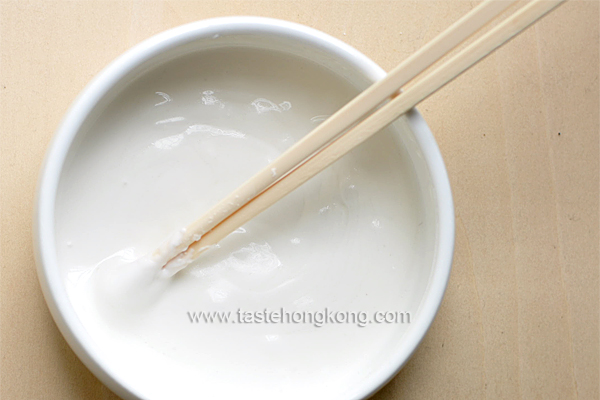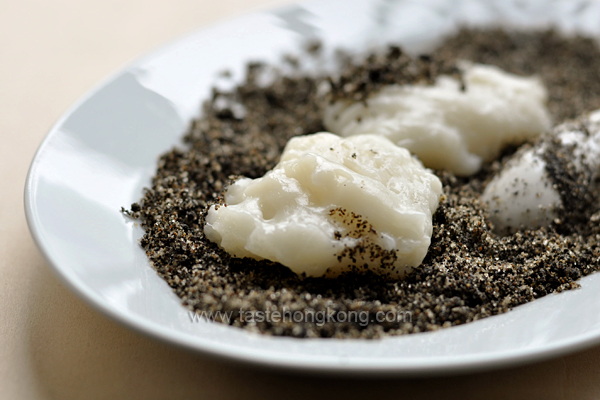 Sesame seeds tastes better when toasted. I made this with a 'white wok', the same traditional way as I toasted the dried shrimp roe.
Toasting sesame, black sesame seeds in particular, takes time and requires good attention. How could we tell a black thing is browned but not burnt? No fear, I'll tell you my tricks in the steps below.
There will be a strong odor from the black sesame seeds as soon as they are being ground. To me, this fresh and pleasant odors already justify all the efforts. Although pre-ground black sesame powder are available in many supermarkets or grocery stores, I can't recommend grinding your own enough.
Ingredients
100g sticky (glutinous) rice flour
110ml water
2 tsp cooking oil (I used canola oil)
6-8 tbsp sesame powder
3-4 tbsp brown sugar, or to taste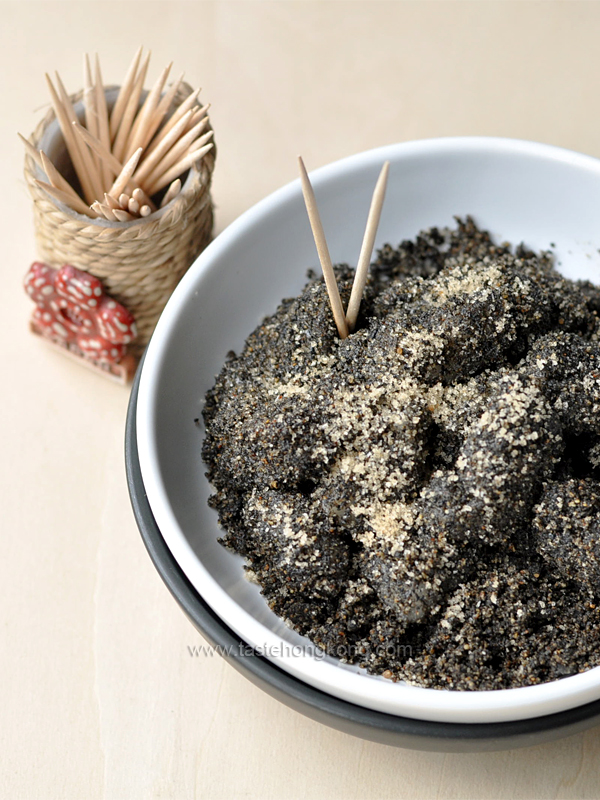 Method
Sesame seeds
Spread out the sesame seeds on a flat plate and pick through to remove any debris, or small stones.
Wash black sesame seeds thoroughly in a fine colander under running water. Or, nest the colander in a large bowl, and wash seeds thoroughly in several changes of water.
Drain dry sesame seeds. For a larger quantity, I'll rest them overnight (wet sesame seeds will requires longer toasting time).
Heat a pan over low to medium flame, without any oil (this what we called 'white wok'), put in sesame seeds. Keep stirring them by a turner.
In 10 to 15 minutes or so, depending on the amount you are working with and how wet the sesame seeds are, you shall start hearing a slight sound of 'lik lik lak'. Lower heat and cook for another minute to make sure all are cooked through. A trick to eliminate the guesswork: mix in at the very beginning a small portion of white sesame seeds, which shall give you a better visual clue as when they are browned (lightly browned would be enough).
Let cool sesame seeds, briefly pulse them in a grinder to form a coarse powder (fluff them if they lumped together). If you are handling a small batch, say a few table spoons, you may simply grind them by a rolling pin.
Mochi dough
Mix well sticky rice flour, water and oil in a bowl. Steam it over medium heat for about 15 to 20 minutes, or until the dough cooked through.
Putting together
Mix sugar with coarsely ground black sesame powder and spread them flat on a plate. Scoop out the cooked (gooey) dough and lay it on the bed of sesame powder. Flip the dough to coat it evenly with the mixture.
Coating the cooked dough reduce its surface stickiness. Then use a light greased scissor to cut the dough into portions and coat each of them (the mochi) with enough sugary sesame powder.
I find it best to serve the mochi warm, enjoy!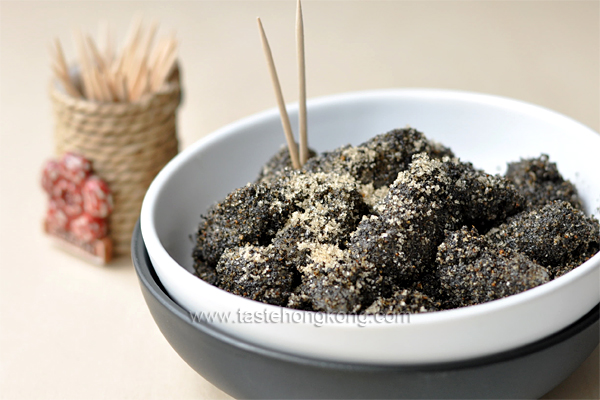 Note:
The coating for classic Loh Mei Chee contains not only ground white sesame seeds and sugar but also ground peanuts. But you may consider other ground nuts for variations, like cashew nuts.
As you might aware, I have toasted quite a large batch of black sesame seeds. They are not only used for making these mochi but also, with the added of oil and sugar, sesame butter and tong yuen (as fillings). But I will only grind them on the day I use them and now they are being stored in an air-tight container.
To get immediate updates and new recipes from my blog, you may also SUBSCRIBE them via RSS feeds. See you there.