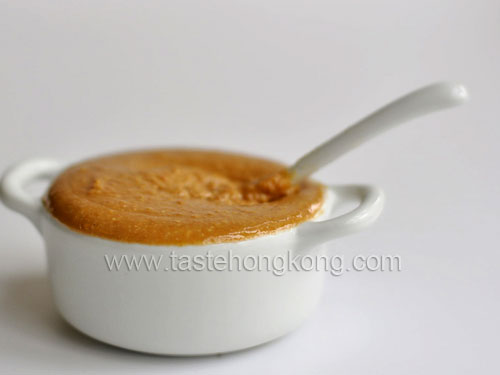 I choose to make this cashew butter than peanut butter because of its greater benefits to health. Cashew contains heart healthy fats which are the same found in olive oil and it is also one of the good sources for anti-oxidants. A Chinese concept on foods suggests, 'Organs are boosted by foods of the same shapes'. So it has been said that cashew is good for kidney as walnut is good for brain. How does this sound to you?
Whichever, let me make it clear that this is not the type of food that I have to trade off between the taste and healthiness. This cashew butter is rich in flavor and mildly sweet, the biggest minus perhaps is its higher price.
With a processor, I bet every one could make this nice cashew butter at home. I have already served it as sandwich spread, dips, and an ingredient in broth for noodles. Possibly, I will also have it mixed into the paste for satay and curry, with varied amount of sugar or even honey.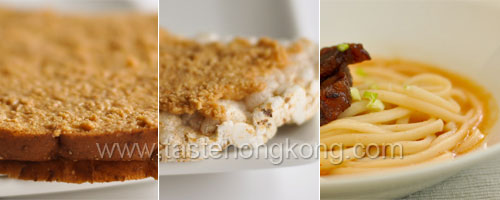 If not cashews, how about other nuts like almond, walnut, hazel …. ?They are also excellent sources of protein and fiber.
Ingredients
250g cashews, unroasted and unsalted
3 tbsp olive oil (or softened butter)
1 tsp kohser salt
sugar to taste (optional)
These amount of ingredients yields only 1 cup of cashew butter.
Method
Soak cashews for about two hours and discard water. This would help activate the dormant enzymes in cashews which are highly beneficial for digestion and nutrition. Click here to learn more from Divina Pe, author of sense-serendipity.com, about why nuts have to be soaked and also an informative post on how to prepare nut milk.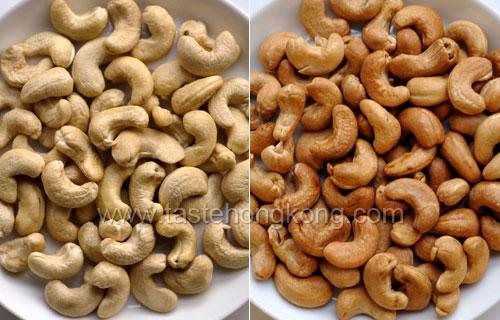 Pat dry cashews. Line cashews on a dish (or on a piece of parchment paper). Preheat oven for 10 minutes. Brown the cashews at 150 degree C for about 15 minutes, check through oven window constantly at the last 5 minutes to make sure they will not be over-toasted.
Remove dish from oven, place it securely on countertop. I don't stir the cashews but flip them one by one to the other side, which helps yield nice browning on both sides. Actually I am quite amazed by my patience in doing such. Be careful when having the first encounter with the hot cashews. I fan them with my hands for a while before touching them. Then, toast the flipped cashews for another 10 minutes.
Let cool the cashews. Pop them in blender, add salt, one table spoon of oil, pulse for half a minute, after which the cashews shall form sticky chunks. With a spatular, level the chunks and add remaining oil. I thought I would need four table spoons of oil, but it turns out that three table spoons (2 tbsp olive oil plus 1 tbsp butter) is satisfactory.
Pulse again for half a minute, stop the machine and you shall see the mixture sticking to the sides of the blender. Scrap it down from the sides. Repeat this step three or four times to attain your preferred creaminess (the mixture shall be slightly grainy). I would suggest making a thicker paste because you may then thin it according to you requirements.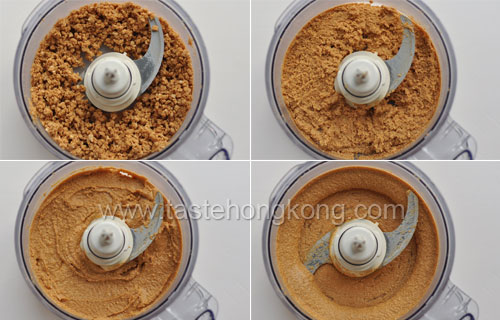 For storage, put the cashew butter in an air-tight container and keep it in fridge preferably not more than a month.
If your processor is capable of blending dough, wake it up and give it this nice assignment. Enjoy!.
To get immediate updates and new recipes from my blog, you may also SUBSCRIBE them via RSS feeds. See you there.