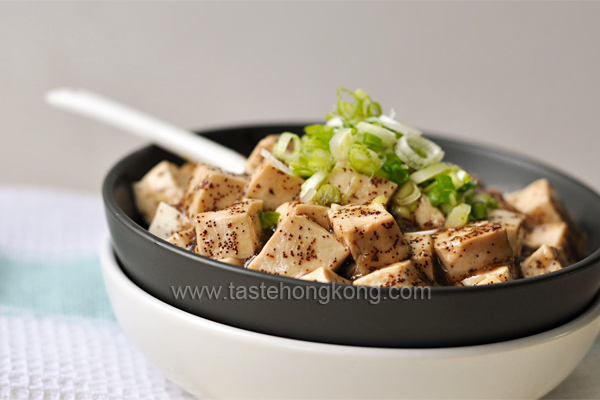 Like most bottled dried shrimps roes, the ones used for making this (蝦子豆腐) are eggs of shrimps already refined in food factory. Although they are no longer alive, still, they have a 'behavior'.
At low temperature, that is, when the dried shrimps roes are well-kept in fridge, insignificant is their aroma. Yet, once enough heat is applied to them, their aroma floats. To trigger their behavior, I therefore cook them with a 'white wok' first.
'White wok' (白鑊) in Chinese cooking is the way to cook or to heat foods with an un-oiled wok. As the roes become more aromatic, at the same time, their fishy smell may grow as well. To mask the unpleasant flavor, therefore, they are always seasoned with ginger and wine.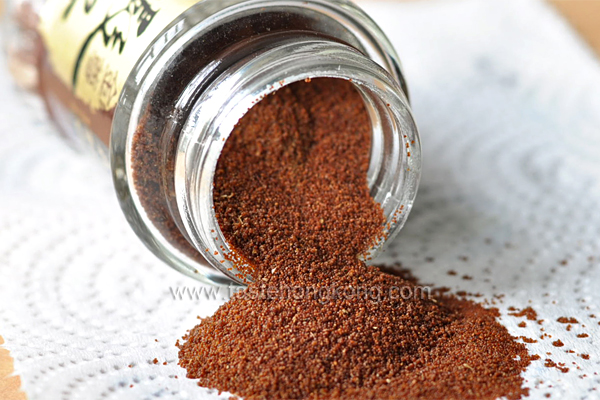 To cook this, simply mix the heated dried roes into the sauce and briefly simmer with tofu, and you are done. Either firm or soft tofu can be used for making this dish, compare the cooked tofu here with this one, and you shall see the difference between the two (in maintaining its own shape).
The dried shrimps though already refined are usually unseasoned. If you swallow a small pinch of them in your mouth directly from the bottle, you may find them taste slightly umami, carrying some fishy smells at times. If a recipe suggests adding dried shrimp roes directly to other ingredients without reheating or further cooking, do check out their taste first just to make sure that the whole dish will not be ruined. It is not necessarily that recipe is incorrect; chances are that shrimp eggs are of very different qualities.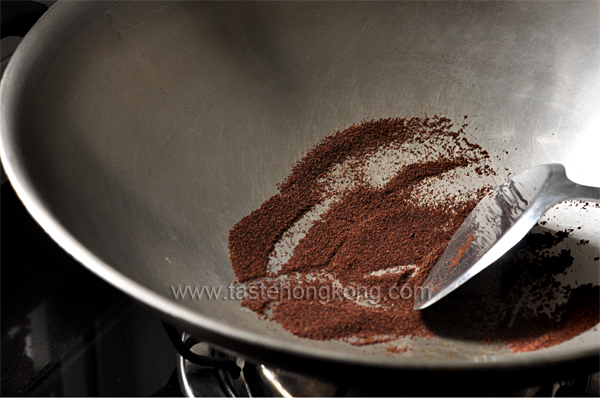 Ingredients
2 blocks firm tofu (beancurd), ~200g, cut into 1cm cubes
1 tsp dried shrimp roe
1 tsp finely sliced spring onions
Salt water
2 cups water
1 tsp salt
Sauce
1/2 tsp ginger juice
2 tsp oyster sauce
1 tsp soy sauce
1/2 tsp sugar
1/8 tsp sesame oil
1 cup water
1/2 tsp Shaoxing wine
salt to taste
Thickening
1/4 tsp potato flour or cornstarch
2 tsp water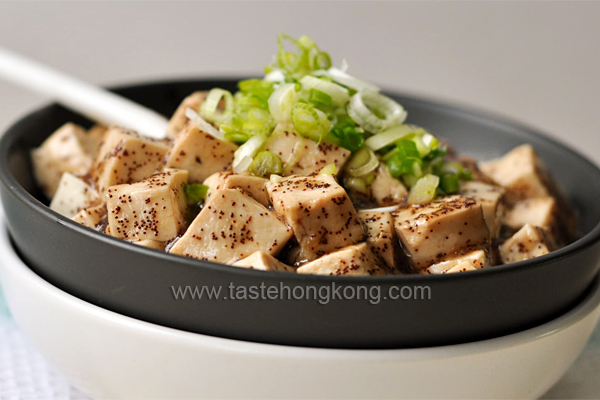 Method
Bring salt water to the boil. Turn to low heat, add cubed tofu. When water boils again, poach tofu for another minute. Remove from heat and drain.
Over low heat, in an un-oiled wok or pan, add in shrimp roes. Constantly turn and stir them with a turner for about a minute, or until fragrant.
Combine ingredients (except wine and salt) for cooking sauce and add to the heated shrimp roes in wok It is normal if the roes are lumped together as there are oil in the sauce. After tofu is added later, they shall cling to the cubes as you stir and assemble them with the sauce..
Give the sauce a few stirs while heating. As sugar is dissolved, gently add in tofu. Sprinkle wine in a circular motion on the heated surfaces of wok.
As the sauce comes to a boil, push tofu sideway. Mix well potato flour with water and thickening the sauce.
Assemble the sauce with tofu and add salt to taste. Dish up and garnish with spring onion; serve hot.
Enjoy!
Where to find dried shrimp roes?
Look for the condiment or dried food section in larger supermarkets. Or, in shops where shrimp roe noodles are available, try to ask them if they sell dried shrimp roes as well. I sometimes find them in grocery stores selling Shanghainese foods.
To get immediate updates and new recipes from my blog, you may also SUBSCRIBE them via RSS feeds. See you there.