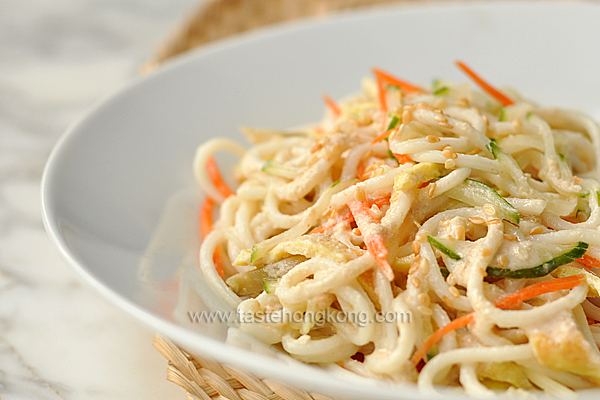 At the time when I started cooking on my own, this was already one of the dishes I liked making. Although it was ages, I still remember I was rather slow in slicing the ingredients. However, it was rewarding because the result were refreshing and the noodles were creamy with the sesame sauce (tahini). And, it was the dish I brought to my first potluck party.

Then, I risked more variations, replacing celery for cucumber, boiled eggs for fried eggs, and even peanut butter for sesame paste. When time permits, I'd substitute chicken shreds for store-bought ham to yield some succulent bites of meat. For an easy and quick version, like I did for this recipe, I'd veer in the meatless direction and spike it with the Sichuan pickled mustard shreds.
Every thing here can be prepared in advance (that is why it is good for potluck), including shredding the vegetables, whisking the sauce, and even boiling the noodles. Just be sure, after prepared, they have to be covered and stored separately in fridge.
For the noodles, I like them to be 'meatier', that is, springy yet not too thin. Ajisen ramen is the one I used here.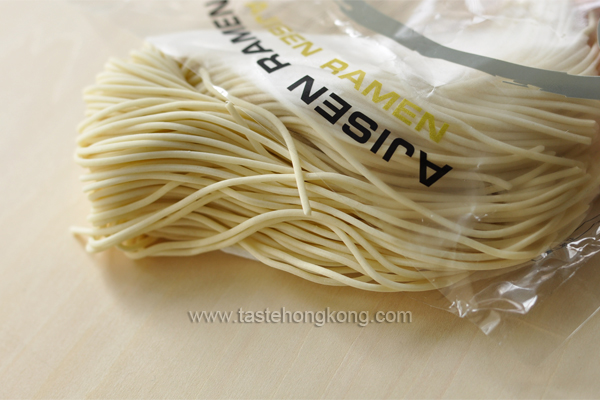 If you plan to use peanut butter, which is usually sweetened but without sesame flavors, consider adding a spoon of sesame oil to flavor the sauce, also making the noodles more slippery.
My sesame paste is flavorful but tasteless; it is homemade in which I did not add any sugar or salt. If yours is store-bought, then very likely, it is sweetened and therefore you may need to skip adding the sugar.
This time, slicing is done quickly with my mandolin slicer.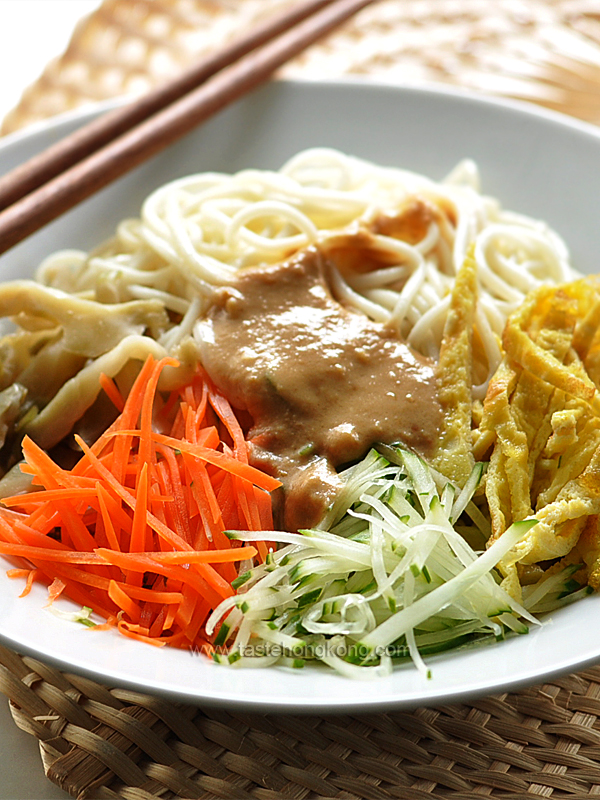 Ingredients
250g wheat noodles (or ramen)
100g cucumber, shredded
100g carrot, skinned shredded
2 eggs, beaten
~50g Sichuan pickled mustard
salt and oil for boiling noodles
1 tsp roasted white sesame seeds, optional
yield 2 servings
Sesame dressing
6 tbsp white sesame paste (tahini)
4 tsp rice vinegar
4 tsp sugar
1 tsp soy sauce
1/2 tsp sea salt, or to taste
1/4 tsp ground white pepper
1 tsp sesame oil, optional
1/2 tsp roasted sesame seeds, optional
~4 tbsp drinking water
Method
In a pan, fry beaten eggs into a thin sheet. Let cool, and cut into thin shreds.
In a large pot, with about 2 litres of water, 1/2 tea spoon each of salt and oil, bring them to a boil. Add noodles and cook barely tender but done (I cook mine for about 2 minutes).
Have another large bowl filled with cold drinking water ready. Drain the boiled noodles and transfer them into the bowl of cold water. Loosen the noodles in the water, then drain well.
Mix all ingredients (except drinking water and skip the sugar if yours is sweetened) for the sauce, then add water a spoon a time, whisking well until it reach your preferred consistency.
Store the noodles, shreds, and sauce separately in fridge until chilled, about 2 hours or overnight.
Just before serving, toss noodles and shreds with sauce. Sample taste, add some more salt if required (you may also adjust the amount of sugar and vinegar to suit your taste). Garnish with roasted sesame seeds if using. Serve cold.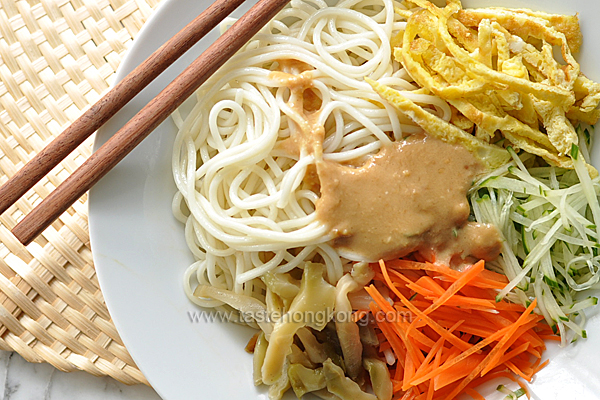 Enjoy!
To get immediate updates and new recipes from my blog, you may also SUBSCRIBE them via RSS feeds. See you there.