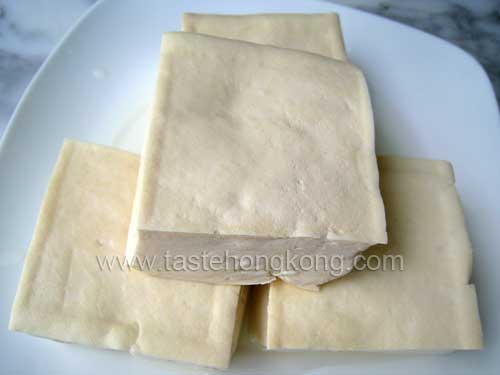 Beancurd in Cantonese is deofu, but it seems to be more popular by its Japanese name, tofu. Made from yellow soya beans, they are first soaked, boiled, blended and filtered into soya milk which is then set by coagulant and pressed to reduce the amount of water. This compressing process determine the type of tofu to produce. Yet they are mostly smooth and bland in taste.

The most common types of tofu are,
1) Silk tofu (picture left) – creamy in texture also known as soft tofu contains the highest water content and is thus the most delicate kind of tofu, which can easily be disintegrated just with some little stir. So it is usually briefly cooked in soup or prepared by steaming. If it is stand in a bowl for a couple of minutes, you shall see water begin to exude.
2) Firm tofu (picture right) – denser than silk tofu and can eaily be cubed, sliced for slow-frying and deep-frying after which it can even be slow-cooked with other sauces or ingredients for longer duration.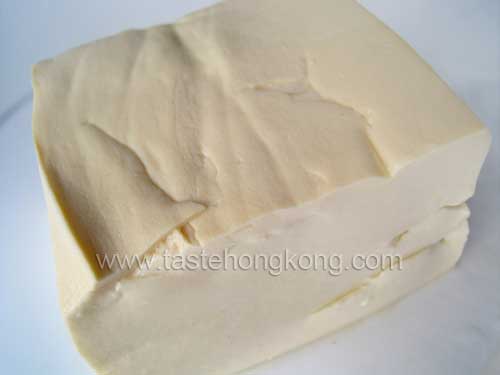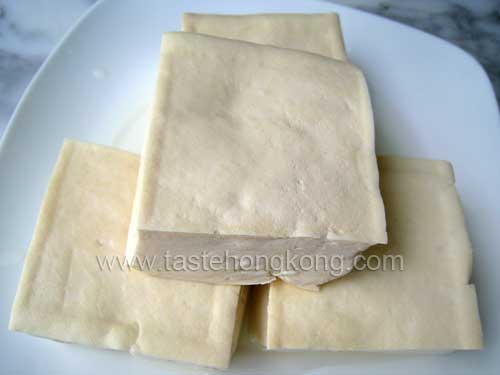 Of the non-meat category, tofu is one with the highest protein level. It should best be consumed on the day it is produced. If storage is necessary, submerse it in water and put in in fridge for no more than 2 days. However, this applies to those ones that come without any packaging. For those vacuum packed inside blisters or plastic tubes, do refer to the storage instructions.
To get immediate updates and new recipes from my blog, you may also SUBSCRIBE them via RSS feeds. See you there.