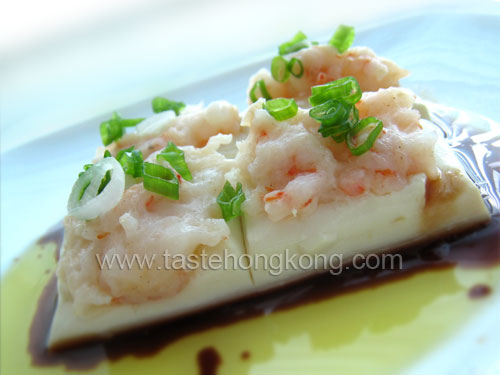 Often than not, most restaurants serve this dish beautifully in front of their guests. Topped with pinkish shrimp, every piece of tofu is neatly laid out on a plate in almost the same size. That size, however, rarely fit into my mouth. Even with the hardest effort, seldom do I get the WHOLE piece of stuffed tofu in one bite – either with the shrimp fallen apart or one portion of the tofu disintegrated. So, I decided to have my size of stuffed tofu today – one bite, one piece.

Ingredients
400g soft tofu
200g shrimp (including shell)
Seasonings for shrimps
1 tbsp finely chopped spring onion
1/2 tsp salt
1/2 tsp corn starch
1 tsp ground white pepper
Method
1) Shell, devein, rinse shrimps and pat dry. Mince them with a food processor, add seasonings and stir well in one direction. Put in fridge for about half an hour before use.
2) Pat dry tofu, cut it into bite sizes and organize them on a plate. Use a small spoon to sprinkle some corn starch on top of each piece of tofu for gluing the topping (we need a little patient here as not to spill the corn starch on the plate).
Evenly spread a portion of the minced and chilled shrimp on top of tofu. Steam over medium heat for 4-5 minutes. Add soy sauce and oil to taste. Serve hot.
Tip
Spread the minced shrimp on tofu as we would do it with jam on bread. Difference is, we should do it gently in order not to disintegrate the tofu. Besides, the shrimp after minced is sticky, therefore, we may need two pieces of knives to play around. In shaping 'shrimp paste', wet knives to reduce the stickiness.
Revisions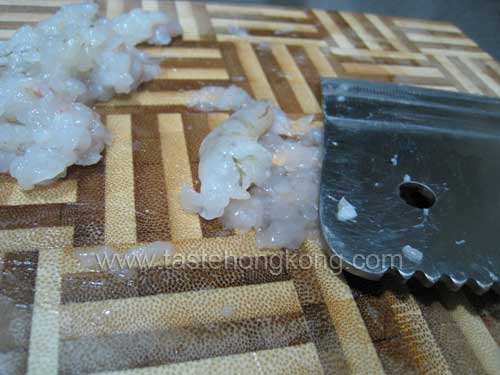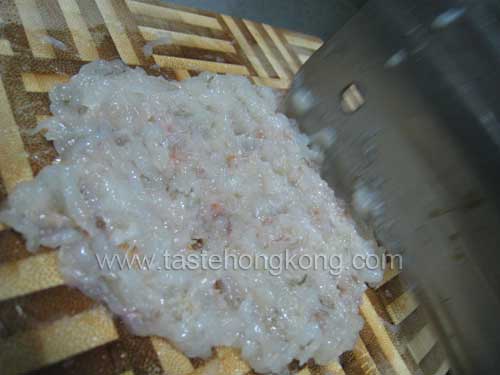 1) Instead of getting a food processor to mince the shrimps, in a recent cooking, I simply use the board side of a Chinese cleaver to press the shelled shrimps and chop them with the blunt end until the 'shrimp paste' becomes sticky. To me, this is more efficient as I was working with a smaller amount of ingredients during this revision – only half portion of the original recipe.
2) Next, I cut the tofu into pieces of about 1cm in height (pictured on the right below) as compare to the last ones (left) which were close to 2cm thick and thus tended to slide at different angles. How do the following two look different to you? Love to hear your comments.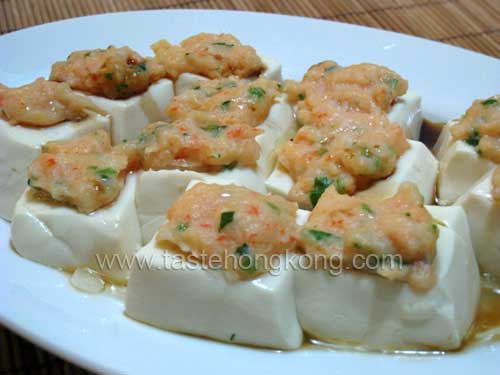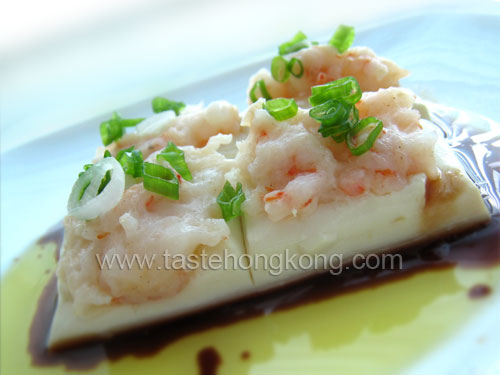 To get immediate updates and new recipes from my blog, you may also SUBSCRIBE them via RSS feeds. See you there.