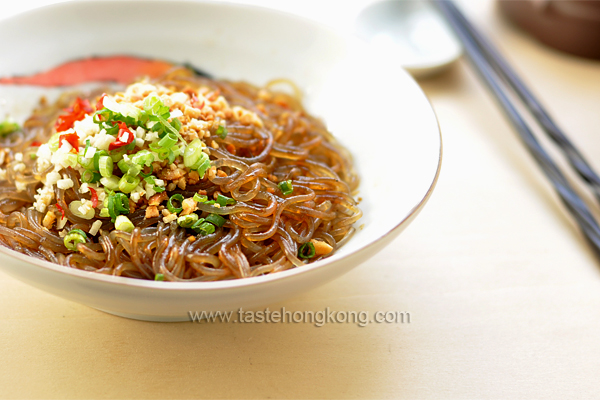 I'd also love to call this "Sichuan Instant Noodles". Because the way it is cooked – boil the sweet potato noodles, dress it with a sauce, and finish it with a spoon of roasted peanuts – takes literally minutes.

It is not that I have a packet of premixed sauce, the ingredients are simply the large and small bottles sitting in my kitchen. To acquire a pungent and fresh spice flavor, I devoted a few more minutes in roasting and grounding the peppercorns like this (but without salt).
Although call it an instant version, I want to divorce any unhealthy image from it since it is less oily than many Sichuanese dishes. If you really like that shinny red hue, then just add some more red chili oil to the dish. And, it is also easy to go after the authentic taste by adding a spoon or two of fermented black bean paste to the sauce.
What I have here is simply a simple idea for adapting the popular Hot and Sour Noodles of Chong Qing (重慶酸辣粉), a major city of Sichuan, where it has been eaten as a snack, a side dish, or even a quick meal during lunch or dinner.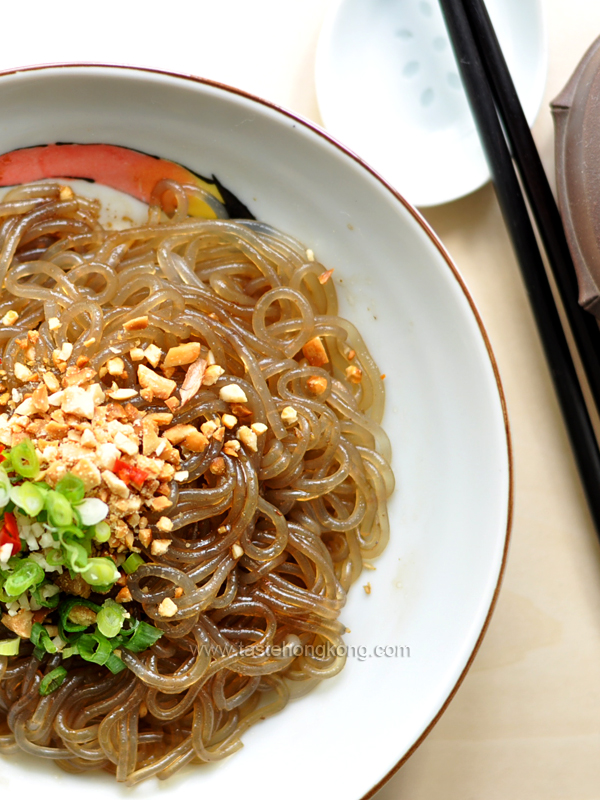 I did not add much chilies as the traditional way do, you may however tune the sauce with the hotness, sourness, tongue-numbness, or even replace the green onions with coriander (cilantro) according to taste.
Ingredients
200g sweet potato noodles
1-2 tsp cooking oil
2 tbsp roasted peanuts, coarsely ground
2 sprigs green onions, thinly sliced
Hot and sour sauce
4 tsp soy sauce
4 tsp Chinese black vinegar
2 tsp sugar
3 tsp sesame oil
2 tsp finely chopped garlic
2 dried red chili peppers, coarsely chopped
2 tsp Sichuan peppercorn powder, freshly ground preferred
pinch of salt to taste
Method
In a bowl, mix sauce ingredients, whisking well. Divide into 2 bowls. Set aside
Cook sweet potato noodles according to instructions (to avoid noodles sticking together, add cooking oil to the water for boiling). Drain noodles. If the instructions suggest that the noodles should be slightly tender, not cooked through, then you may want to cook them for about half minute more because we are not going to stir-fry or boil the noodles further.
Divide the hot noodles into the 2 bowls, dress them well with the sauce, and top each portion with green onions and roasted peanuts.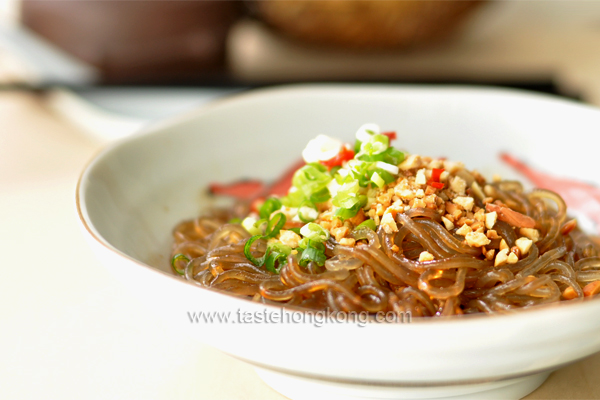 Enjoy!
To get immediate updates and new recipes from my blog, you may also SUBSCRIBE them via RSS feeds. See you there.