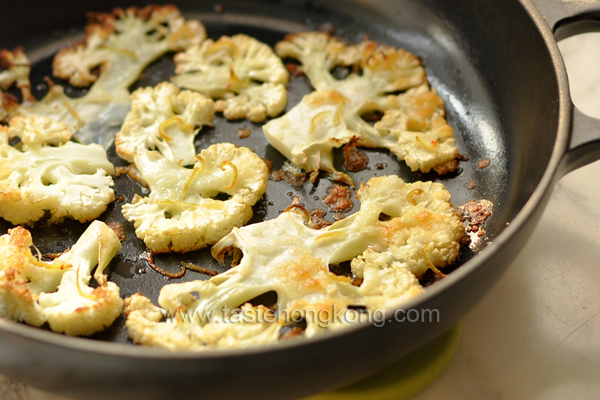 I have wanted to share this light dish with you soon after those big Festive meals, however things get in way so this is a little late.

This recipe is inspired by Radically Simple in which I was attracted to an elegant looking dish with cauliflower slices cut in the shape of a tree. True, it is simple to prepare. Simply cut the cauliflower, then assemble it with the other two ingredients, and pop it into the oven, a comforting starter or side will be ready in 15-20 minutes.
But I have to tell you that a head of cauliflower may probably produce 2 or 3 trees because some branches (florets) will fall apart.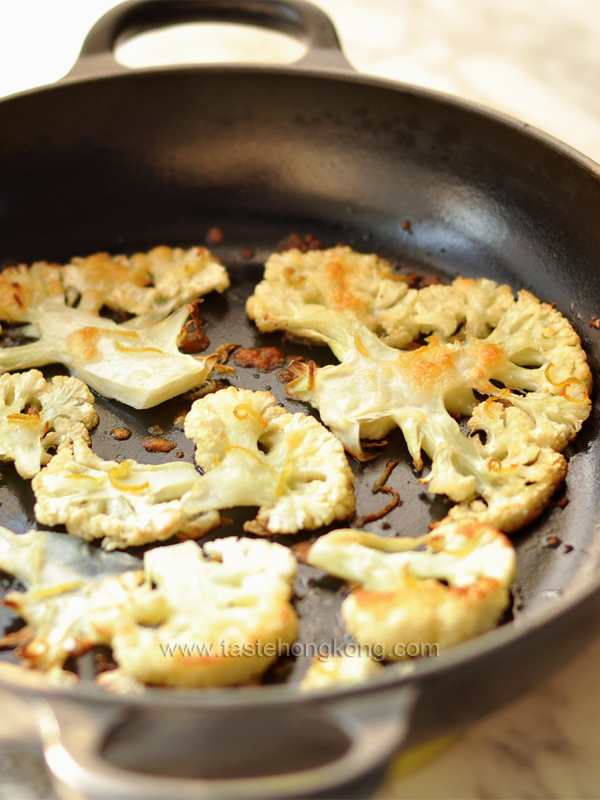 For the larger florets that fell apart, I still roasted them with those 'trees', and the result turned out that they were juicy too. For smaller ones, I reserved them for making a soup, but I believe you may add them in stir-fries like this and this.
By the way, I managed to get two intact 'trees' from half of my cauliflower. What a luck!
And yes, I wish this to bring you a lucky, healthy 2014 too!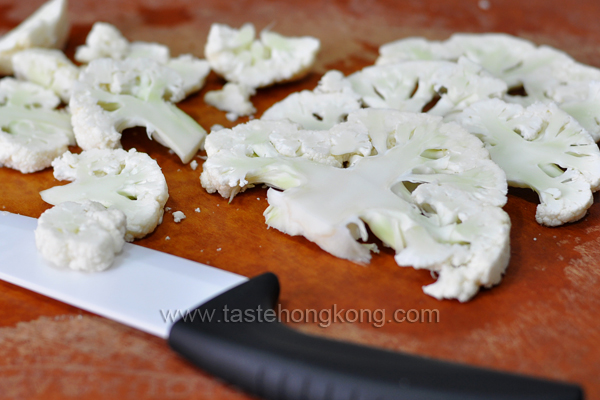 Ingredients
1/2 head of cauliflower
1 tbsp of oil (I used coconut oil) plus some extra for greasing the dish or pan
1/4 tsp salt
1 tbsp grated or chopped cheddar cheese
1 tbsp julienned organic lemon peel, yellow rind only (white pith trimmed)
1-2 servings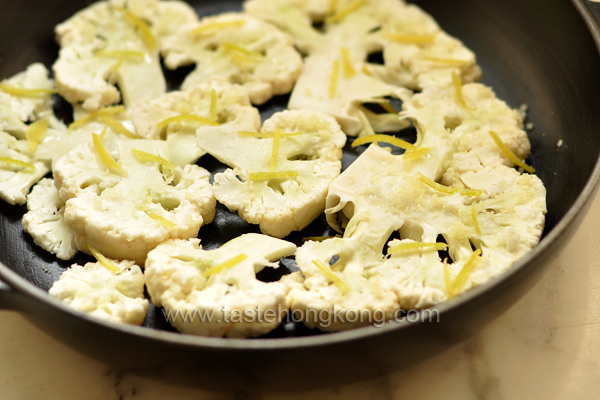 Method
Preheat oven to 200 degree C. Trim and discard the outer leaves and toughest part of the core (if any) from the cauliflower. Wash well and drain dry.
Cut into 1/2 cm slices. I started slicing the half head of cauliflower from the flat side through the stem end.
The first two slices from the halved cauliflower was almost intact resembling the shape of a tree. Then, some florets fell apart from the remaining slices. Yet, I had used all of those that are thick enough for roasting.
Lightly a grease a oven-proof dish or pan. I used a cast iron pan because it helped brown the bottom of the cauliflower slices too. Arrange slices on pan, drizzle them with coconut oil and sprinkle with salt, cheese and lemon rind (peel of organic lemon should be more flavorful than ordinary ones). Roast for about 15-20 minutes or until cauliflower is lightly browned and tender.
Serve hot.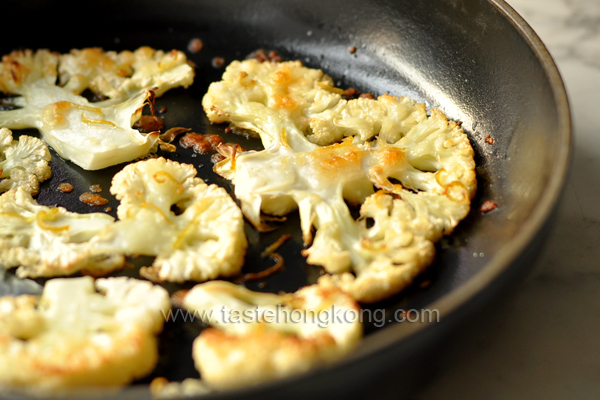 Enjoy!
To get immediate updates and new recipes from my blog, you may also SUBSCRIBE them via RSS feeds. See you there.