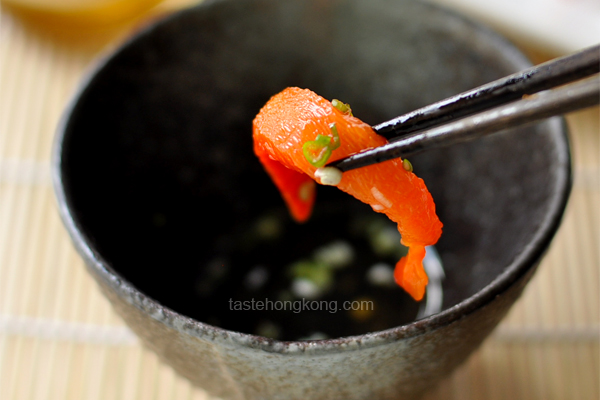 The bell pepper was supposed to go with a stir-fry. But finally I surrendered it to this and made a serving for myself, neglecting hubby's share, even though it doesn't seem justifiable to roast only one pepper in my toaster oven.

There is nothing mysterious about the preparations. I mean, apart from cutting it into bite size pieces, you don't need to process the bell pepper further after it is roasted enough.
Enough means, the bell pepper is cooked to the state when its crisp flesh turned velvety soft and sweet juice become concentrated (that is, use slow-cook than quick grill approaches unless you want the pepper with a bit of crunchiness in spots).
True, roasted bell pepper with salt, black pepper and olive oil is already a comfort dish. But for an interesting, chilled take, try it with a cold sauce made from dried kombu (kelp) 昆布 — a mock sashimi with smoky flavor.
Hope you enjoy too, and these tips help: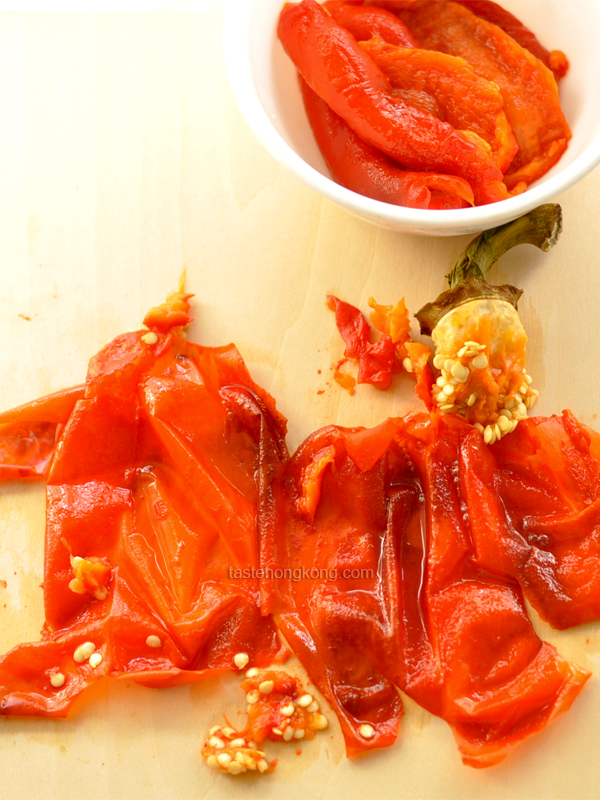 Using roast function and enamel dish
– Grilling should be quicker but slow-roasting makes the pepper taste velvety. So, unless you want its flesh with a bit of crunchiness in spots, use slow-cook than quick grill approaches (oven or stove-top).
– I don't line the enamel dish with foil nor add any oil. There might be some browned spots in the dish, but you may free them easily by soaking with mild detergent. And you reduce some waste.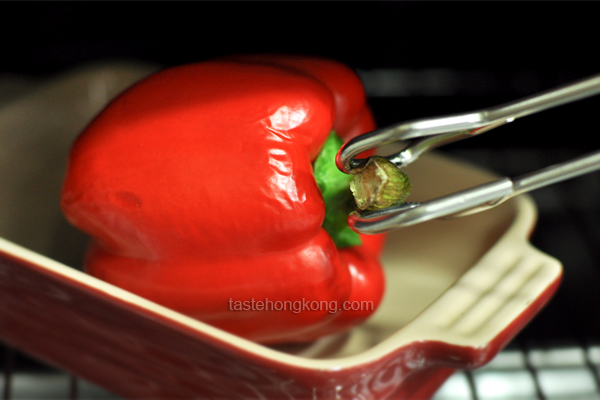 Roasted for about 25 minutes, the pepper starts to get charred and blistered a bit.
Turning halfway
Keep the stem intact so that you may use it to turn the bell pepper halfway without leaking the liquid in it.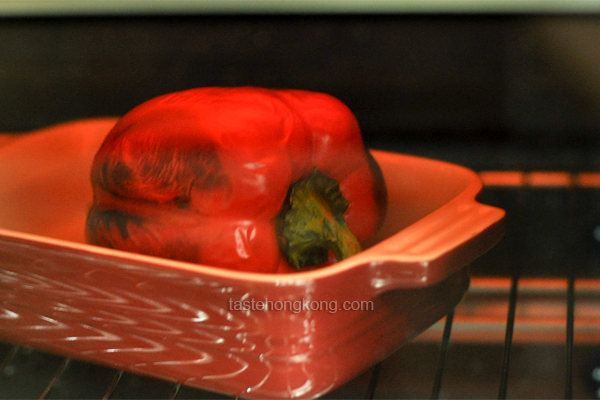 Roasted for 45 minutes and grill on high for another 1 minute, the pepper get charred on all sides.
Steaming
Once the pepper is roasted, you need to 'steam it' in order to skin it easily. You may use foil, cling wrap to tightly seal the pepper in a bowl. Yet, a pot with tight-fitting lid works too, which again helps reduce waste.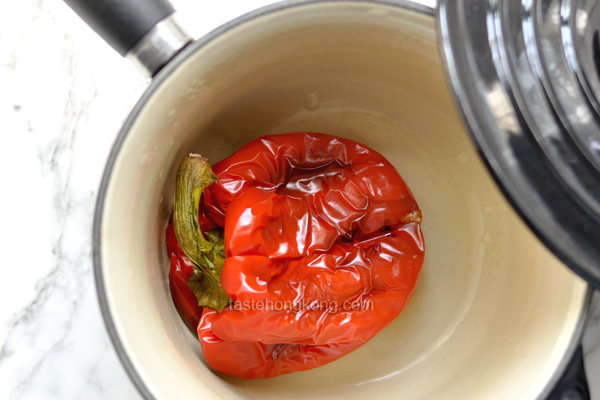 The flesh of pepper collapsed after covered in pot for 30 minutes.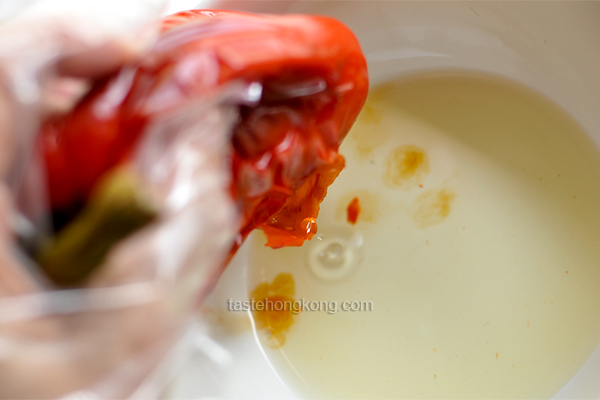 Make a small cut on a side to drain the juice.
Ingredients
2 red bell peppers
1/2 C dipping sauce
2 servings
Dipping sauce
1/2 post-card size of dried kombu
1/2 C water
1 tbsp sugar
2 tbsp mirin
2 tsp sake
1 tbsp soy sauce
sea salt to taste
– If not vegetarian: replace the dried kombu and 1/2 C water by 1/2 C of dashi.
– Or, if you have any store-bought dipping sauce for serving with Japanese cold noodles, give it a try.
Method
Wash and pat dry the pepper with towel, leaving the stem intact.
Preheat oven to 375 degree F with convection fan on, lay pepper on its side on the dish. Roast for about 25 minutes or until it starts to blister. Using a tong, give the pepper a half turn, then continue to roast for another 20 minutes (to intensify the smoky flavor, you may switch to grill for another minute or two to blacken the pepper a bit more).
Once the pepper is roasted, and while it is very hot, transfer it from the oven and place in a heavy duty pot, cover with a tightly fitting lid (be careful when handling the pepper from oven, it is very hot). If any doubt about the tightness, cover it with a thick kitchen towel to help preserve heat inside.
Keep the lid on for about 30 minutes, or until the pepper is cool to handle, the skin can easily be separated and removed from the collapsed flesh.
Gently lift up the pepper. Using a knife to make a small cut on the side and drain the juice inside (if it is not contaminated by the charred skins or bitter seeds, I will use it as a broth to flavor my other dishes; but sample taste first.)
On a cutting board, cut open the pepper into one flat piece, now the skin can easily be separated from the collapsed flesh. Discard skin and seeds, trim away white pith (may turned red). Cut or tear the flesh length-way into about 1/2 cm wide. Chill in fridge until cold and serve with the kombu dipping sauce.
Dipping sauce: In a pot, dissolve sugar in 1/2 cup of boiling water, then add in kombu. Remove from heat and leave it for 2 hours (or 3 hours for cold seasons). Discard kombu. Mix in mirin, sake and soy sauce; add salt to taste. Divide to serve two. You may want to make the sauce in advance because it needed to be chilled before serving.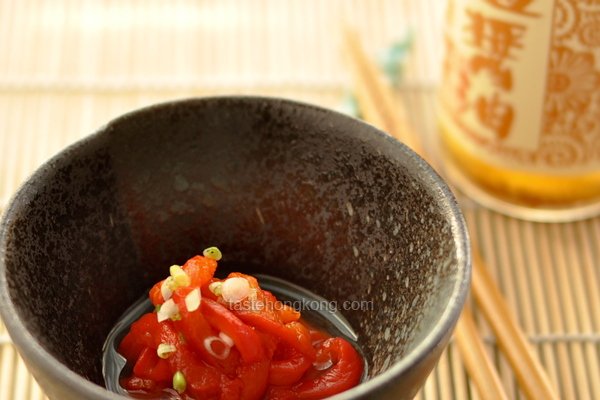 Enjoy!
p.s. The oven I used is a counter top toaster oven of 1800W
, and I placed the dish on the lower rack.
Update on 2014 Aug 28:
When buying red (bell) peppers, buy the darkest colored one that you can find. The darker they are, the higher the concentration of the flavonoids (a compound which have a very powerful antioxidant property).
Source: Clear Skin Cookbook
To get immediate updates and new recipes from my blog, you may also SUBSCRIBE them via RSS feeds. See you there.