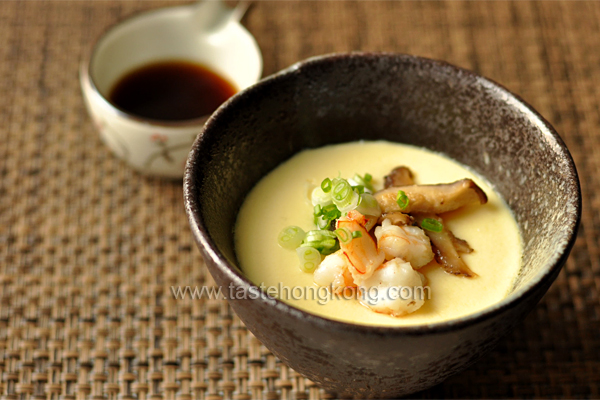 Saying goodbye to the Winter Solstice and the Christmas also means that hubby and I are having a pause for heavy eatings after a couple of meaty, dine-out meals. So naturally, this recipe becomes a member of our light dishes.

Steamed egg is not a strange dish to me, yet I cooked this with reference to a cookbook, Masterclass in Japanese Cooking, trying to follow a Japanese chef way of cooking. I have read critics about this book for not being in-depth enough to justify the 'Masterclass'. Yet this classic Japanese chawan mushi (茶碗蒸し), meaning a dish of thick egg soup steamed in a tea bowl, turned out in a way that I may declare it not being inferior to those found in Japanese restaurants, decent ones.
Traditionally, chawan mushi is topped with some extra ingredients like prawns (shrimps), chicken, duck, ginkgo nuts, shiitake mushrooms, grilled anago (sea eel), green vegetables, lily bulb or even young bamboo shoots. The one done in the book however has shown a variation by adding shimeji mushrooms and okra. Without these two on hand, I therefore had spring onions replaced for the green portion and dried black mushrooms for the shimeji.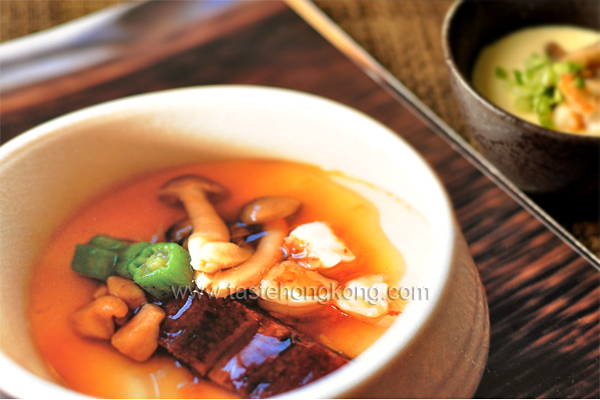 In addition to eggs, another key ingredient in making this flavorful custard is a stock called dashi, typically boiled from dried konbu and dried bonito. Although other type of stocks, chicken, dried scallop or dried shiitake, are also suggested in the book, I must say dashi is the one that underscored the taste of Japanese cuisine.
But I agree that a good bowl of chawan mushi shall be free of bubbles or rough texture. To make it right, you may be interested in seeing a few simple steps showing how to steam a silky and smooth egg custard here.
Ingredients
Egg Soup
2 medium-sized eggs
1 1/2 cup dashi
1/3 tsp sake
1/4 tsp salt
1/3 tsp soy sauce
Dashi
2 1/4 cups water
5 cm square of dried konbu (kelp)
15g dried bonito (kezuribushi)
1/4 tsp salt
1/2 tsp soy sauce
yields about 2 cups dashi
Toppings
3 shrimps
2 dried black mushrooms, reconstituted, water squeezed and finely sliced
1 sprig spring onion, finely sliced
1/2 tsp oil
1/4 cup of water
1 tbsp sake
1/8 tsp salt
Sauce
1 tsp soy sauce, or to taste
1/2 tsp sesame oil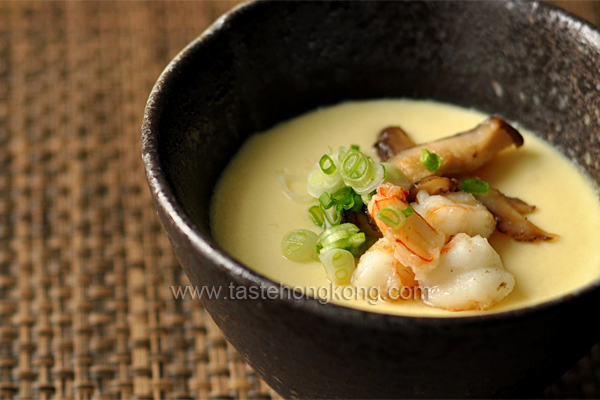 Method
Dashi
Briefly rinse konbu under running water; put it in a saucepan with 2 1/4 cups water and bring to the boil over medium heat.
Just before the water comes to the boil, take out konbu and add in dried bonito.
Remove from heat as soon as the water boils. After the dried bonito fully settled to the bottom, strain through a fine sieve.
Let cool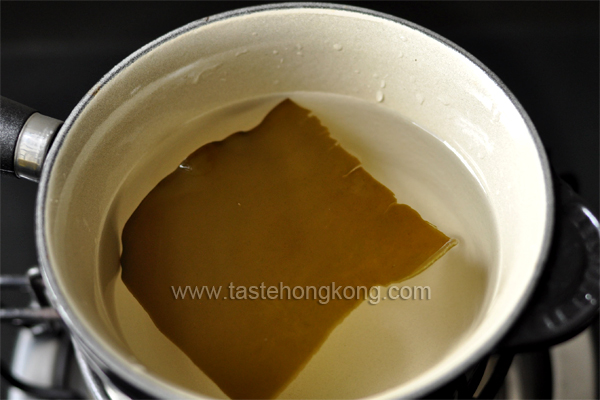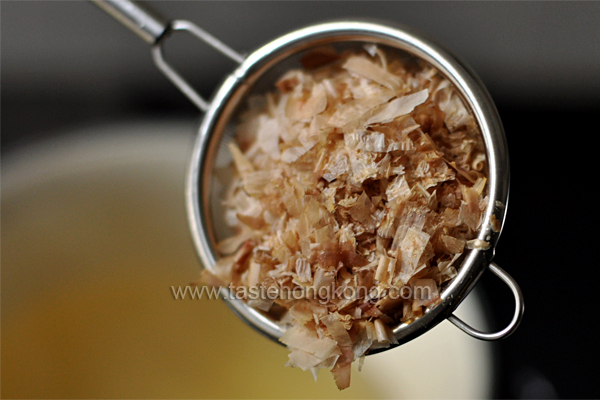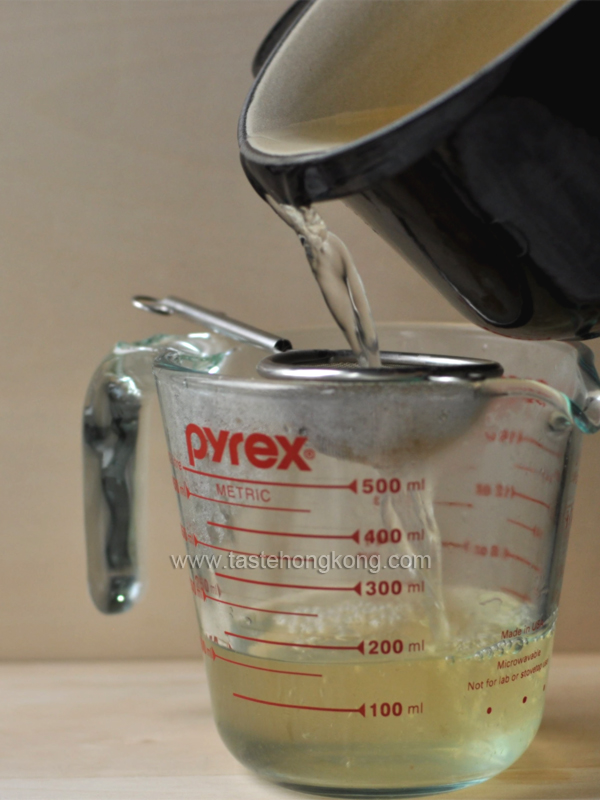 Egg Soup
Beat eggs, mixed in 2 1 1/2 cups cool dashi together with sake, salt, and soy sauce.
Gently pour egg mixture into a steam-proof bowl or cup to reach a thickness of about 3 to 4 cm (this recipe shall make 4 bowls of this).
Set up a rack with about 3 to 4 cups water in a wok, cover. Bring water to the boil.
Cover bowls with aluminium foils or a flat plates, steam over low heat for about 15 minutes.
Once again, steaming a silky and smooth egg custard is not a secret, you may see the steps in my previous post (mind you, the hardness of egg custard in that recipe is different from this one), just check it out here.
Topping
Discard shrimp heads; shell, devein, rinse them and pat dry. Dice.
While steaming the eggs, in a saucepan, heat oil over low heat and sauté sliced mushrooms until fragrant. Add water, simmer until about only a tablespoon of water is left. Mix in sake, salt, followed by diced shrimps. Stir cook.
Remove from heat when shrimps turn bright red.
Assembling
Test doneness of eggs by inserting a toothpick (as it comes out clean).
Arrange sliced spring onions, cooked shrimps and mushrooms on top of each bowl of chawan mushi. Serve hot with sauce.
I would suggest sampling the steamed egg before adding the sauce. Usually chawan mushi is eaten as an appetizer, but we serve this with rice and some veggie, and we have enjoyed it very much.
Enjoy yours!
For dressing the custard, you may choose to make a simple sauce as I have just mentioned or cook up a kuzu soup to top the custard as shown in the second image above, which is a snapshot from the book but is a step I have skipped. Whichever, again enjoy!
Kuzu Soup
1/2 cup dashi
1/8 tsp salt
1/8 soy sauce
1/2 tbsp kuzu (thickening agent) or arrowroot, diluted with 1/2 tbsp water
Heat dashi, season with salt and soy sauce. Add the diluted kuzu or arrowroot into the soup, stirring continuously until the soup thickens. Remove from heat.
To get immediate updates and new recipes from my blog, you may also SUBSCRIBE them via RSS feeds. See you there.