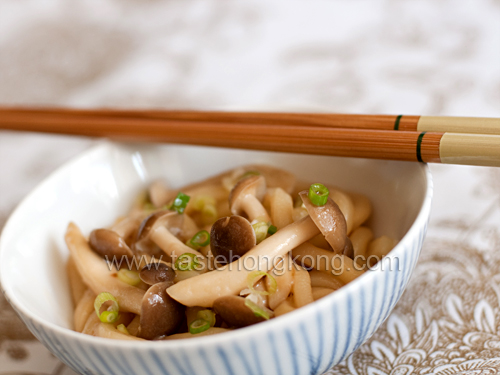 I haven't expected that this miso sauce, made with only a few basic seasonings, would have pleased me as much as that fresh, handsome bunch of shimeji mushrooms.
Although this is not the first time I cook shimeji, I have been cautious with these 'beauties' trying to find a way to best utilize them. Finally, I was sold by a recipe – a nice vegetarian recipe – in one of my newly purchased cookbooks.

"Shimeji シメジ is the third most popular mushroom in Japan. There are many varieties, both wild and farmed. In the wild, they grow at the foot of Japanese oaks (nara), and red pines. The most popular variety for cultivation is buna shimeji, meaning 'beech shimeji', so-called because in the wild this variety grows on fallen beech or elm trees."
Source (and recipe adapted from): the Japanese Kitchen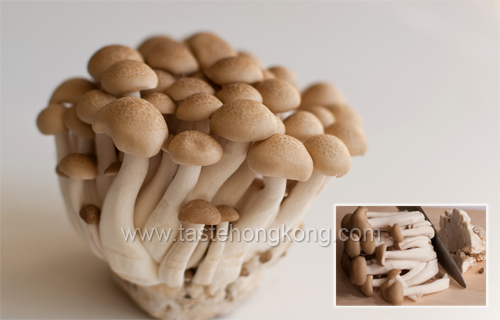 I like the idea of adding a decent amount of olive oil cause it help dress the shimeji and noodles silkily smooth, but having half cup of it for 3 cups noodles as suggested in the cookbook sounds too oily for me; so the amount is adjusted. I also tweak the original recipe to my convenience, replacing spring onions for parsley and frozen udon for kishi-men noodles (flat udon noodles). Besides, since dried porcini mushrooms are not available with me, I substitute them by dried black mushrooms. .
I must admit that I have made quite a number of adaptations, but everything is still vegetarian-friendly and simple to prepared.
Ingredients
1 package frozen udon, ~230g
1 packet shimeji mushrooms, ~100g
2 cloves garlic, finely chopped
1 tbsp cooking oil
1 tbsp sliced spring (green) onion
Miso Sauce
2 tsp white miso paste
2 tbsp olive oil
1 tbsp soy sauce
1/8 tsp ground white pepper
3 tbsp water from soaked dried black mushrooms (see note below)
salt to taste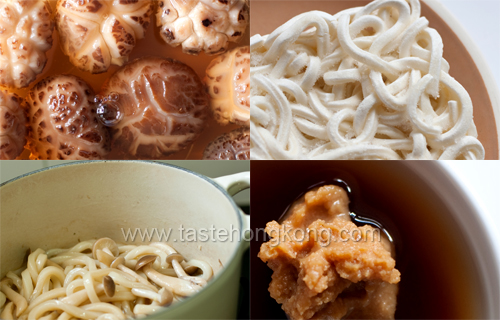 Method
Cut off base parts of shimeji mushrooms, discard. Separate mushrooms. Brush away any dirts from them; the ones with me are clean enough, so I just leave them as they are.
Cook udon according to package instruction (I suggest to cook 1 minute less as the noodles will be cooked again with the sauce). Drain udon.
Heat 1 table spoon cooking oil in pan over low heat; sauté chopped garlic until fragrant. Add in shimeji, and keep stir-frying for about half a minute. Mix in miso sauce and turn up heat to medium to cook for another minute or so. Then, transfer drained udon into the sauce and stir well till done. Dish up, garnish with spring onion (I actually add one whole table spoon of it into the noodles after taking the photos). Serve hot, enjoy!
Note:
Rinse 6 to 8 dried black mushrooms and soak them with 1 cup of water for at least 1 to 2 hours or until soft (highly dependent on mushroom variety). After getting 3 table spoons of their brownish juice for use in this dish, do reserve the remaining liquid and mushrooms for stir-frying vegetables and even for cooking into a soup.
To get immediate updates and new recipes from my blog, you may also SUBSCRIBE them via RSS feeds. See you there.