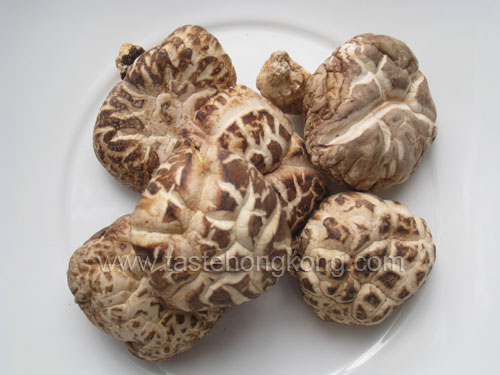 Dried black mushrooms are also referred as Chinese Black Mushrooms. Although they all resemble the shape of an an umbrella, they vary in size, thickness, and intensity of flavour.

Those with the thick, crinkled, white-flecked caps of the so-called "flower" mushroom are often regarded as better in quality and are more ideal for stewing or simmering dishes. Yet it is not necessary to buy the thickest for all purposes. Do consider getting the thinner ones for dishes that require slicing or chopping into small pieces. Black mushrooms in fresh form, are called Shiitake, which require no soaking but their flavor are less intense then the dried ones. However Shiitake is more popular for use in hot pot dishes.
Before use, soak dried mushrooms in cold water for at least an hour (but it is best to refer to the instructions on the package or consult the retailer as some of them may require soaking overnight). Dried mushrooms are ready for cooking only when you find that the whole cap, are completely soft and that you can squeeze all excess water from it. To shorten the soaking time; remove the stem first. Dried mushrooms can be stored for about half a year if kept in dry, cool place.
Water from reconstituted dried mushrooms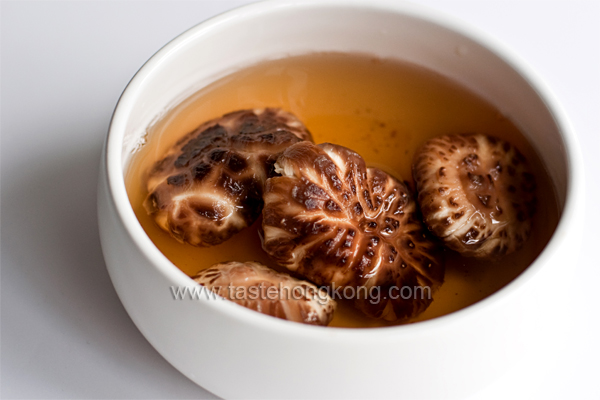 Updated on Dec 29, 2010
The water used for reconstituting mushrooms can be reserved for making sauce, soup, broth or stock for added flavors, but you may need to change the water after the first hour to get rid of any impurities (some cultivated mushrooms are planted with chemicals or pesticides).
To get immediate updates and new recipes from my blog, you may also SUBSCRIBE them via RSS feeds. See you there.