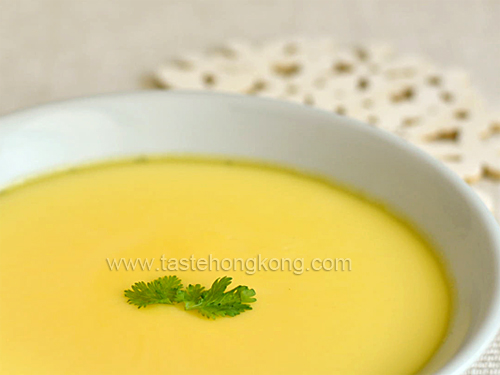 I grew up eating Chinese steamed eggs with variations one after another. A good dish of steamed egg to me however does not necessarily need to come with seafoods or any pricey ingredients. I only demand it in smooth texture, appearing more or less like a piece of silken tofu.

I have no secret recipe for making a dish of silky, custard-looking steamed eggs. I simply do it with an appropriate mix of heat and timing. My experience is, both medium and low heat can do more or less the same. Difference is, cooking on a higher heat requires a very precise timing, or the steamed egg will easily be aged and end up with a honeycomb-like texture; yet, a lower heat is more forgiving.
Also on the less stringent side is the amount of water to be added. I usually in favor of a thinner consistency, therefore I have here a higher ratio of water to egg.
The simplest form of steamed eggs in Hong Kong is what we call Steamed Water Eggs (蒸水蛋) because only water is added to the beaten eggs, which is also the one you see here but may be less popular than those using stock nowadays.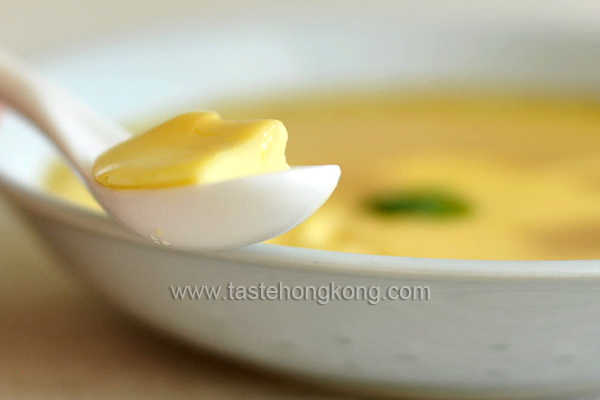 Ingredients
2 eggs, bring to room temperature if chilled
6 halved egg shells of boiled water
(water : egg = 1.5 : 1)
soy sauce to taste
sesame oil to taste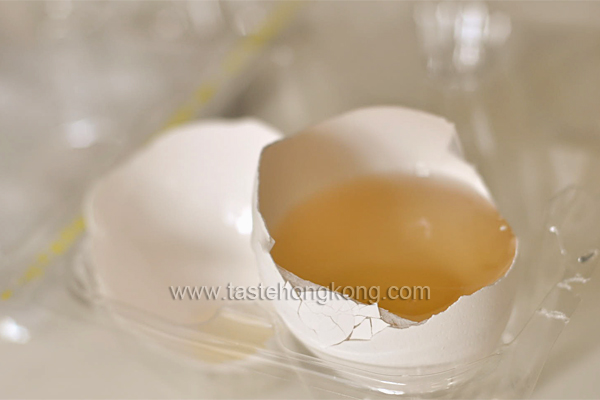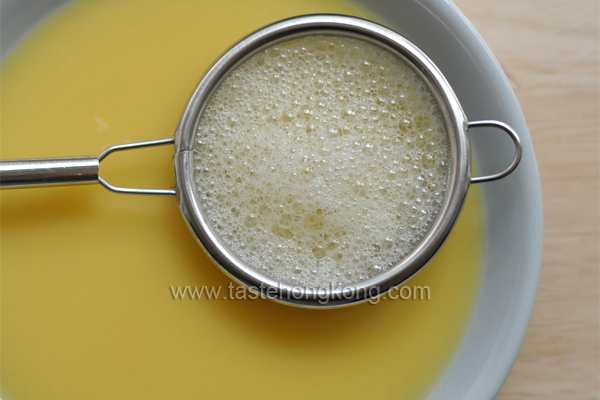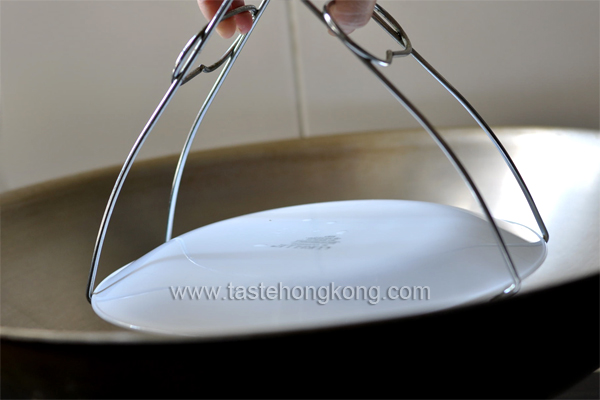 Method
Beat eggs, add cooled boiled water to egg and mix well. Strain the mixture through a sieve into a steam-proof dish. Or, you may remove the bubbles with a spoon. I'm less skillful in cleaning off the bubbles without discarding some egg juice at the same time. Therefore, using a sieve to me is more efficient.
Set up a rack with water in wok. You may need a higher rack that would suspend the dish above the water surface.
Bring the water to a boil over high heat. Place the dish with beaten eggs on a rack, then top the dish with a flat plate. Cover lid; turn to low heat and steam for 15 minutes (the egg mixture in my dish is about 1.5cm thick). Open and check if the eggs are coagulated by gently shaking the dish. Having a plate-lifter and a towel shall help move the dishes easily.
Top the steamed eggs with a dash of soy sauce and sesame oil (I haven't included any seasonings in the egg mixture; if you have any, you may not need to add soy sauce). Serve hot.
Enjoy your variations with the additions of green onions, shrimps, scallops, meat …
In case you are new to steaming eggs, I believe a few notes below would also help.
Using halved egg shell for measurement
Doing such eliminates estimations as you don't need to bother whether the eggs are small or large. Besides, it is also convenient. For every one egg, I measure water in its halved shell three times.
Using boiled water than tap water
I can't offer a scientific explanation, but using cooled down boiled water helps make the egg custard smoother.
Suspending dish above water
This is to avoid having too much boiling water hitting the base of the dish, thus overheating the egg and creating some sponge-like texture inside. Perhaps in this case, I tend to become a perfectionist.
To get immediate updates and new recipes from my blog, you may also SUBSCRIBE them via RSS feeds. See you there.