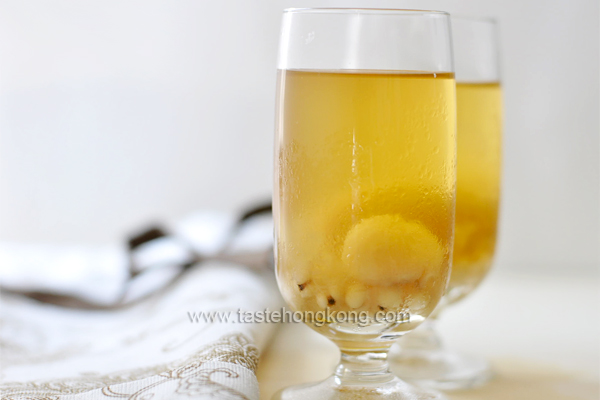 Call this a Chinese folk medicine might be a bit exaggerated. Unlike most medicinal herbal teas, it neither looks cloudy nor tastes bitter. I even make it look fancier here but the way it is served will not degrade its cooling property for curbing the summer heat in our bodies (in Chinese term, 消暑).
Yes, this is a healing drink but is both tangy and sweet.

However, it does not necessarily need to be chilled in order to achieve the cooling property. The key thing I know is that we have to boil the winter melon with its green skin for maximizing the heat-eliminating effect.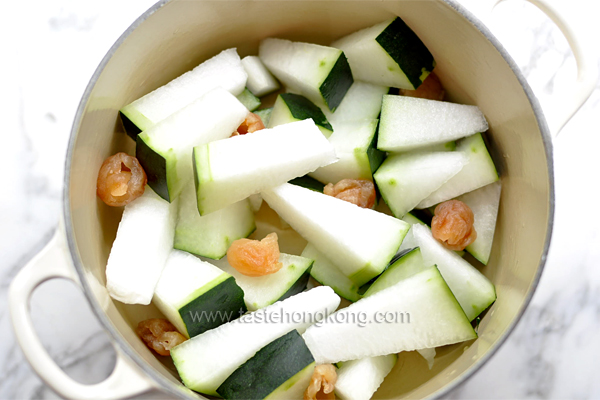 And this is a drink that depicts the concept of balancing in Chinese food therapy. Winter melon is a member of gourd and also a cooling food. The dried longan, being a heaty food, not only adds tangy flavor to the drink, but also makes the cooling somewhat moderate. Simply put, we need air-conditioning, still, we need to put our clothes on – this is a simple interpretation by myself than by a qualified herbalist, please note.
But I could tell you more about this gourd, which is widely available in summer, and why it is called winter melon. Check this out.
Get one larger cut of winter melon, a handful of dried longan and several cups of water, you can whip this up almost effortlessly. To sweeten the drink, slab sugar is my first choice; if not, consider substituting it with brown sugar. Job's tears is also an ingredient with cooling property, the drink will still be tasty with or without its presence. I like its adding of subtle nutty flavor.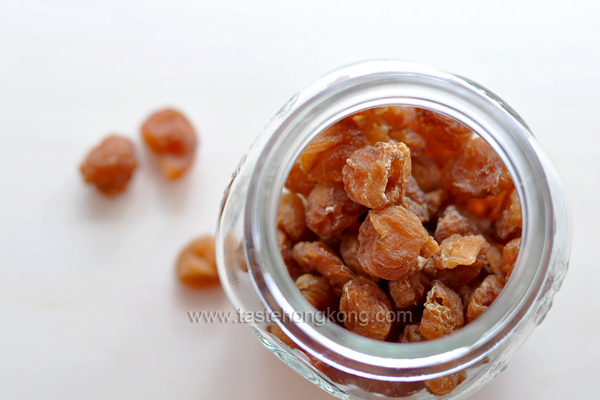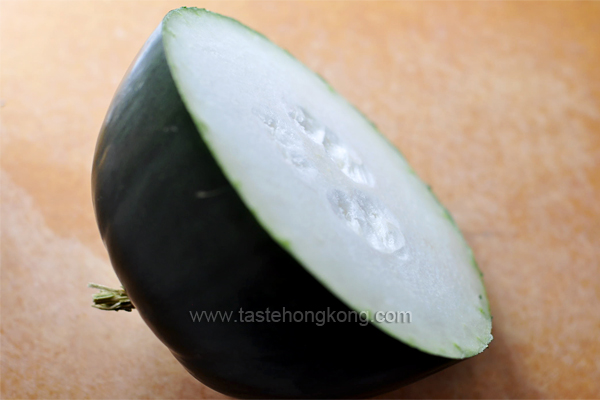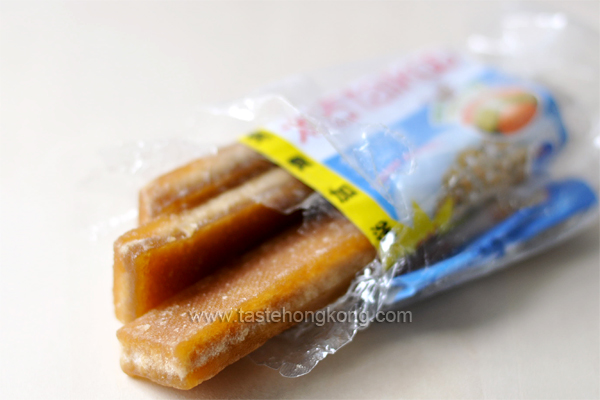 Ingredients
~700g winter melon
~20 pcs dried longan
1 tbsp job's tears aka coix sees, optional
60g slab sugar, or to taste
2 liters of water
Method
Brush the skin of winter melon and wash it clean. Remove its seeds and pith. Cut into 2 to 3 cm slices.
Soak dried longan with water for about 10 minutes. Discard water and drain dry.
Rinse and soak job's tears (if using), about an hour. As long as it is washed clean enough, you may retain the soaking water for boiling as well.
In a pot, bring all ingredients and water to a boil over medium-high heat. Then lower to moderate level and keep boiling for another 30 to 40 minutes or till the winter melon turns fully translucent and the job's tears are softened.
Add sugar and boil until dissolved. It is also nice to drink this without sugar, so sample taste before you add any.
Serve hot or chilled (let cool and store in fridge for up to a week). You may choose to eat or not to eat the boiled melon flesh, dried longan and job's tears along with the drink. Enjoy your way!
More about dried longan
In H.K., dried longan is available in shops selling Chinese herbs, in some groceries stores and in some places where you find dried seafoods.
In Chinese, it is written as
– 龍眼 lungan (literally means dragon eyes) in Cantonese, or
– 桂圓 guiyuan in Mandarin
Dried longan is a heaty food, so do eat a moderate amount each time. One herbalist's advice is six per day, any second opinion?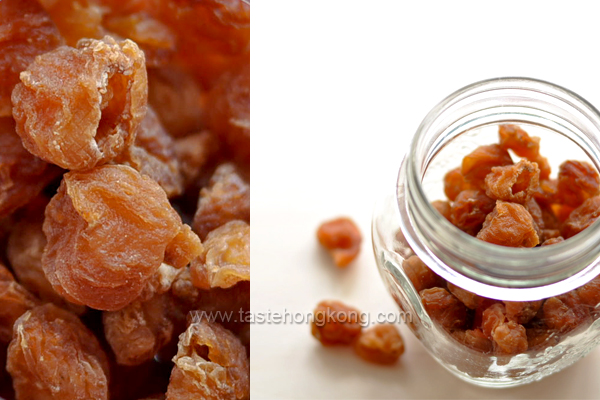 To get immediate updates and new recipes from my blog, you may also SUBSCRIBE them via RSS feeds. See you there.