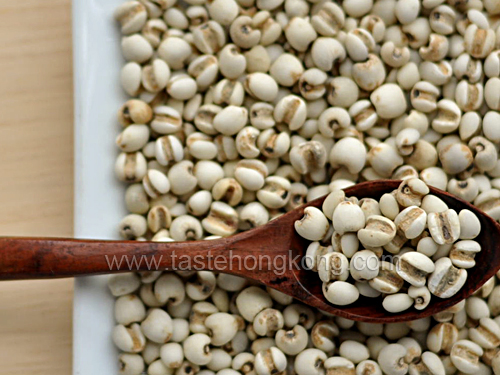 Though Job's Tears sometimes has been nicknamed as Chinese pearl barley, it is not a type of barley as you shall see in a picture below.
There are sayings that coix seed is called 'Job's Tears' because of the biblical Job of the Old Testament, who frequently tears from the sufferings he endured. In Latin, no wonder why it is named Coix-lachryma-jobi, literally Job's Tears. Less mythical probably is its name in Chinese, yì rén / yì mí (薏仁 / 薏米), having the meaning of small grains.
Among Chinese, coix seed has been valued for its 'cooling' property, a concept related to Chinese food therapy, for acting on an 'inflammed' human body, mostly occurred after taking considerable spicy, grilled or barbecued foods. In addition to this, Chinese herbalists have regarded the seeds as being capable of:
– enhancing immunity
– inducing diuresis,
– excreting dampness,
– strengthening spleen,
However, they suggest that it is not suitable for pregnant women. But there are claims mention that coix is good for nourishing the skin making it look soft and smooth. Click here and here for two more readings from Encyclopedia of Alternative Medicine and Acupuncturetoday.com.
Job's Tears and Pearl Barley
If you come across something that looks very similar to pearl barley – spherical in shape, pearl in color, having a brownish groove on one side, but is about twice the size of it, then it is probably coix seeds. Yet it is better to clarify before you pay because I have seen Job's tears being labeled as pearl barley (wrong in English but correct in Chinese!). Anyway thankful to them for being part of my inspirations for putting up this post.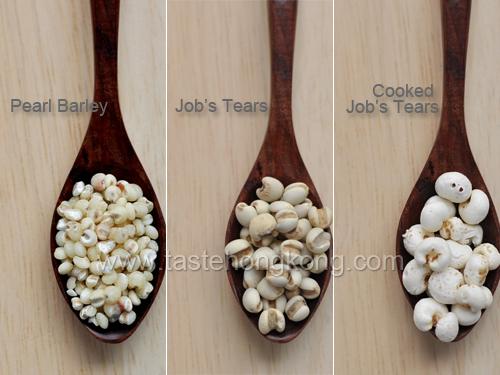 Two Kinds of Job's Tears
In Asian grocery stores, Chinese ones in particular, you shall be able to find both raw and cooked Job Tears. The cooked one is not meant to be eaten immediately but is fried to have its property turned from cool to warm after which it is usually use for balancing the cool property of raw Job Tears. So doing, for example, a soup containing the Job tears will better suit the whole family as the body condition of each individual varies (again it is part of the concept of Chinese food therapy).
Cooking Job's Tears
The simpliest way of enjoying Job's Tears to me is to cook it into a drink, served hot or chilled and seasoned with sugar or honey, which is then the popular yì mí shǔi (薏米水) in Chinese or Job's Tears Water – if I have to give it a name in English. By adding a tea spoon of fresh lemon juice, it is another hit way of savoring the drink. Before boiling the raw Job's Tears, just rinse it and soak it in water for about an hour. Then boil with the same water for an hour (seed:water is about 1:20 but half it to 1:10 for soaking). While drinking the Job's Tears Water, try also swallow the boiled seeds before strain it away as most people do. It is somewhat like eating cooked rice with a firmer core.
Cooked Job's Tears
Cooked Job's tears is feather-like in weight which resembles cooked pop corns. When pairing it with raw Job's tears, simply be reminded to grab a comparable volume (not weight). Cooked Job's tears needs only brief rinsing than soaking in advance.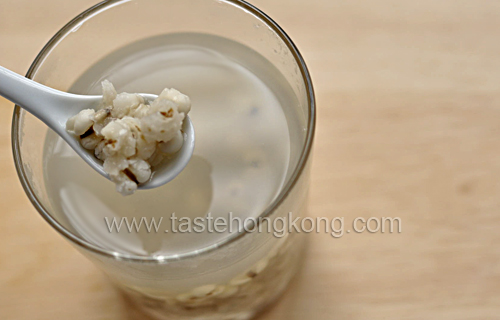 Putting aside its healing properties, I am also loving this light drink with a subtle nutty flavor. Enjoy!
To get immediate updates and new recipes from my blog, you may also SUBSCRIBE them via RSS feeds. See you there.