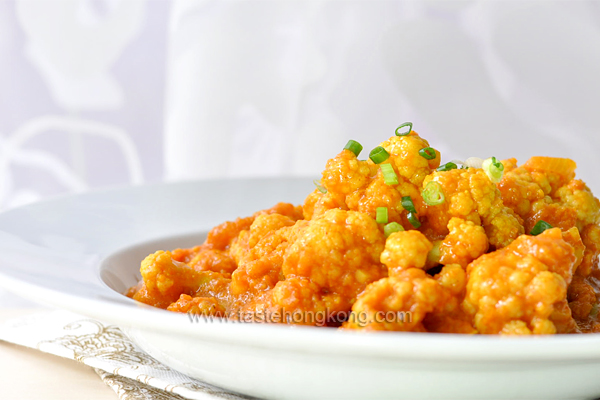 Rare as lentils sound to our local dishes, supermarkets or grocery stores here in Hong Kong are not showing much enthusiasm in stocking them. Only in a few sizeable or specialty stores, ones selling Indian foods in particular, could I locate this legume. But to me, it is worth searching for.

Although I'm not a vegetarian, I often prepare meatless meals. To supplement our diet with enough nutritions, I like making tofu or soy bean eats, and this protein-rich lentil provides me with another access to variations.
Perhaps I'm not the first one to tell you how beneficial it is to eat lentils. In case I am, you may also want to read these details: in addition to being a good source of protein and an excellent source of soluble fiber and, manganese, iron, phosphorous, copper, vitamin B1 and potassium, lentils are an excellent source of molybdenum, a mineral important in the metabolism of fats, carbohydrates and iron (nytimes.com).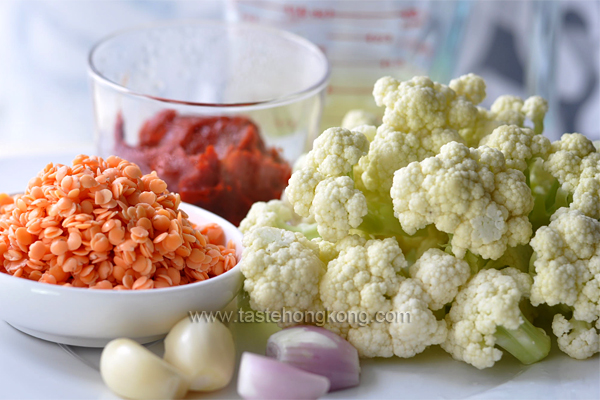 I think I was most inspired by the Indian way of cooking this legume dish to give it a hint of spiciness. However, I did not need to stew the orange lentils for too long because they were pre-soaked and pulverized. The puree quickly built up their tastes when simmered together with a few spices. And the final sauce turned the seemingly drab cauliflower into a vibrant dish full of robust flavors.
It is definitely a good choice to serve this with rice. But equally irresistible is to lick clean the dish with some nice Indian flatbread … like these naan from Kristy at kristygourmet.blogspot.com.
Ingredients
300g cauliflower
4 tbsp orange lentil
1 tbsp cooking oil
2 cloves garlic, finely chopped
2 cloves shallot, finely chopped
2 tbsp tomato paste, dilute it with 1-2 tbsp water
2 tsp sugar
1 1/2 salt, or to taste
1 tsp turmeric powder
1/2 tsp curry powder
1/4 tsp chili powder
sliced spring onion for garnishing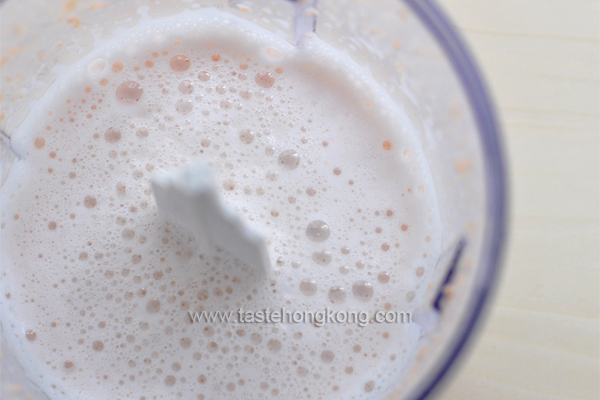 Method
Remove any pebbles or discolored members from the lentils. Wash them clean and soak in water for 2 to 3 hours. Discard water (the soaking water then reserved will be free from impurities), soak with another one and a half cup of water overnight.
Pulverize lentils with the soaking water in food processor to form a very thin puree.
Wash cauliflower clean, cut it into bite-sized florets. Drain dry.
Heat oil in a wok or skillet over medium flame, briefly sauté garlic and ginger shallot. Add turmeric powder, curry powder and chili powder. When fragrant, about half to one minute, pour in diluted tomato paste and lentils puree. Stir the mixture regularly while bringing it to a simmer.
Lower heat, keep simmer until the sauce is slightly thickened. I like mine being a bit grainy after simmered for about 7 to 8 minutes. Toss in florets, salt and sugar; stir to coat them evenly with the sauce, and simmer for anther 1 to 2 minutes to reduce the sauce or to reach your desired consistency. Dish up, garnish with green onion if using.
Serve hot. Enjoy!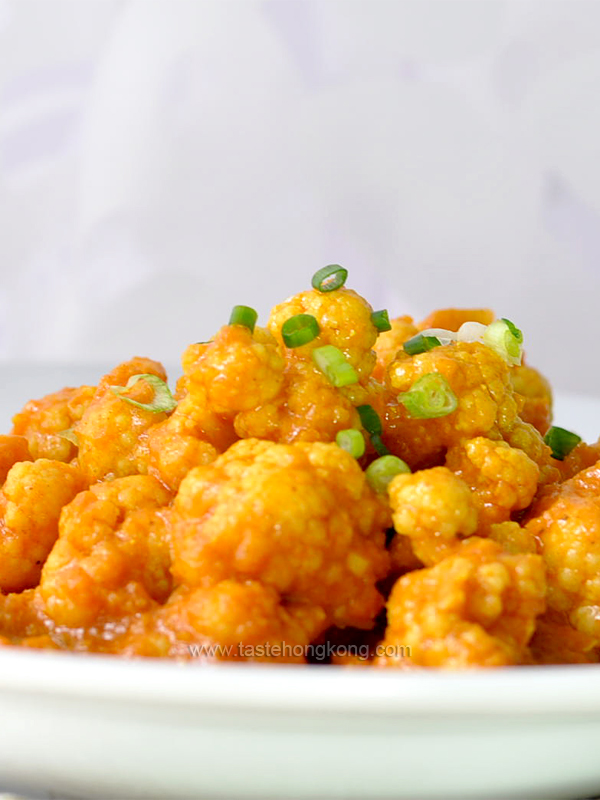 Note: Add more water (and cook longer) before tossing in florets in wok if you want the sauce to be less grainy and simmer the cauliflower longer for more tenderness.
I love the idea in this video – changing our waiting time to shopping time and possibly enabling me to order the lentils with my smart phone!
To get immediate updates and new recipes from my blog, you may also SUBSCRIBE them via RSS feeds. See you there.