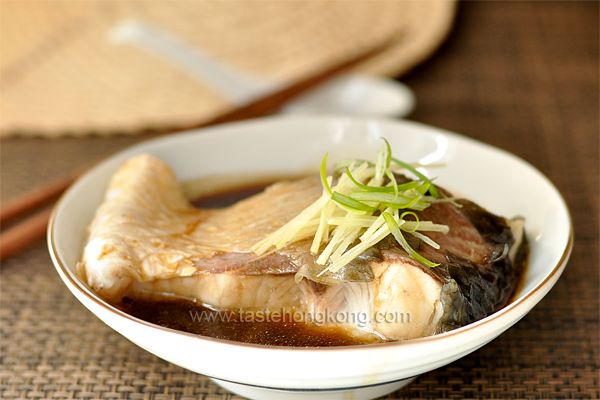 I suppose the traditional Chinese recipe would make this with a whole fish, which is usually fried.
In my kitchen, as always, I like leaning toward a simple, almost foolproof way of cooking – poaching than frying in this case, and with the sauce made from the stock saved from poaching. But, following what the original recipe does, I use fresh fish, though it is only a cut of it. And the result is equally bold on taste and flavor. If you are forced to use frozen ones, do make sure they do not smell fishy.

West Lake Vinegar fish (Xi Hu Cu Yu 西湖醋鱼), a popular Zhejiang dish, is actually named after the beautiful lake in the city of Hanzhou, Eastern China. Sweet and sour as many of its counterparts do, it is appetizing too. So my hatred toward this dish is that it often makes me eat more rice.
Fresh fish, good Chinese black vinegar would definitely add merits to the dish. Yet, there is a trick to do it even better, infusing a beautiful aroma to the dish.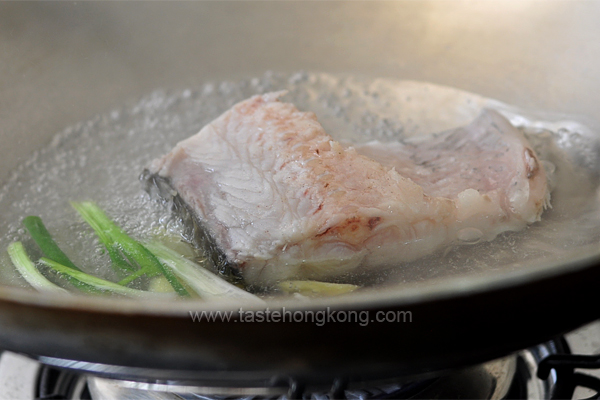 How to make the stock / sauce flavorful
All you need is to splash some wine against the side of wok in which the ginger shreds are being sauteed. As soon as the wine sizzles, pour in the stock or water reserved from poaching. With this simple trick, a tasty sauce can be easily prepared by adding a few more seasonings – vinegar, soy sauce, sugar, and thickened a bit.
Julienned ginger and green onions, topped the fish at the end, shall provide some more refreshment
The portion of this simple protein dish should be enough for two, if serving with one or two more mains. Otherwise, you may need to consider doubling the amount.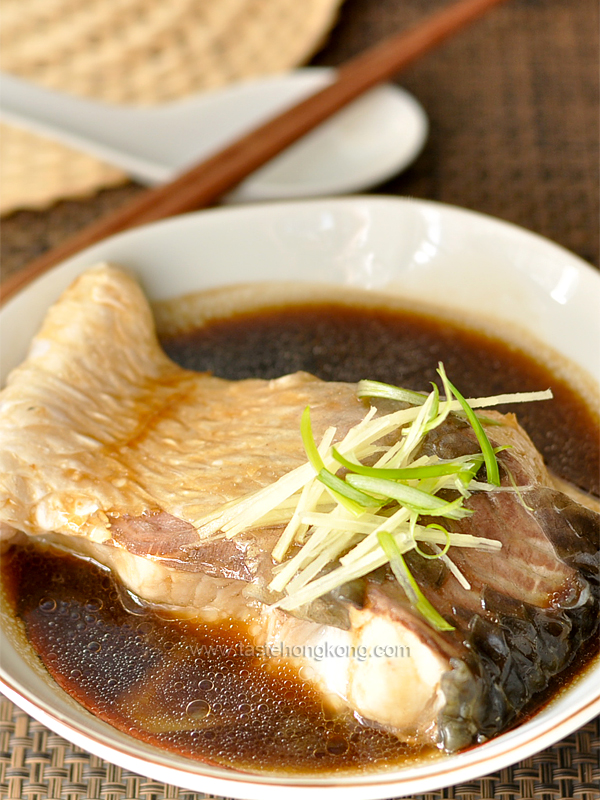 Ingredients
300g grass carp 鯇魚with bone
Poaching fish
2-3 slices ginger, crushed
2 sprigs green onion, sectioned
1 1/4 C water
1/4 tsp sea salt
pinch of ground white pepper
Sauce and garnishing
1/2 tbsp cooking oil
1 tbsp julienned ginger, divided
1 tbsp julienned green onion
1/2 tbsp wine, I used Shaoxing Hua Diao
1 1/2 tbsp Chinese black vinegar, Zhejiang type preferred
1 tbsp brown sugar
1 tbsp light soy sauce
1/4 tsp dark soy sauce
1/4 tsp sesame oil
1 tbsp cornstarch paste (water:starch ~ 1:1; I sometimes use water chestnut powder)
pinch of sea salt to taste
Method
Scale, rinse the fish and pat dry.
In a wok, pour in water with salt, ground white pepper, ginger slices and green onion. Bring them to a boil. Add fish, skin side down. Cover; adjust heat to medium. Simmer for about 3 minutes or until done (when buying the fish, I double-check with the fishmonger as how long it needs to be poached). Check doness – whether or not a chopstick can pass through.
Dish up fish and arrange it on dish. Reserve water, discarding ginger and green onion.
Heat oil in wok over medium heat, and sauté half of the ginger shreds until light brown. Splash wine against side and pour in reserved water. Add in vinegar, sugar, soy sauces, sesame oil, stirring to mix well (add some green onion to your liking). Thicken with corn starch paste or water chestnut paste to form a sauce. Check taste and add a pinch of salt (or adjust the sweetness and sourness) as required.
Pour sauce over poached fish. Garnish with ginger and green onion. I actually enjoy every bite of the fish with both ginger and green onion shreds in it than merely having them as garnishes. And, of course, also with the sweet and sour sauce.
Serve hot with rice.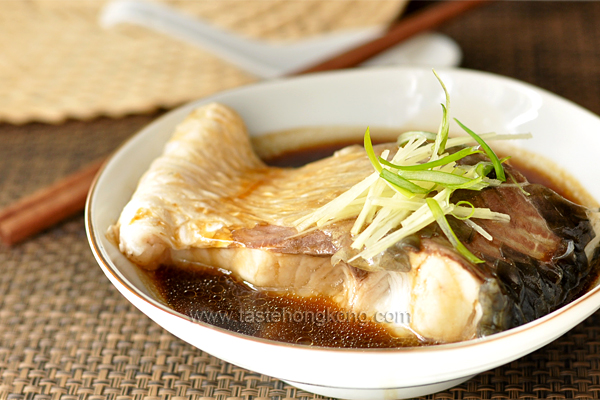 Enjoy!
To get immediate updates and new recipes from my blog, you may also SUBSCRIBE them via RSS feeds. See you there.