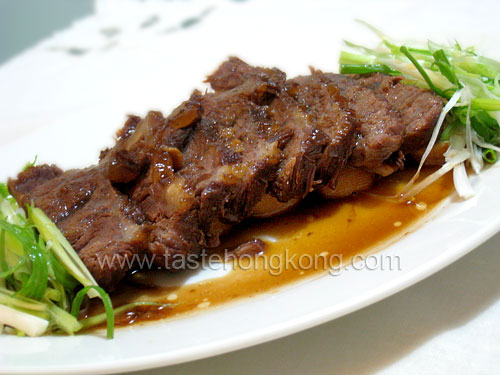 Beginning of August, hot! I choose to cook this dish again because it requires no sautéing in oil or stir frying, so am going to label this as a recipe for summer. This dish can be cooked in advance and put in fridge for a couple of days before consumption. Actually I love to consume it after chilled for 1 to 2 days when the texture of beef turns more compact. Serve as appetizer or main course (sometimes, I merely fetch slices of beef shank directly from fridge as snack).

One more, one more recommendation is just to top a bowl of noodles, hot or cold, with this beef shank and seasoned with some finely chopped spring onion. Enjoy!
Ingredients
500g beef shank
2 tbsp dark soy sauce
1 tbsp light soy sauce
1 tsp cooking wine (I use Shaoxing wine)
1 tsp ground white pepper
30g rock sugar or brown sugar
2 sprigs spring onion (cut into ~5 cm long)
6 slices ginger
Method
1) Rinse shank and vertically cut it into 2 portions of similar diameter (~6-8cm), just to ensure that it will be stewed evenly.
2) Add spring onion and 3 slices of ginger into 3 cups of water and bring it to boil. Scald shank in it for ~2 minutes (scalding with the ginger and sping onion will help remove the raw smell of beef). Drain water and set shank aside.
3) Mix all remaining ingredients with 2 cups of water in a pot and bring all of them to boil. Then, transfer the scalded beef into pot, and cover. Stew it over low heat for ~1 hour; or until there is only 1/3 to 1/2 cup of sauce left.
4) Dish up shank after cool and chill it with the sauce in fridge overnight.
5) Slice the chilled shank, pour sauce on top and dizzle some sesame oil to taste.
Tip
The stewing time actually varies according to the type of pot use. Suggest to turn the shank over after the first 15 minutes and check how much sauce is left. That will help estimate the time required for stewing. It should be better to choose a pot that is less likely to dry up water quickly.
To get immediate updates and new recipes from my blog, you may also SUBSCRIBE them via RSS feeds. See you there.