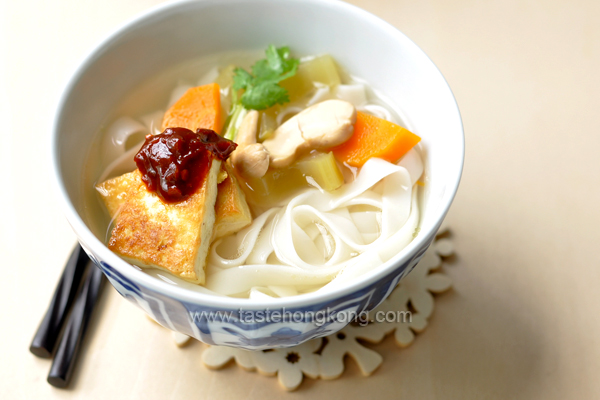 I got this recipe from a friend, and my friend got it from her friend's friend, who is a dietitian. Strictly speaking it is not a recipe; rather, an idea for adding more flavors and nutrients to a vegetable soup containing common ingredients as celery, carrot, and onion.

The idea is simply to add cashew nuts to the soup. But driven by my habit, I included bay leaves, black peppers and garlic to spice up the soup. From the very first time hubby and I ate the soup, we had enjoyed it very much. Yet I have to thank and tell the ladies that the soup has become a regular dish on our table since then.
We first ate the soup on its own, then I also had it used as a stock, and even as a broth for noodles. The noodle soup I recently cooked for myself was made with some leftovers of this soup, a bunch of chopped coriander, and a few pieces of tofu, which were pan-fried with crisp crusts and served with a dollop of chili sauce. I might have doubt whether or not the dish, having such flavors and textures, was vegetarian if I had not made it myself.
I don't even need to add any oil to boiling the wheat noodles to make them smooth because the cashew nuts have already greased (and flavored) the soup lightly after hours of boil. Yet in that 5 to 6 hours, it was my slow cooker did the whole task after I dumped in all ingredients.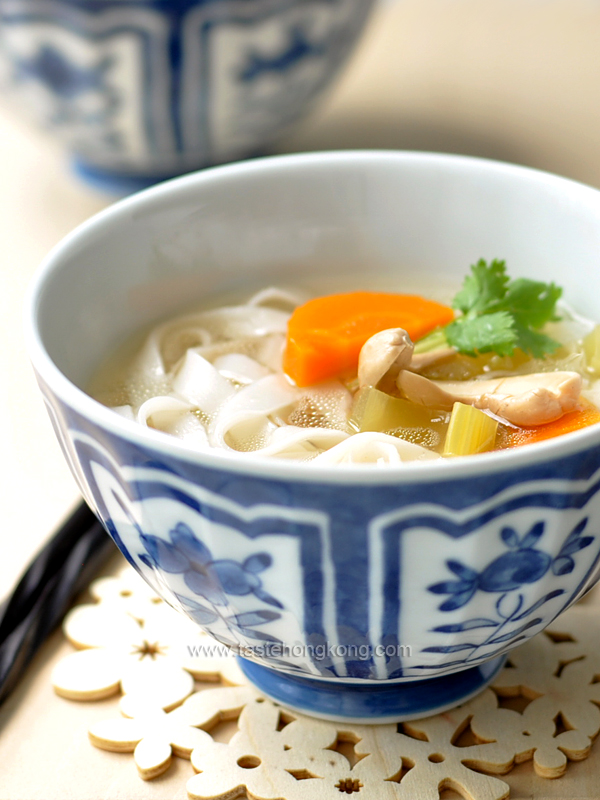 Ingredients
500g celery (stalks), cleaned and sliced crosswise
250g carrots, peeled, halved lengthwise and sliced
1 onion, skinned, thinly sliced lengthwise
~60g cashew nuts
2 dried bay leaves
4-5 cloves garlic, lightly crushed
2-3 slices ginger
1/2 tsp black peppers, crushed
~6 cups of water
1/2 tsp coarse black pepper, or to taste
a bunch of coriander, optional
salt to taste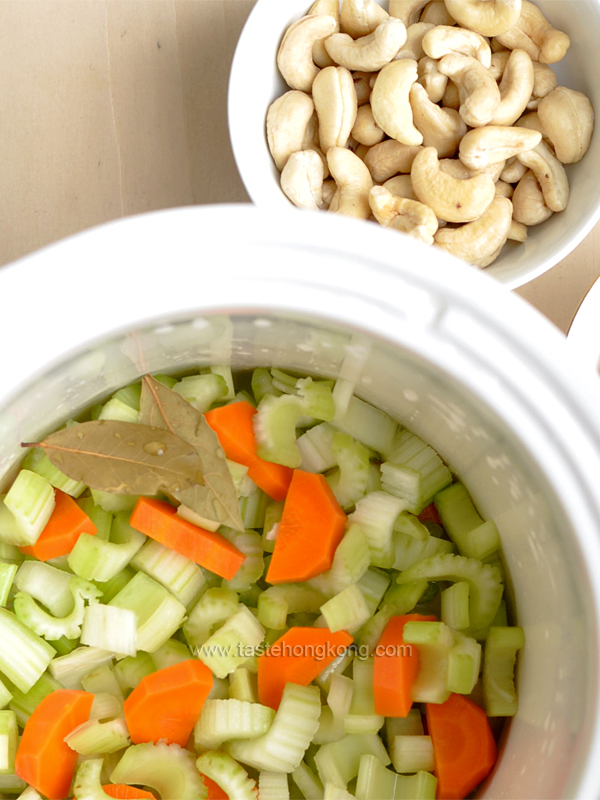 Method
Put all ingredients, except coriander, coarse black pepper and salt, in a slow-cooker (mine is a 180W), pour in about 6 cups of water, covered. Using high heat, boil for 5 to 6 hours until the vegetables are very tender and the broth is fragrant. Add chopped coriander, if using.
Add salt and coarse black pepper to taste.
Serve hot (with or without the boiled vegetables and/or noodles). If you like eating the very tender celery slices too, then you may want to skin (or peel) the stalks, or ribs, to remove the tough fibre before slicing.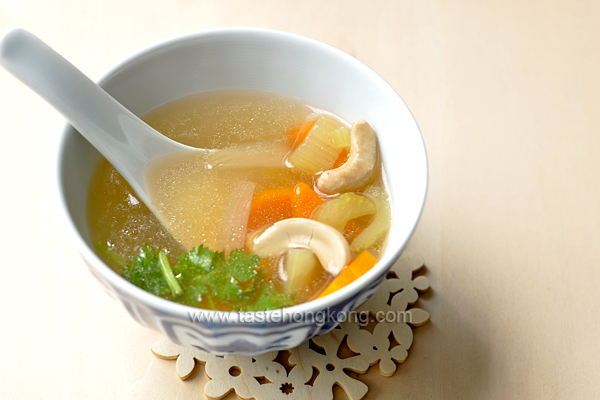 Enjoy!
To get immediate updates and new recipes from my blog, you may also SUBSCRIBE them via RSS feeds. See you there.