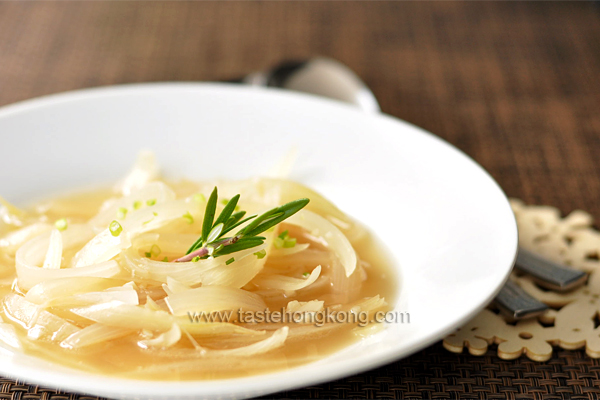 I know I had made little contribution to the blogosphere recently, yet ate a lot, stayed in bed late, did more leg exercises (shopping and hiking), which all seemed to have shortened the Christmas time.
Tired though, I'm happily back to my seat in front of my computer posting this long delayed recipe, relaxing my leg but giving some exercises to my lazy fingers!.

Making this soup was relaxing too. We just need a short list of common ingredients, onion, miso paste, and garlic. Yes, there is no flour, no butter, simply a small amount of grape seed oil.
Although with minimal fats, and not a tiny bit of cream, to me this easy, light soup is flavorful enough.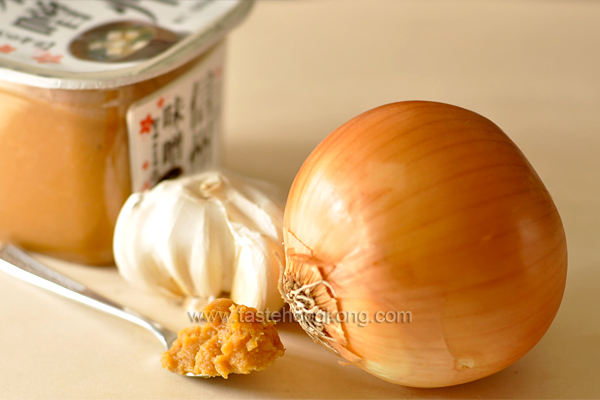 Preparation is fast especially if you know the trick to julienne an onion without being 'smoked' to tears. I have included a link in the step below where you may find my way of getting it around.
An 'accident' occurred. Hubby was having a stuffed nose, but after he drank this soup, it was released the next day. We were not sure if his good sleep had relieved the symptom or this soup has much resemblance to the recipe for Preventing Flu.

a wiki project
Very likely, this is my last recipe for 2011, may I therefore take this chance to wish all of you a Happy and Healthy 2012! See you in next post!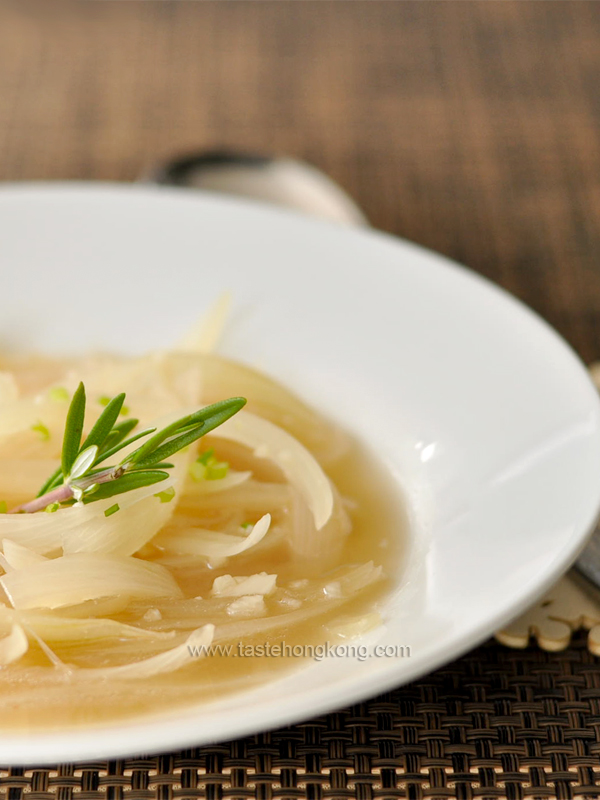 Ingredients
1 medium yellow onion
2 tbsp white miso paste
5 cloves garlic, chopped
1 sprig spring onion, finely sliced
1 tsp sake
3 cups water
1/4 tsp salt, or to taste
1/2 to 1 tsp cooking oil (I used grapeseed oil)
pinch of ground white pepper, optional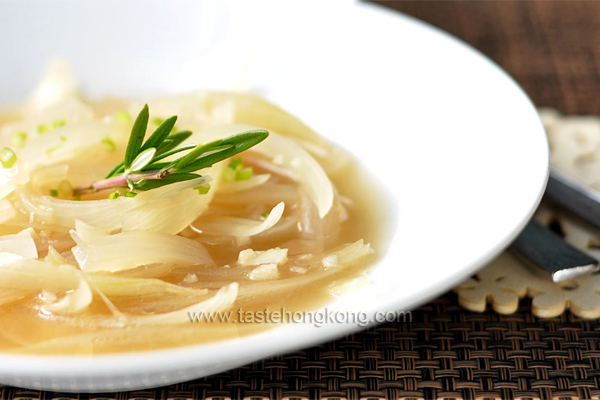 Method
Skin and wash onion, cut it into thin strings (I like julienne them into strips lengthwise so that they all come in similar length). Onions consist of tearjerker, here is my cheat as how to cut them without 'crying'.
Dilute miso paste with 1 to 2 table spoons of water. Set aside.
Heat oil in pot over medium heat, briefly sauté garlic till fragrant. Toss in julienned onion, sprinkling in sake and stir-frying it until translucent, about 3 minutes. Pour in water and stir in diluted miso paste. Cover, simmer the soup for about 10 minutes.
Add sliced spring onion, season with salt and ground white pepper.
Serve hot (garnish with some rosemary if you wish).
How to julienne or chop an onion
To cut an onion, half it lengthwise first. Then lay each half flat on chopping board and trim off the stem end, leaving the root end intact. There you go julienning or dicing the onion as shown in this video.
Enjoy!
To get immediate updates and new recipes from my blog, you may also SUBSCRIBE them via RSS feeds. See you there.