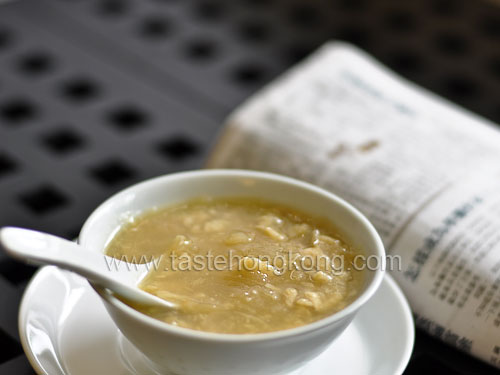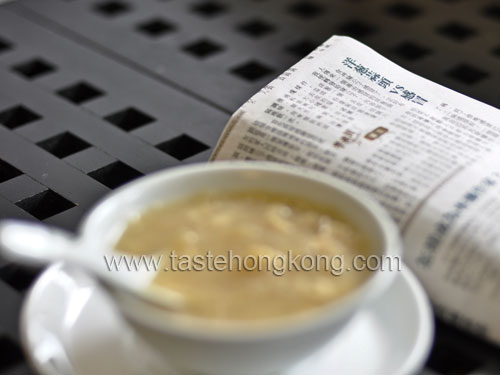 Glad that I have read this article on Apple Daily News titled, 'Onion, Garlic vs Flu'. My attention got sucked when seeing the columnist, Yim Ho, wrote in the first sentence, '…. a recipe specifically for preventing flu …'. I was just wondering if I had caught a flu yet I got no running rose and was neither too tired. The only syndromes with me were just dry throat and feeling slightly heavy head. Anyway, I needed a soup for that evening and it looked fairly simple. Deal, I will be re-creating the soup in my kitchen.

Having detailed the recipe, Yim Ho added that he had forwarded it to a friend who caught a flu. His friend then tried out the soup and suggested, 'I still pay a visit to my doctor, but also take one bowl of the soup before having a sleep. After that, I finish another one. Then my flu is gone toward evening '. His friend used only one onion and one garlic to cook into two bowls of soup (which appears to be a simplified version if compare to the original recipe). For myself, I tried to stick to what were mentioned in the article. I hadn't visited my doctor (touch wood) but with one bowl of that soup swallowed, I felt good the next day.
Bowl vs Cup
Notice we have been mentioning the soup in terms of a bowl than a cup? The fact is, common among we Chinese, the older generation in particular, when referring to the measurement of liquid for cooking, the unit 'bowl' is used instead of 'cup'.
Ingredients
1 onion
an equal weight of garlic to onion
pork shank (~100g)
salt to taste

You shall see in below pictures a greater amount of ingredients because I have prepared two portions of the above.

Method
1) Peel all garlics and onions. Rinse, crash garlics and cut each onion into six wedges. For meat, the amount is at one's discretion and I have about 100g per portion.
2) Like preparing other soups with meat, I first rinse the pork under running water for a couple of minutes to eliminate as much as the blood content. Then, blanch it in boiling water for 2 to 3 minutes to remove the raw smell and any impurities. Doing such will make the soup taste purer.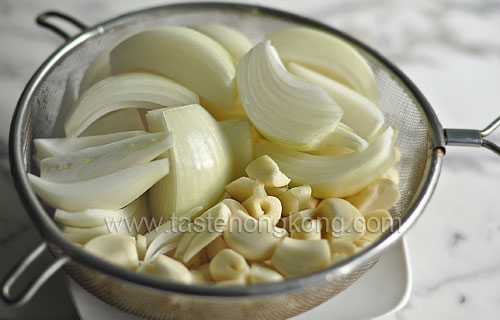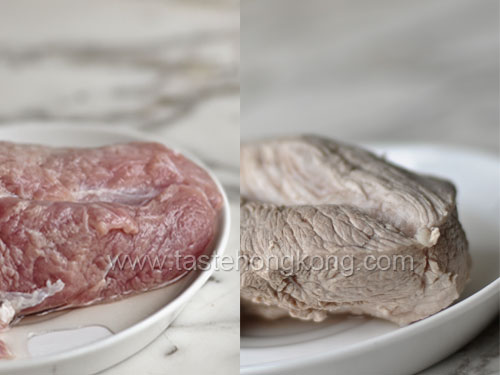 3) Put all ingredients into a pot. Add water to the level two inches above the top of ingredients. Bring water to boil over high heat, then turn to low heat and cook until the soup reduced to two cups (I equate one bowl to one cup), which takes about three hours altogether. After the first hour of boiling, the soup doesn't reduce too much, so I have adjusted the flame higher to medium-low thereafter.
4) Serve hot, add salt to taste.
I am afraid I would not label the soup as extremely delicious, but it is flavorful and somewhat sweet. For preventing flu, it is advisable to take the second bowl of soup day after the next day of finishing the first one.
An ounce of prevention is worth a pound of cure. Good health everyone and great year 2010!
To get immediate updates and new recipes from my blog, you may also SUBSCRIBE them via RSS feeds. See you there.