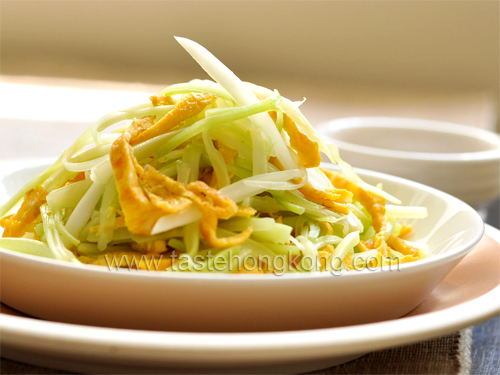 Only recently I try to shred celery like this. Doing such is because I want it to assemble well with the fried egg. But I am not sure how exactly the idea for this dish comes about, probably it is the recent constant high temperature that has kept me imagining for something light and clean. Or, the celery looks too alone that it needs a companion. Or, it is simply that the egg in my fridge is going to expire… Possibly, all of them.
I make this twice, once serving hot and once cold. Both of them do not disappoint me, and, I believe the sour miso sauce should have helped turn on my appetite.

Excuse me, another miso sauce here again following the last one, but they both have put different characters to their dishes.
Ingredients
6 celery stems, ~300g
1 egg, beaten
1/4 tsp soy sauce
salt to taste (1/2 to 1 tsp)
2 tsp vegetable oil (for serving hot)
2 tsp olive oil (for serving cold)
1 tsp roasted sesame, optional
Sour Miso Sauce
4 tsp white miso paste
2 tsp Japanese white rice vinegar
2 tsp sugar
4 tsp hot water
salt to taste (I don't add any as my miso sauce is salty enough)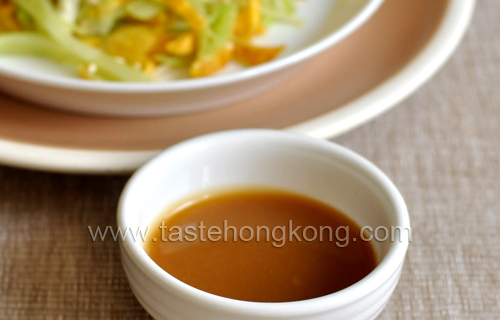 Method
Cut the end off the main celery stalk; rinse the stems. Peel off the outer aged fibrous skin off the stems. Cut into about 5cm chucks, then into shreds. If you like the shreds to be really thin, you may want to slice the thicker chunks into thinner pieces first.
Add soy sauce to the beaten egg. Pan fry the egg into a thin layer, let cool a while. Roll it up and slice into thin strips (just like slicing a cloud ear).
To server cold
Marinade celery shreds with 1/2 tea spoon of salt and let sit for 2 to 3 minutes. Then rinse off the salt with clean water. This would soften the celery shreds a bit while putting up some saltiness. Drain off all excess water, mix well with egg shreds; put in fridge for a couple of hours if you like chilled than simply cooled. And (right before serving) mix and stir in the sour miso sauce and olive oil. Garnish with roasted sesame.
To server hot
Heat 2 tea spoons vegetable oil over medium heat till heated. Toss in celery shreds, stir fry for about half a minute or till they just soften a bit, add in 1/2 tea spoon of salt, egg shreds, stir well and dish up. Serve with mixed sauce miso sauce. Garnish with roasted sesame.
Enjoy! Hot or Cold.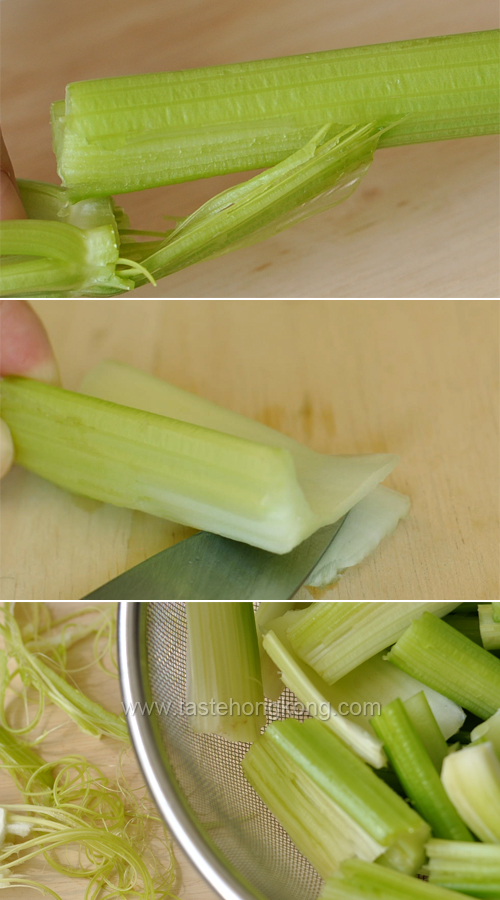 Note:
If roasted sesame is not available, it would also be a nice idea to drizzle some sesame oil over the shreds.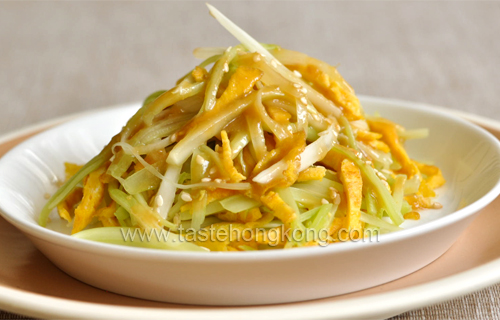 To get immediate updates and new recipes from my blog, you may also SUBSCRIBE them via RSS feeds. See you there.