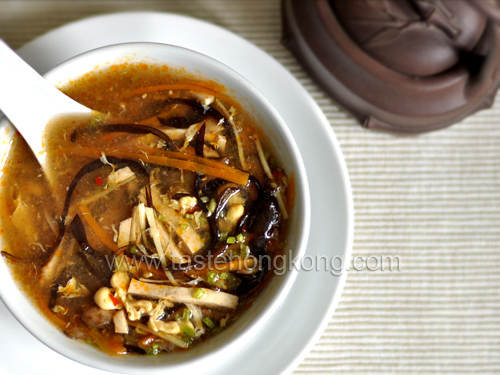 The original style of Hot and Sour Soup (in Chinese 酸辣湯) is usually assembled with close to a dozen of ingredients like sea cucumber, roasted duck meat, pig's blood, pork, cloud ear, bamboo shoot, tofu, carrot, mushroom, all of which are shredded. Although I like doing slicing a lot, vegetable types in particular, I have not been loyal to the original version than this meatless, simplified, and make-me-feel-more-easy style.

Yet I have not shortened the list of seasonings. I include two types of vinegar. Black vinegar is more for the aroma while, white vinegar, more for the sourness. And, ever since I have started adding chili bean paste in the soup, it has become one of the indispensible ingredients for me to prepare this recipe despite of what kind of variation I have.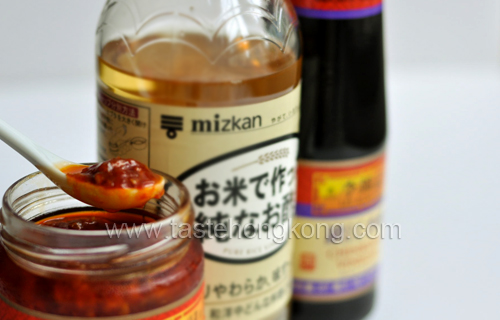 Ingredients
6 pcs dried black mushrooms
3 pcs dried cloud ear, rehydrated
1/2 pc bamboo shoot, ~25g
1/4 pc carrot
1/4 pc soft tofu, ~25g
2-3 slices of ginger
1 tsp finely chopped coriander, optional
Soup
3 cups mushroom stock
1 tsp oil
1 1/2 tsp white vinegar
1 1/2 tsp black vinegar (Chekiang type)
1/2 tsp salt
1/2 tsp soy sauce
1/2 tsp chili bean sauce
1/4 tsp ground white pepper
1/2 of a large egg or 1 small egg, beaten
1/4 tsp sesame oil
corn starch paste for thickening (corn starch : water = 1 tsp : 2 tsp)





Method
To prepare the mushrooms stock, first rinse 6 pieces of dried black mushrooms, then soak them in 3 cups of water overnight. Squeeze water from mushrooms and reserve water from soaking. Remove and discard stems (retain 3 mushrooms for this soup and reserve the remaining for other uses, like making noodles or stir fries). Since no meat stock is used, I have soaked more mushrooms (6 pieces) for making the soup. But if you are adding in some pork or beef slices, probably you would only need 3 mushrooms.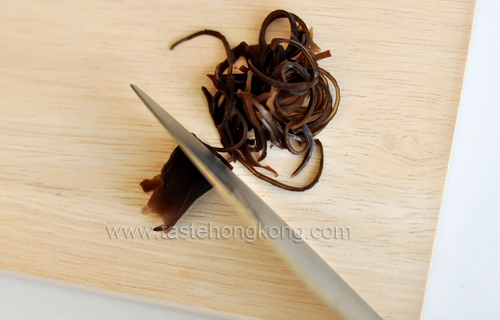 Julienne ginger, carrot and bamboo shoot, thinly slice mushrooms, tofu, and cloud ear. It would be harder to cut a cloud ear into slivers if it is laid flat as a sheet. Yet, when it is curled into a roll, slicing will be easier, even into very thin shreds. Admittedly, I love every ingredient to be shredded as thin as possible.
As all ingredients are julienned, heat pot over medium heat with a tea spoon of oil. Sauté ginger until fragrant. Toss in mushrooms, carrot, bamboo shoot, and cloud ears. Stir them for a while, 1 to 2 minutes, then pour in stock. Bring it to a boil, then gently lay in tofu, Season with vinegar, salt, soy sauce, chili bean paste, white pepper, and thicken with corn starch paste. Stir to avoid any lumps.
As soon as the liquid thickened to your liking, turn heat to the lowest, use a spatula spoon to lay a thin layer of beaten egg over the soup. Doing such than pouring in the egg is to avoid it sinking to the bottom and forming lumps. Then, quickly stir the egg juice in swirls so as to create feather-like patterns. Sprinkle in sesame oil; garnish with coriander. Serve hot.
Note
My amounts of seasonings are more on the lighter side, so do adjust it to taste. Should you found the soup too sour, try balance it with some sugar. Enjoy!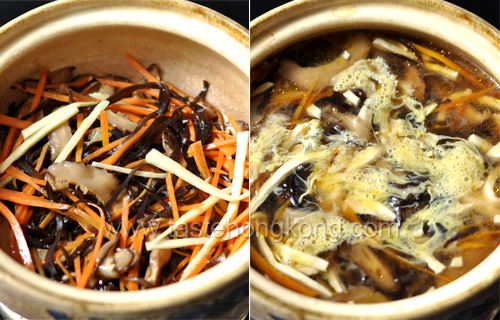 a wiki project
To get immediate updates and new recipes from my blog, you may also SUBSCRIBE them via RSS feeds. See you there.