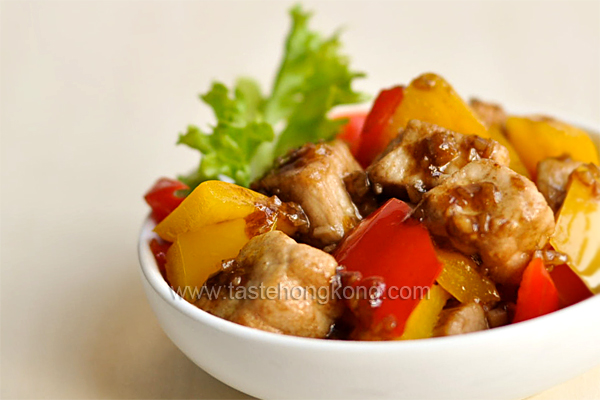 With the belief that this tangy balsamic vinegar sauce shall go well with most types of meats, I tweak the original recipe by using cubed pork chops than duck breasts. I love eating Peking roasted ducks, but sadly I have not enjoyed eating any other types of ducks, be they of Chinese or other styles. Poor hubby therefore has never had any home-cooked ducks!
Cubing than slicing the pork chops because I want them to taste meaty while having more surfaces to take up the sauce. Instead of using tenderizer, I marinade the pork with ginger juice to help improve the tenderness of the meat. For me, this will be a good dish only if I can lock the juiciness in the meat after cooked. That is why I add corn starch to the pork to coat it right before frying.
Though not as easily fall-apart as braised, the pork is fork-tender, juicy and with a sweet and sour flavor as a whole. I'm happy that I had not put off by the duck breast highlighted in the recipe, and resisted the attempt to trash the wrinkled leaflet* caused by my mishandling.
*free from DCH Food Mart Deluxe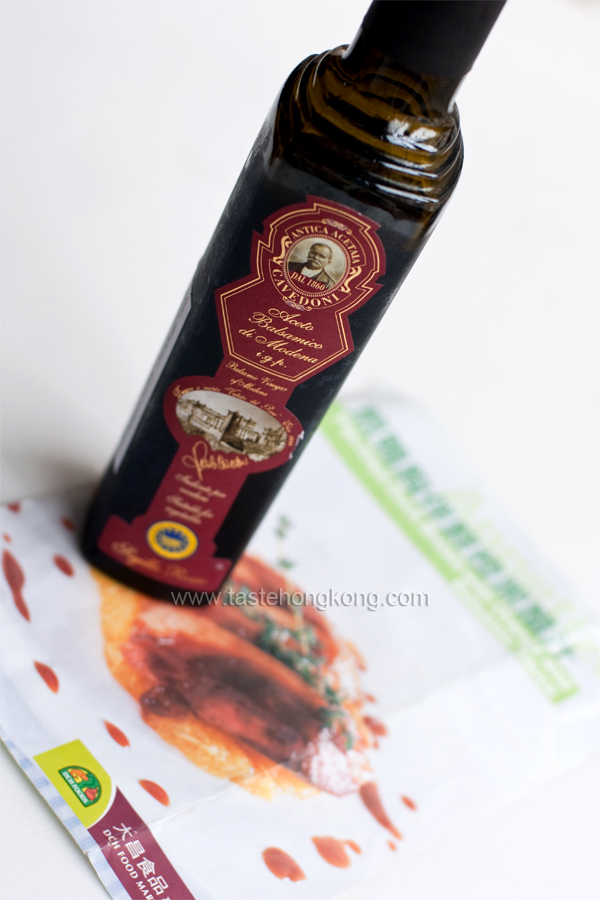 Ingredients
2 pork chops, ~100g each
1 yellow bell pepper
1 red bell pepper
3 cloves garlic, finely chopped
1/2 tsp coarsely ground black pepper
2 tbsp oil
1/4 tsp salt, or to taste
Sauce
1 1/2 tbsp balsamic vinegar
juice from 1 medium-sized orange
1/2 tsp sugar
Marinades for pork chops
1/4 tsp salt
1 tsp orange juice
1/4 tsp Shaoxing (yellow) wine
juice from 1 tsp grated ginger
1 tsp oil
1/2 tsp corn starch
Method
Rinse pork chops; pat them dry thoroughly and cut into cubes of about 1.5cm. Also rinse bell peppers, and cut into size similar to cubed pork. Drain dry.
Marinade (except corn starch) pork for 1 to 2 hours.
Right before stir-frying, mix corn starch into pork.
Heat about 1 1/2 tablespoon oil in wok over medium heat. When heated, sauté garlic and coarse black pepper till fragrant. Put in pork cubes and stir fry till almost done, 1 to 2 minutes. Dish up.
Add in remaining half tablespoon of oil and toss in chopped red and yellow peppers. Stir fry for about a minute, then sprinkle in 1/4 teaspoon of salt and stir well.
Mix well sauce and add it to bell peppers. Stir constantly; when the sauce is reduced by half, return pork to wok. Assemble well and simmer for another 1 minute or till the sauce is coated to the meat. Add salt to taste.
The original recipe suggests the duck breasts as an appetizer. I served my stir-fried pork cubes hot as one of my main dishes with rice. Enjoy yours!
Note
An easier way to make sure the meat cubes are evenly fried is to prepare them by deep-frying than stir-frying. But you will need a larger amount of oil to fry the pork (at least half a cup of oil for this case) and to drain the excess oil after cooked. When deep-frying the meat, cook it over low-medium heat for about half a minute or till it is about 90 percent done.
To get immediate updates and new recipes from my blog, you may also SUBSCRIBE them via RSS feeds. See you there.