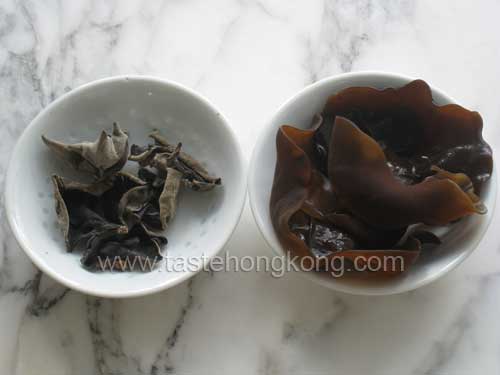 Cloud ear is one type of wood ears belonging to a fugus family that grows on dead tree barks. It is mostly sold in dried form which carries a smoky smell and is black in color, thereby also known as black wood ear.

Cloud ears need to be soaked for about 30 minutes just before use. After rehydrated, they will expand up to five times of their initial sizes and grow to form an ear-like shape. Besides, the cloud ear will then turn from brittle to gelatinous, looking brownish, translucent but is still crunchy. To prepare it for cooking, remove the tough part and any dirts on the surface and immerse it in clean water for another 10 minutes or so.
There is another type of wood ear called white wood ear (picture on the right). Unlike the dried black wood ear which is crinkled like a thin piece of charred paper, white wood ear is thicker, larger and paler on its back. Despite of these minor differences, both of them are rather tasteless but rich in minerals and protein, that is why wood ears are also named 'meat without bone' , as is tofu. Black wood ear is more commonly used in stir frying with meats or other flavorful ingredients from which it can take up their tastes. The white one, while also shredded for stir fries, is more often used in soups. Like other dried ingredients, wood ears are best to be stored in dry, cool place.
To get immediate updates and new recipes from my blog, you may also SUBSCRIBE them via RSS feeds. See you there.