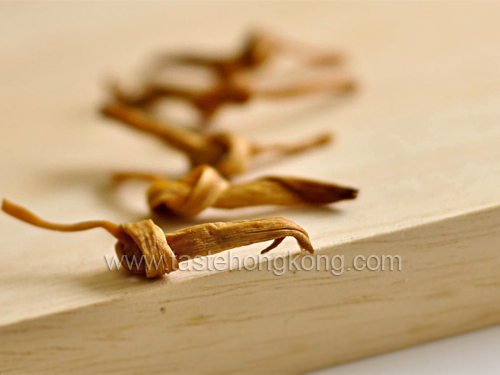 Although it has the word vegetable in its name, it is not vegetable but is the edible species of a flower's bud. In Hong Kong, we call it gum jum choi (written as 金針菜 in Chinese), literally golden needle vegetable. In mainland China, it is more commonly known as yellow flower vegetable (pronounces as huang hua cai 黃花菜 in mandarin). On Wikipedia, I notice that this yellow flower is called daylily.
Although not mentioned in Wikipedia, it has got another remarkable name in Chinese, that is 忘憂菜, meaning forget-the-sadness vegetable. An interesting name though, I have not found an authoritative source that proved it would help depress unhappiness.
But it has been said that dried golden needle vegetable contains rich lecithin, a phospholipid, which is good for cerebrum cells. Thus it is also said to be a 'good brain food'.
Whichever is the name, this vegetable is usually available in dried form than fresh, and it has been said that fresh ones are toxic if not well-cooked.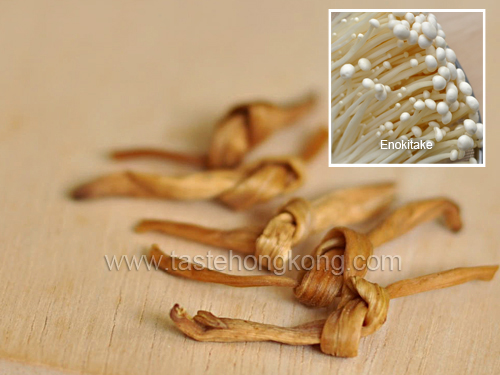 Golden needle vegetables versus golden needle mushrooms
They may sound similar because they are both nicknamed as golden needle. So when you see or hear the mention of golden needle or gold needle in a recipe, do try to clarify. Golden needle mushroom, as the name suggested, is a thin and pearl looking mushroom called enokitake but is different from golden needle vegetable.
Availability
In Hong Kong, dried golden needle vegetables are available all seasons in grocery stores selling Chinese cooking ingredients, specialty stores selling dried sea foods, and in some supermarkets. As for the fresh ones, I only see them a couple of times during winter in the fresh vegetable market.
Rehydration
Like most dried foods, dried golden needle vegetables need to be steeped in water before use. I usually soak them for about half an hour to one, after which dirts will easily be released from the dried flowers. But it is still better to rinse them under running water after steeping and before squeezing excess water from them. Do take note that the dried flowers will lose its flavor to the water if they are soaked for too long.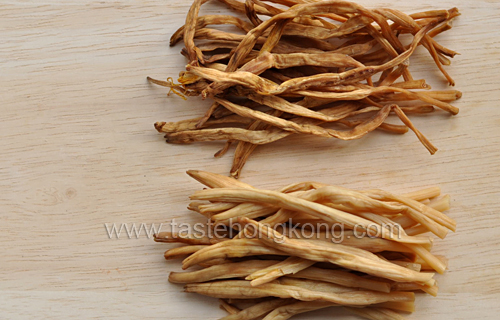 Price
The prices of produces imported from mainland China have been climbing recently due to the rising rate of RMB and drought in some of her provinces. Despite of such, the imported dried golden needle vegetables is still a pretty affordable ingredient, which we may buy at about HKD2 per tael (about 40g). I usually buy 4 to 8 taels in one purchase for consumptions of about half a year.
Storage
I either wrap dried golden needle vegetables in a plastic bag or in a box and store in fridge. They are supple but will turn stiff after after residing in fridge for a day or so. That is why I always like to cut off harder ends (about half a centimeter) before chilling, when they are still easier to be shaped and aligned for cutting.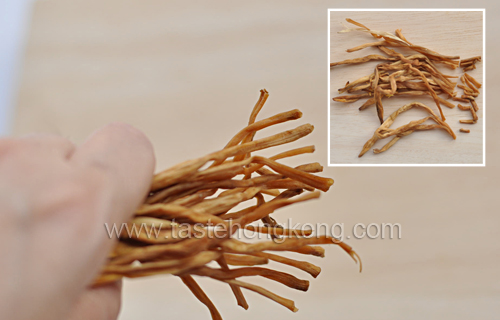 Cooking
I like cooking dried golden needle vegetables by stir frying, by boiling. When the vegetables are boiled in water or liquid for about 10 to 15 minutes, their petals will start to split and color the water in golden yellow. One way to avoid them from splitting apart and lose too much flavor into the liquid is to tie each of them into a knob as shown in the top pictures, but it is just one of the many ways to knob them. Fact is, they may even be used as strings for tying some foods.
In Chinese cuisine, golden needle vegetables is often paired together with cloud ear. And I have just cooked both of them together for a dish called 'Moo Shu Pork (木須肉)', hopefully I shall organize the recipe soon and share it with you here (posted on 2010 Jun 5). How do you like cooking with this vegetables, or this dried flowers?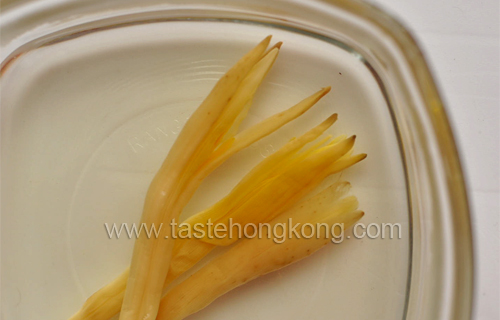 To get immediate updates and new recipes from my blog, you may also SUBSCRIBE them via RSS feeds. See you there.
Recipe(s) Mentioned Golden Needle Vegetable: