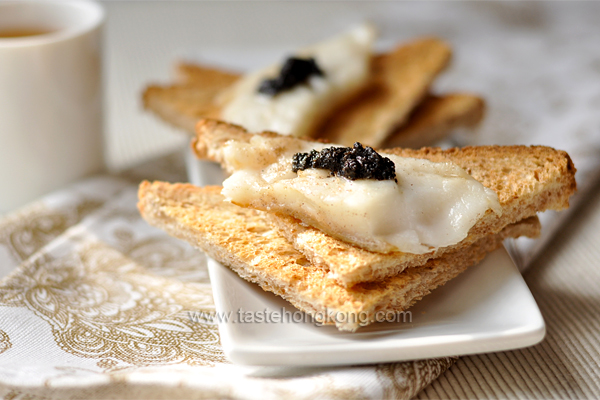 Happy, because I have a little achievement to share with you.

I grilled a piece of white fish fillet, which was simply a frozen catfish, with a very small amount of the truffle paste, and it turned out like I had the help from one of the finest chefs. Satisfied, this time I paired a wild-caught sole with the black sauce and the way they match, in my opinion, is comparable to coffee with milk.
The complexity of the dish is more or less like making an omelet, yet the flavors come out as if it is a truffle-flavored cream sauce. Simple and flavorful though, this also has the benefits of being both low-carb and low-fat.
The fish need to be marinaded, but only with salt and ground white pepper. That way, while eliminating the fishy smell, none of the marinades are going to compete with the aroma of black truffle. I thinly sliced the fish and grilled it under fairly low heat for a couple of minutes, and I do like how succulent it is.
Apart from serving the truffle-flavored fish fillet with toasts, it is equally good to serve it with rice as a main dish, which was what I did in my first attempt.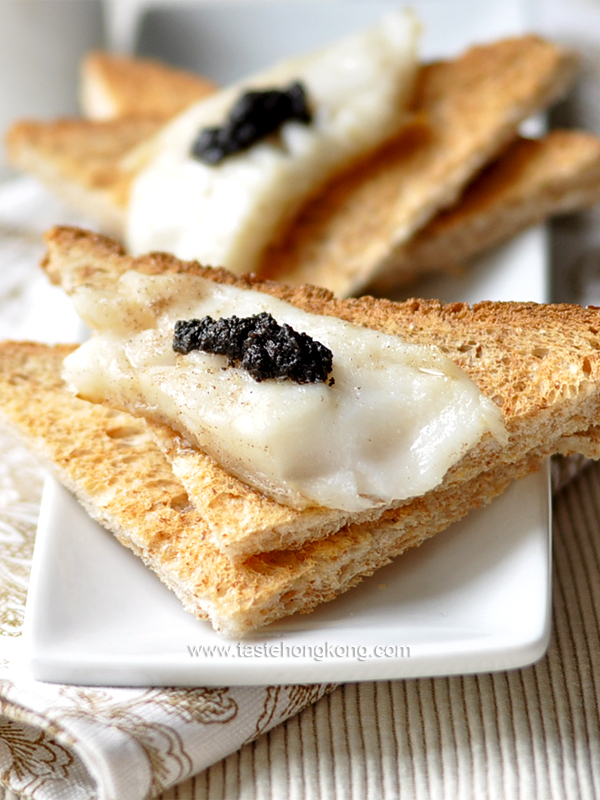 Ingredients
6-8 pcs of toast, together made a ~A4 size
~200g fish fillet
3-4 tsp black truffle pate (paste), or adjust to your liking
~1 tbsp oil, I used grape seed oil
Marinade for fish
~1/4 tsp salt
~1/8 tsp ground white pepper
Method
Defrost and briefly rinse the fish fillet (scald it if required). Pat dry whether you scald the fish or not.
Cut fish fillet into six to eight pieces, matching the number of toasts. You may want to cut it at an angle if the fillet is not of equal thickness, thinning the thicker part. I sliced them to between 1/2 to 1 cm thick.
Marinade fish and let it stand for no less than 15 minutes.
Preheat oven with grill on to 120 degree C. Coat fish fillets with oil; arrange them in an individual layer on a oven-proof dish and, grill for about 5 minutes. Remove the dish from oven and top each fillet with about 1/2 tea spoon of truffle pate. Return to grill for one to two minutes, or until done. Sprinkle some more salt to taste, if required.
Top toasts with the grilled fish fillet and black truffle pate.
Serve warm.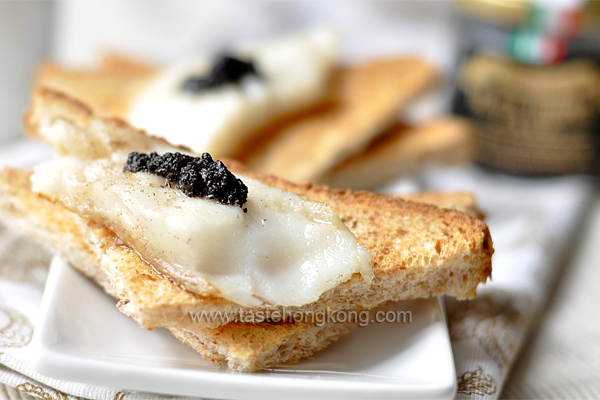 Enjoy!
To get immediate updates and new recipes from my blog, you may also SUBSCRIBE them via RSS feeds. See you there.