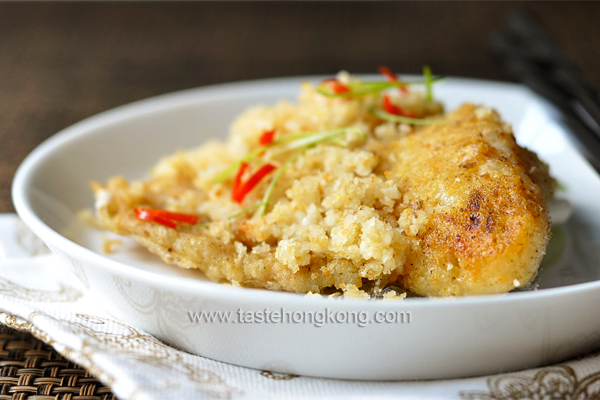 After making soybean milk, I have developed a habit to reserve the pulp in fridge. It did not happen right away because I was once suspicious of cooking and eating that white mass. I thought the tastes of beans were all gone after my soaking, grinding, and straining them to the last droplet of juice.

So trying to substitute the soybean pulp for a very small portion of ground meat in dishes was among my very first attempts, and preparing this easy, crisp soybean crumbs was another. Thereafter, I have been more determined to spare a space for keeping the strained mass in my tiny fridge and even have it cooked into patties.
I did not invent this dish but probably was inspired by the 豆酥魚, meaning crispy bean on fish, of Hunan cuisine (also called Xiang cuisine), which is one of the eight major regional cuisines of China. Hunan, located in the south central part of the mainland, is also adjacent to Sichuan's south-east border. Her dishes are also known for the liberal use of chili peppers, garlic and shallots but without the numbness as Sichuan does.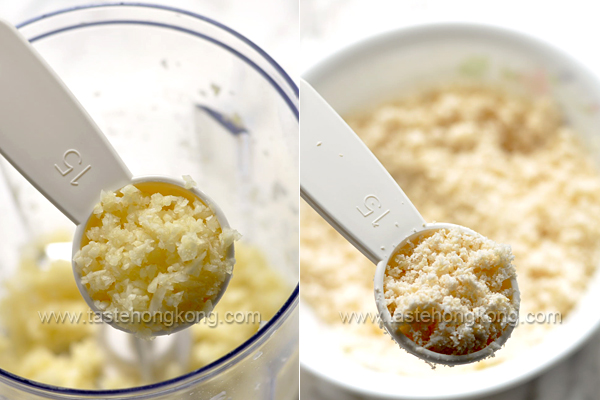 I like Hunan's pungent dishes yet also fear their usual oiliness. Therefore, instead of frying the bean crumbs and chopped garlic, I cooked them in my toaster. While the fish was being cooked, I harvested them in golden brown and in a crunchy texture stronger than roasted breadcrumbs. The flavors of soy, though was subtle, and garlic had come together nicely.
Ingredients
~200g fish fillet, frozen or fresh
6 tbsp soy bean crumbs
2 tbsp finely chopped garlic
1/2 tsp sugar
1/8 tsp sea salt, or to taste
1/4 tbsp chili powder or chili flake, optional
1/2 tsp sesame oil
~2 tbsp cooking oil, divide
julienned spring onion and chili pepper for garnishing
Marinades for fish
1/4 tsp salt
1/8 tsp ground white pepper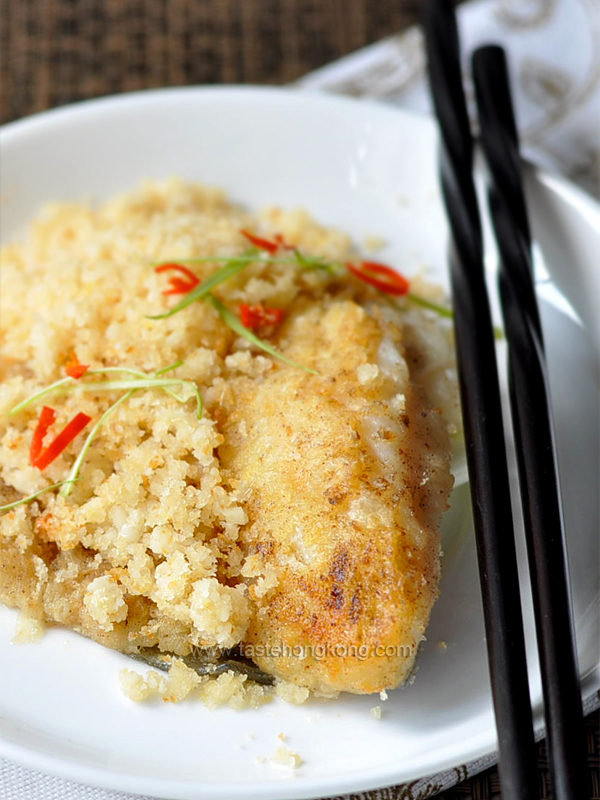 Method
Thaw and wash fish fillet, if required. Pat dry, marinade for about 15 minutes.
Heat one table spoon of oil in pan over medium heat and evenly distribute it half way on sides. Fry fish on both side until golden brown as suggested in one of my previous recipes, where you may also find some more details on pan-frying fish without sticking to pan.
Mix well soybean crumbs, chopped garlic, sugar, salt, chili flake (if using), sesame oil and one table spoon of oil. Fluff the soybean crumbs to remove any lumps. Evenly distribute the mix on an oven-safe dish, grill it in a toaster or oven till golden brown. The thinner the crumbs are distributed, the lesser the time required. (I toasted the mixed crumbs under low heat [425W], covered with foil for the first 10 minutes and stirred them halfway. Then, they were uncovered and heated for another couple of minutes.)
Serve hot, top the fried fish fillet with toasted crumbs only before serving, since the crumbs will turn softened if they sit on the fish for too long. Garnish with julienned spring onion and chili pepper.
Enjoy every morsel of fish fillet with a generous amount of crunchy crumbs.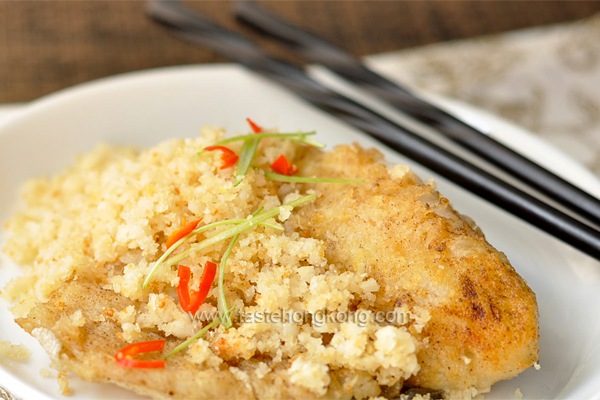 Twisted vs classic:
The authentic Hunan version seldom skips chili pepper, but I found the crumbs equally tasty though they were not seasoned with any chilies.
Making crumbs:
To make soybean crumbs or soy milk, you need to soak the beans overnight before pulsing them in a food processor.
To get immediate updates and new recipes from my blog, you may also SUBSCRIBE them via RSS feeds. See you there.