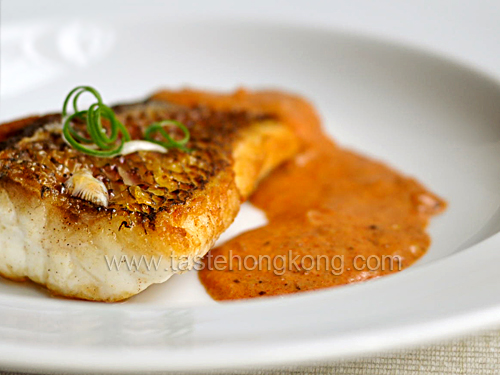 They, paprika and white pepper, have been sitting together at the same corner in my kitchen cabinet longer than I could have recalled. But I have never had any attempt to pair them like this. A few days ago, some leftover and going-to-expire fresh milk in the fridge came to my sight and that moment sparkled me to give my taste buds a challenge.

As planned, I pan fried the fish fillets, two thick, dense, frozen but nice white fish meats.
As you might have in mind, cooking this sauce is as simple as mixing a few seasonings. True though. Worth noting is that paprika is to be added toward the end of cooking so as to minimize the lost of its aroma – I read this somewhere. Corrections?
I asked because I use paprika much less frequently than white pepper and so proportional is my knowledge. But I have been loving it ever since started having it in my foods.
For white peppers, I always stock two types, ground and whole. The powdery one is often used for marinading and seasoning because it is a convenient helper for getting rid of any unpleasant smell of meats, frozen type in particular. As for corn type, though I have first to pulverize it before craving, the fresh flavors from them however are unbeatable. Here, I use both of them.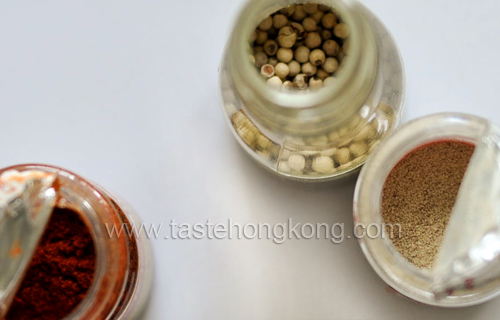 Ingredients
2 pcs fish fillet, 100g each (~1.5cm thick)
Marinades for fish
pinch of ground white pepper and sea salt, ~1/8 tsp each
Cream Sauce
2 cloves of shallots, finely chopped
150ml fresh milk
2 tsp paprika
1/2 tsp coarsely ground white pepper
1/4 tsp salt
1/4 tsp sugar
1 tsp corn starch and 2 tsp water for thickening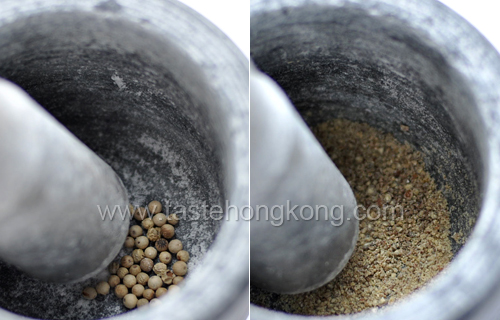 Method
Preparing fish fillets
Defrost, rinse, pat dry fish fillets, and have them marinaded with sea salt and ground white pepper, 10 to 15 minutes .
Heat oil in wok over medium heat and evenly distribute it half way on sides (i.e. oil an area sufficient for accommodating the fillets) . Once again, do make sure the fillets are not wet otherwise pat it dry again because moisture will prevent them from turning crispy and golden. As oil just starts smoke lightly, gently lay the fillets on the thin layer of of oil. Leave the meats as they are (actually they can't be moved as it is usual that they get stuck to the wok once in contact with it). Lower the heat to medium low. As the first side turn golden brown and done, 4 to 5 minutes, the fillet will more or less be 'released' from the wok, which makes turning to the other side easy. Simply put, when done properly, a fish fillet should not get stuck to the wok after-fried, but the pre-requisite is that the oil must be heated enough.
Repeat doing the same for the other sides of the fillets. Dish up when done and arrange fillets on plates. You might have noticed that I haven't dusted any corn starch or flour to coat the fish because I don't want the wok to get dirts from the fried starch. So doing, the wok can be used for making the sauce without the need of cleaning or switching to another pan or wok. Yet, I'm pretty satisfied with how the meats turn out.
Preparing cream sauce
Before frying the fish, pulverize white pepper corns with a pestle and mortar.
In the same wok, in which some oil remains (if not, add in half tea spoon of oil), sauté chopped shallots till fragrant, then pour in milk, sugar and pulverized white pepper, stir to avoid sticking. As the mixture boils, add in paprika, mix well and thicken with corn starch paste; remove from heat. Done! Serve hot. Pour cream sauce over fish fillets when served.
To get immediate updates and new recipes from my blog, you may also SUBSCRIBE them via RSS feeds. See you there.