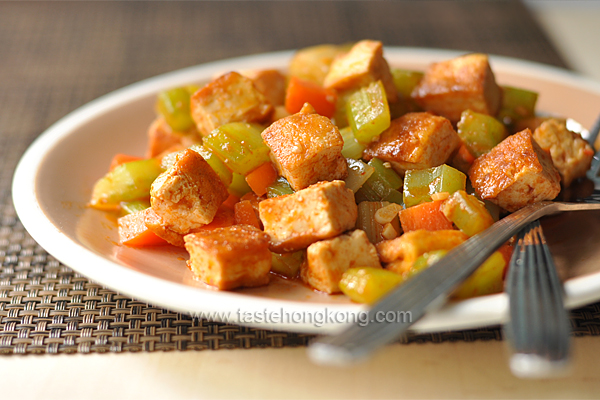 Tossed with a bit of oil, and seasoned with some salt and pepper, fried tofu to me is already a great appetizer or starter.

Yes, I like serving tofu on its own. However, to prepare for a simple dinner (Chinese style), I always love to add another dish of vegetable and/or meat to go with rice. Greens are almost a must on our dinning table, and considered that we just had have much protein from Mapo Tofu the day before, so is this easy mixed stir-fry.
Once the celery and carrot are sauteed enough with garlic, add tofu cubes, making sure all ingredients are well tossed with the sauce, and simmer for just a minute or two. After cooking in the sauce infused with garlic and chili flavors, this meatless dish you cooked will be alive with color and aroma.
The chili sauce adds heat, the tofu contrasts the crunchiness of celery and carrot, giving the dish an interesting personality.
Hardly could I categorize this dish because I could too enjoy it as a warm salad, or as a side dish with rice. Maybe you could consider splitting your fried tofu for two recipes.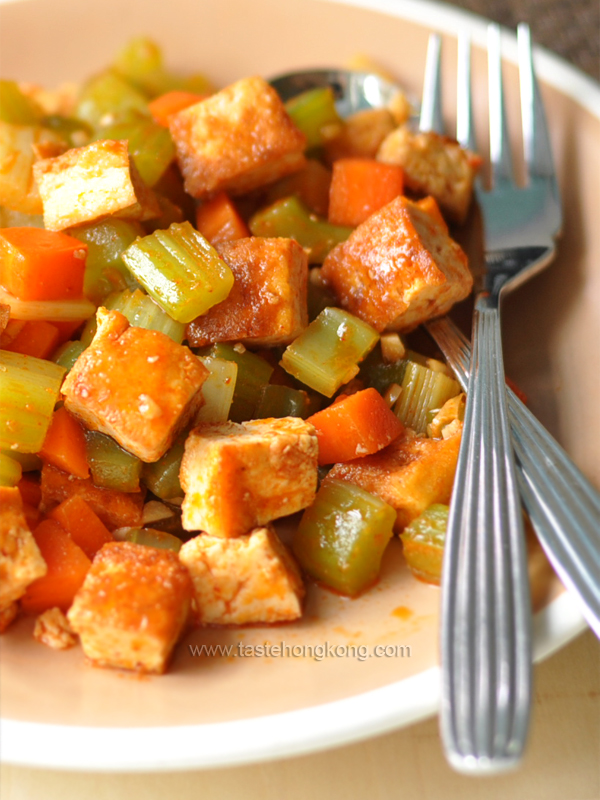 Ingredients
~300g firm tofu
4 celery stems
1/2 carrot
3 cloves garlic, coarsely chopped
1-2 tbsp cooking oil (I used coconut oil)
Seasonings
2 tsp chili sauce, I used Korean type
1 1/2 tsp soy sauce
1/2 tsp sugar
4 tbsp water
1/4-1/2 tsp sea salt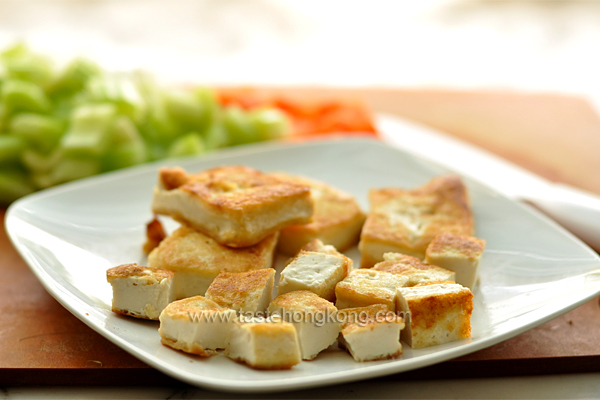 Method
Wash celery stems, peel and trim away the aged fibrous skin as we did for this dish. Cut into about 1 cm cubes. Peel and cut carrots into similar dices.
Prepare and pan-fried tofu (tricks and step-by-step photos available here). Slice into about 1 cm cubes.
Heat oil in wok or pan over medium heat, sauté garlic until fragrant. Toss in celery and carrot, stirring to coat them with oil. Mix well ingredients for sauce (except salt) and pour in; add tofu. Cook, turning constantly, to your desired tenderness, about 2 minutes or until the sauce clings to the foods. If you want the vegetables to be more tender, cover and lower heat to simmer another minute or two (add more water if required).
Sprinkle in salt according to taste. Stir well, dish up and serve hot.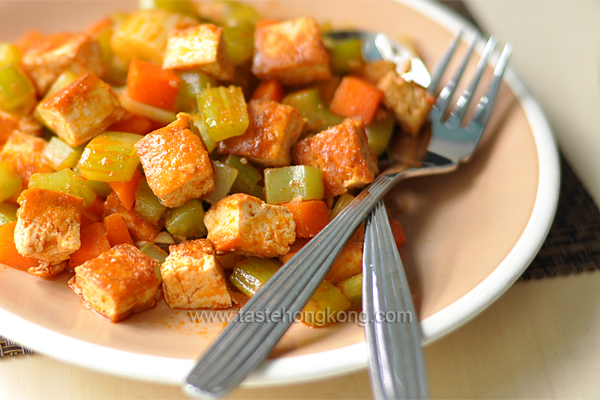 Enjoy!
To get immediate updates and new recipes from my blog, you may also SUBSCRIBE them via RSS feeds. See you there.