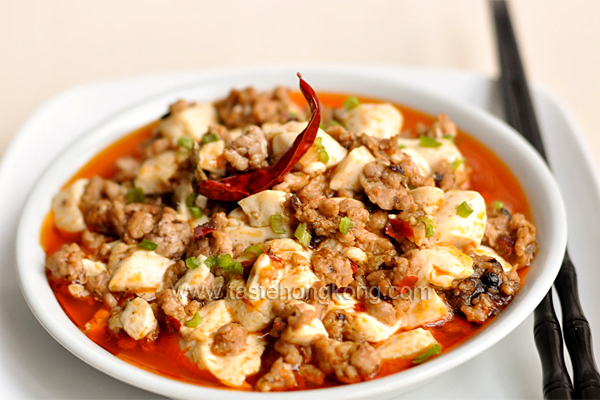 Typical of the Sichuan (四川) cuisine, mapo tofu (麻婆豆腐) is a dish also typical of what I like about the foods of this province in south-western China.
To describe the numbing and spicy tastes of this dish, we specifically term them in Chinese as ma-la (麻辣). Perhaps the tongue-numbing flavor (ma 麻) from peppercorns is so distinctive and unique that it is never said in reverse order, la-ma.
Learned to eat the hot Sichuan dishes for ages, regrettably, when it comes to mastering the degree of spiciness in mouth, I believe I am still a beginner. Here I have tried to stretch my limits to include the right amount of chili pepper and chili paste, but still, I believe there should be room to multiply the heat level for chili lovers.
This dish is also known as Pock-marked Grandma's Beancurd or Pock-marked Lady's Chen Dou Fu, a name said to reflect its creator as told in a folklore below.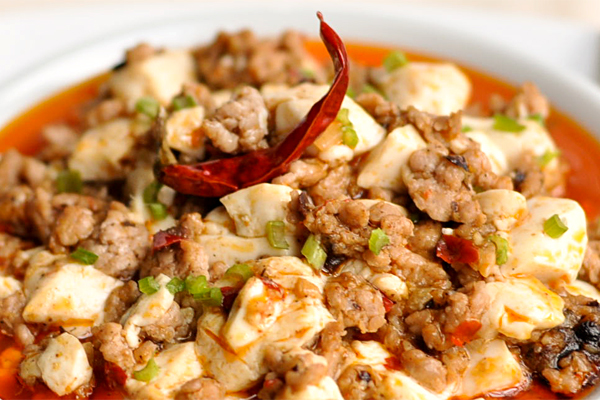 Ingredients
2 pcs soft tofu (aka beancurd or dou fu) , ~200g
100g ground pork (or beef)
2 tsp Sichuan peppercorns, grounded
2 dried red chilies, 1 coarsely chopped, 1 for garnishing
1 tsp finely chopped garlic
1 tsp finely chopped ginger
1/2 tsp fermented black bean, mashed
1 tbsp chili bean paste, I used the same one for Hot and Sour Soup
2 tbsp oil for frying
potato flour or corn starch paste (1/2 tsp flour : 2 tsp water)
1 tsp coriander or spring onion, finely chopped
Seasonings
1/2 tsp soy sauce
1/2 tsp sugar
1/4 tsp salt, or to taste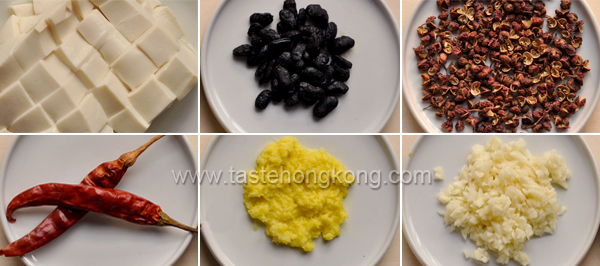 Marinades for pork
1/4 tsp salt
1/4 tsp ground white pepper
1/4 tsp wine
1/4 tsp corn starch
1/4 tsp oil
Salted water
1 tsp salt
4 cups water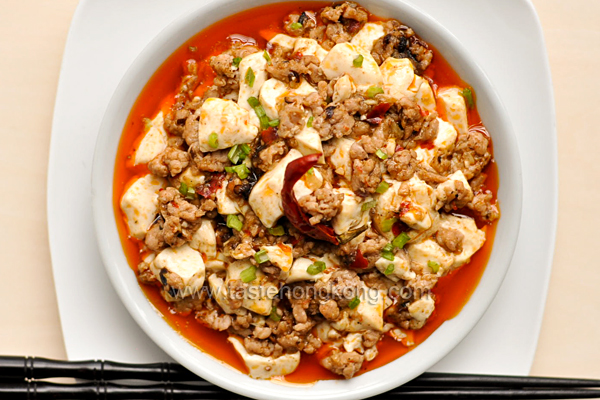 Method
Marinade ground pork and let it stand for about 15 minutes.
Dice tofu into about 1cm cubes. Bring salted water to a boil, add diced tofu.
When water boils again, keep simmering over low heat for another 1 minute. Drain tofu.
Over medium flame, heat oil in wok. Brown garlic, ginger first and then add in fermented black beans, dried chilies and chili bean paste. Sauté until fragrant, about half a minute.
Toss in marinated meat; mash any bigger meat lumps while stir-frying (sprinkle in 2 to 3 table spoons of water if you find it a little bit dry). When the pork is almost done, gently place in drained tofu. Turn to low flame, carefully flip and turn with a turner rather than fiercely stirring them to avoid breaking up tofu. Add peppercorns, seasonings, and gently mix well.
Thicken with potato flour or corn starch paste. Sprinkle in coriander. Dish up, garnish with chili pepper. Serve hot.
Enjoy!
Tip
Toast the peppercorns in oven or toaster in low heat until fragrant before grounding. In case the peppercorns are a bit gritty after grounded, sieve them first.
Why Pock-marked Chen's Tofu?
In the 19th Century, a lady and her husband Chen ran a tofu shop in Chengdu, capital of Sichuan, where many oil traders passed through. Oil porters had enjoyed Chen's various inexpensive dishes made of tofu yet were also tired of them as time went by. One day, a porter brought Chen a good amount of oil and asked her to cook a different dish … With some handy ingredients including chili peppers, peppercorns, fermented black beans, and grounded beef, the lady owner thereby cooked another dish with tofu. That tofu dish had become so famed that it was then named after her, Ma Po (麻婆) because the small pocks on her face in Chinese was abbreviated as 'Ma' and 'Po' was loosely used to called older women.
However, the 'Ma' here has no relation with the numbing 'ma'.
To get immediate updates and new recipes from my blog, you may also SUBSCRIBE them via RSS feeds. See you there.