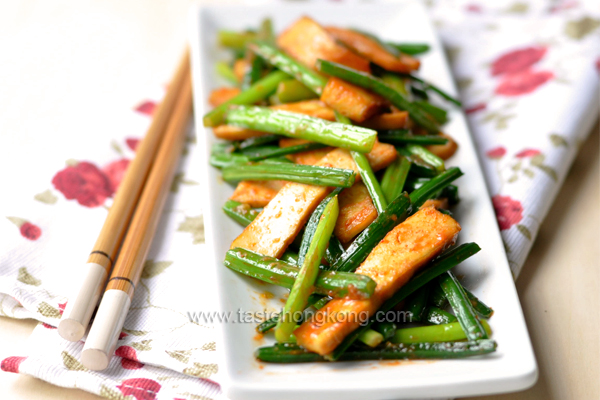 I notice that I have not cooked garlic chives for a while.

Before the weather started to get warmer, there was always an overwhelming choice of leafy greens in the market. That scene however has gradually changed recently, probably giving us an early notice that the spring is going to end soon.
Bok choy 白菜 and choy sum 菜心, two of my favorite vegetables, are still around. It is just that they do not look as vibrant and handsome as before.
On the day I was shopping for some fresh ingredients for making a quick, meatless meal, the crisp-looking garlic chives stood out among her other veggie relatives, and without a second thought, I brought them home and made this dish, almost in minutes.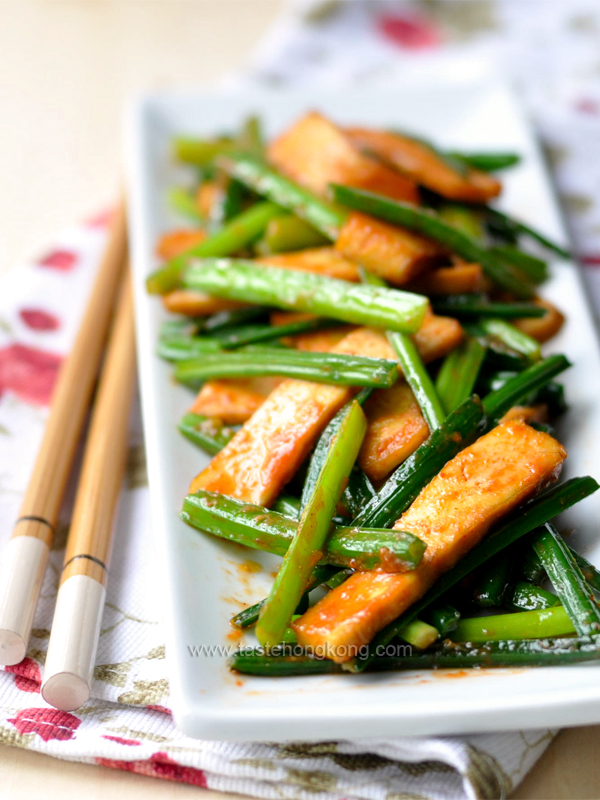 Cooking garlic chives is pretty straightforward. Sometimes, however, their lower ends maybe a bit fibrous to chew. So, before sectioning them by knife, I'd bent them by fingers and discard those sections that do snap not easily (which means it is not crisp enough).
Like other simple Asian vegetable dishes, garlic chives can be quickly stir-fried on its own. To supplement my meal without meat, I have paired them with sliced dried tofu and coat them lightly with a savory sauce.
Ingredients
300g Chinese garlic chive
2 pcs dried tofu (same as the ones for Double Cooked Pork)
1-2 tbsp cooking oil
Sauce
2 tsp chili bean paste
1/4 tsp sugar
1/2 tsp soy sauce (or oyster sauce)
1/4 tsp salt or to taste
use soy sauce than oyster sauce for vegetarian or vegan style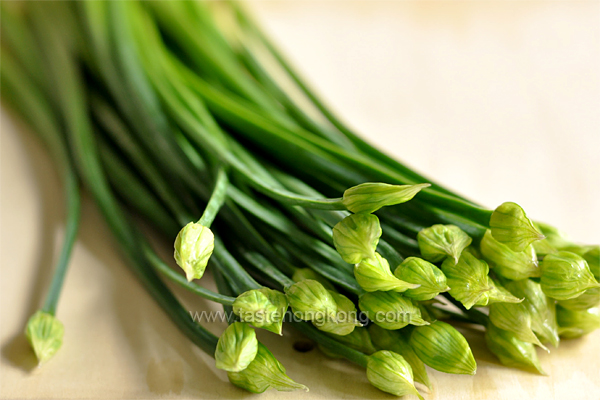 Method
Wash dried tofu (same ones as here) , pat dry and thinly slice them into about 2mm thick.
Wash garlic chives, drain dry. Bent their lower ends one by one, about half to 1 cm in length. If it does not break easily, bent one more centimeter or two until the end snaps.
Cut chives into 4 to 5 cm sections (you may keep the buds at the upper end, but for stir-frying I'll usually remove them, which may then be used for making a paste – more or less like herbs).
Mix ingredients for sauce, and set aside.
Heat the oil in a wok over medium heat. Add the sliced dried tofu and stir-fry for about half to 1 minute. Toss in garlic chives, turn heat to high, and again stir-fry for about half (if you want the chives to be crunchier) to 1 minute. Pour in sauce, keep stir-frying to coat both the tofu and chives evenly.
Dish up, serve hot.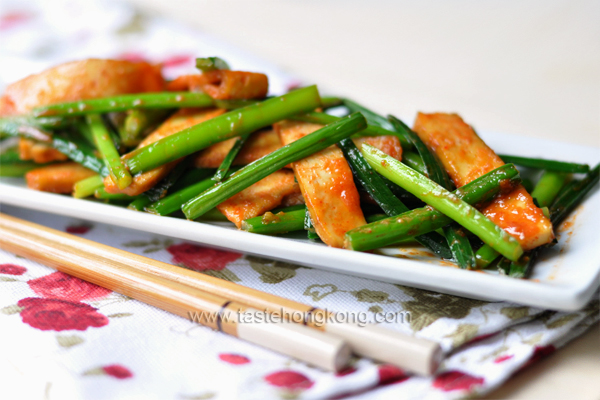 Enjoy!
To get immediate updates and new recipes from my blog, you may also SUBSCRIBE them via RSS feeds. See you there.