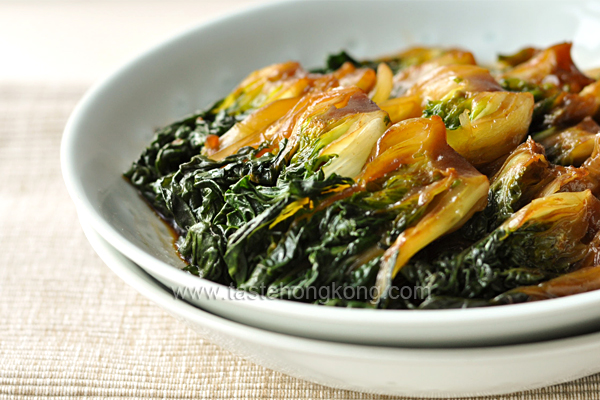 This cooked vegetable tastes so nice that I think you may not believe it is nothing but only bok choy (白菜), dark soy sauce and sugar simmered together with water and oil.

The braising is also unbelievably easy. Boil sauce, sit vegetable in pot, adjust heat and, time. From boiling to simmering, all it takes is about 10 minutes or so!
While it is quick to prepare, enrichment is also simple. Just dump a few pieces of crashed garlic and/or ginger into the sauce, you can then easily have the vegetable come with more flavors.
Here, I keep this homey Shanghainese dish most basic. Perhaps I'm in the mode of multi-tasking myself: thinking to make the turnip cake, the water chestnut cake and maybe to catch up another custom for the Chinese New Year – have a haircut.
We are just nine days away from the Chinese New Year, have you started counting down for the Rabbit Year to come on February 3?!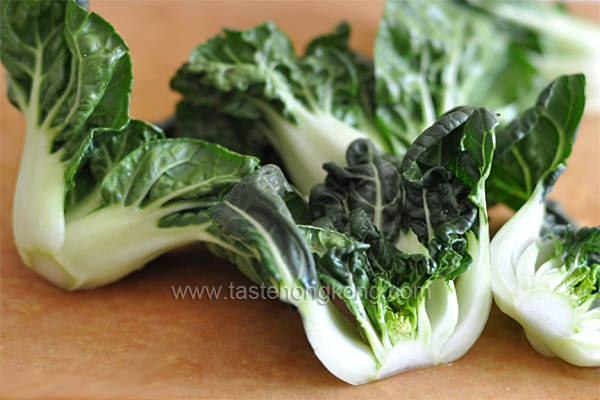 Ingredients
300g bok choy
2 tsp dark soy sauce
1 tsp brown sugar
2 tsp oil
1/2 cup water
1/4 tsp salt, or to taste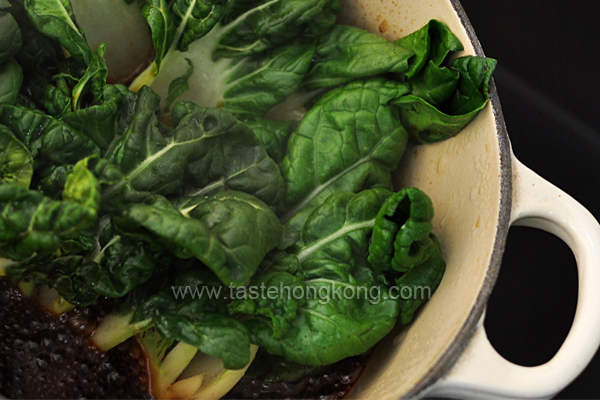 Method
Soak whole pieces of bok choy in sink with sufficient water for about half an hour. As we are not going to cut off each stalk one by one, soaking makes dirts come out between leaves. Swish them in water and change water until clean. Give each bok choy the last rinse under running water if required.
Half each bok choy lengthwise, drain in a colander. If you have drained your vegetable to very dry, say more than an hour, you may need to increase the water amount from 1/2 cup to 3/4 cup for making the sauce.
Mix water, dark soy sauce, sugar and oil in a pot or wok. Bring it to the boil over medium heat.
Put halved bok choy in the boiling sauce, with stalks touching the sauce. Slightly press down the vegetable if required. Cover.
Turn to low flame and simmer for 5 to 7 minutes. My cast iron pot conducted and retained heat pretty well, so I checked the bok choy after it was simmered for 5 minutes. Add salt to taste and mix well (the boy choy are rather tender at this point, so be gentle if you do not want to break them). Dish up, with or without sauce, and serve hot.
Enjoy!
Note
Occasionally, I also like substituting bok choy with Shanghai cabbage (小棠菜) or napa cabbage (紹菜). Have fun with you variations!
To get immediate updates and new recipes from my blog, you may also SUBSCRIBE them via RSS feeds. See you there.