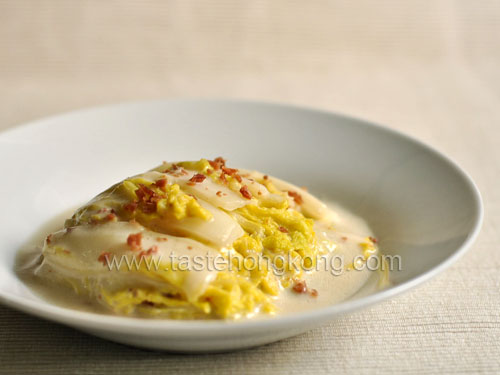 This is a popular dish of Beijing cuisine, which in Chinese is called 腿茸奶油津白.
When preparing this at home, I often apply my own preference. What I mean is to cook and flavor the cabbage predominately with ham and to coat it lightly with a creamy sauce which at the same time should not over-power the tastes of others. As such, I use no chicken stock, butter, and lard. Instead, I toast, stir-fry and then simmer the ham in the sauce to release its flavor. This might be a less oil-laden version however I find it equally flavorful.

This recipe needs only a basic technique of stir-frying vegetables. Having combined the cabbage with the ham, the seasoning and the sauce at the right time, I would say there is nothing complicated.
However, be honest, I also love to order this dish when dinning out. It is usually available at restaurants serving Beijing or Shanghai or even Sichuan cuisine, places like those I mentioned about their pork dumplings (Xia Long Bao小籠包).
Ingredients
400g Chinese cabbage
100 ml fresh milk
2 tsp finely chopped ham (I use Jin Hwa ham bought from a specialty store. If not, use any dry-cured Chinese ham which can be found in vacuum packs in groceries and some supermarkets.)
1 tsp salt
7-8 slices of ginger
1 1/2 tbsp oil for stir frying
Thickening
1 tsp plain flour
1 tbsp water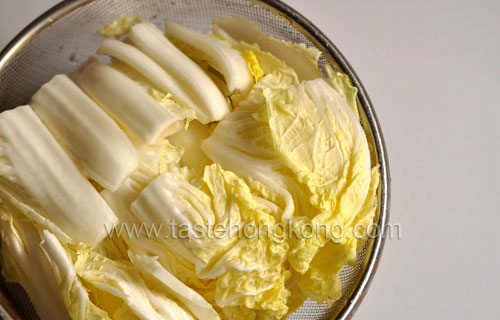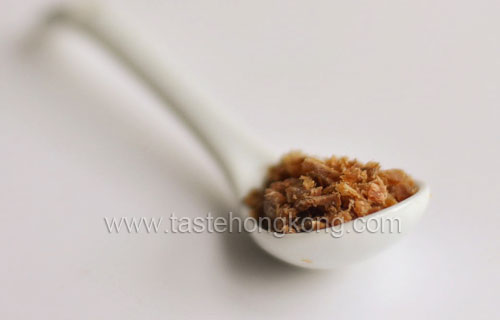 Method
Rinse cabbage, cut it lengthwise into chunks of about 6 cm in length and 2 cm in width.
To prepare the ham, rinse, pat dry, and cut it into thin slices. Then heat them in a toaster under low heat for about 4 to 5 minutes or until fragrant. Let cool a while, finely chop them. The sliced ham is relatively easier to chop than it is just out from the fridge.
Heat wok over high heat. Add 1 table spoon of oil, distribute it halfway over the sides. As soon as the oil starts to smoke lightly, put in ginger slices. With a turner, briefly stir them in oil for a couple of seconds. In this step, from heating the wok to sautéing the ginger, actually is a Chinese way of cooking for stir-frying vegetables.
Pour in cabbage chunks. Keep stirring and flipping the vegetable. In about one minute, the cabbage shall be softened a bit and start to exude water. If not, add about 1 table spoon of water. Cover lid and turn to medium heat to simmer the cabbage for about a minute. Remove lid, add salt, give a few more flips and stirs to mix it well with the cabbage. As salt is added, more water will be exuded, so act fast for the stirring. Dish up, discard water and ginger.
Add the remaining half table spoon of oil in wok. Toss in half of the chopped ham, sauté it briefly, pour in fresh milk. Over low to medium heat, bring to a boil. Return the cooked cabbage to wok, simmer for about a minute. Stir well the thickening and mix it into the sauce. As soon as the cream boils up again and thickened, remove from heat (check the taste, as the saltiness from ham may vary). Dish up cabbage and sauce, garnish with remaining ham. Serve hot and enjoy.
To get immediate updates and new recipes from my blog, you may also SUBSCRIBE them via RSS feeds. See you there.