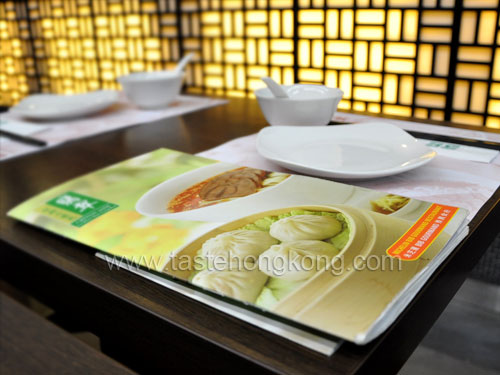 She is one of the names registered in our minds that her pork dumplings are nice. So seeing her signage, 'Crystal Jade', on the Arrival Hall, without any hesitation, hubby and I moved toward it before departing our flight to Penang and Langkwai.

At almost half past twelve, there was still no queue outside 'Crystal Jade' (on the first level of the Hong Kong International Airport aka Chek Lap Kok International Airport). We were therefore quickly seated to a small table and handed a seemingly familiar menu.
For a light lunch, we ordered pork dumplings, noodles in spicy soup with chili beef and, stir-fried rice cakes with ham and preserved vegetable. Dishes arrived pretty fast; the store was increasingly packed so I needed to pack my hand-carried baggage a bit to have it seated with me on the same chair. Foods were almost as good as we had taken in her other shops; I should be saying as good as if the stir-fried rice cakes were richer in taste and the ham accompanied them was better-fried to make it more aromatic. The dumplings are juicy and tender but two of their skins had broken though we lifted them up gently.
At a total of about HK$150, this was a satisfactory meal and was far better than those offered up in the air, at the economy class to be specific. On the soil of Hong Kong, however in my humble opinion, this Crystal Jade in the Airport has to catch up a bit if she is to live up to her name as her counterparts in town.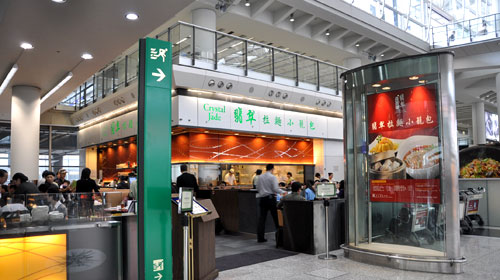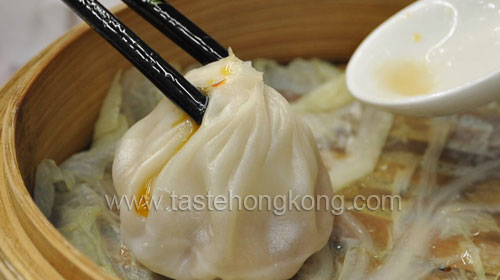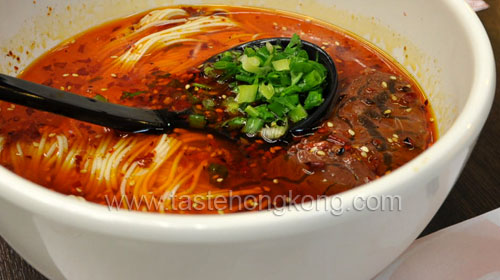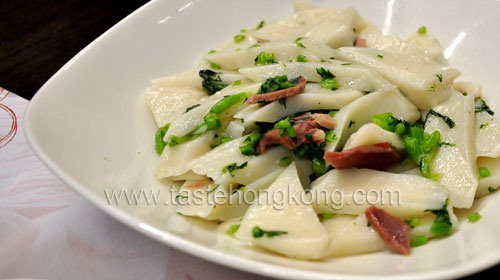 Spoiled, I am. Making these comments probably is also because I have been surrounded by abundant choices of nice pork dumplings, also known as siu lung bao in Cantonese, that is, xiao long bao in Mandarin, literally means little basket buns (小籠包). Listed here are the shops I visited most, and some opinions I wish to share.
Crystal Jade La Mian Xiao Long Bao 翡翠拉面小籠包
Address: Shop 3328, Level Three, Gateway Arcade, Harbour City, Kowloon
Tel: 2622 2699
Click here for her other shops in Hong Kong, or here to see her locations in S.E.Asia
Din Tai Fung 鼎泰豐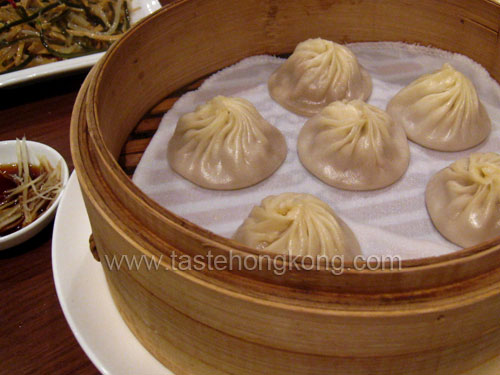 These six dumplings are not only feathery smooth but also look translucent, with a closer look, possibly you shall see a pocket of soup inside. Often than not, they drape well in spoons rather than break off near folds. However, I have always been threathened by the perennial queues outside her shop in Tsim Sha Tsui.
Address: Shop 130, 3/F, Silvercord, 30 Canton Road, Tsim Sha Tsui
Tel: 2730 6928
Click here for her other shops worldwide.
Modern China Restaurants 金滿庭京川滬菜館
I love her foods in Olympian City more than those in the Sun Shine City.
Shop UG06B, UG/F, Olympian City 2, 18 Hoi Ting Road, West Kowloon
Tel: 2910 1000
Click here for her other shops
Nanxiang Bun Shop 南翔饅頭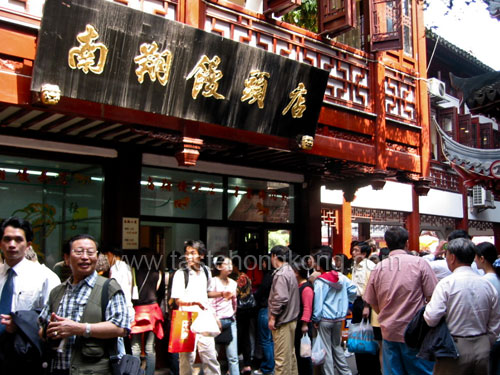 Nanxiang is a district in Shanghai, which is said to be the hometown of Shanghai-style Xia Long Bao. Do not attempt to look for an English signage for this shop because it has never come to my sight. Here is a shot I borrow from my first visit to her shop in Nanxiang, taken couple of years ago.
Now, she has opened a shop here in H.K.
Address: Shop 305-8, Causeway Bay Plaza I, 489 Hennessy Road, Causeway Bay
Tel:3690 2088
Wang Jia Sha 王家沙
Also famous for her Shanghainese dim sum, yet the quality of foods and services here appear to be a bit inconsistent. She has got another shop in Element near to Xia Mian Guan 夏麵館 mentioned next, but my experience there is minimal.
Address: G/F, Grand Tower Phase 2, 639 Nathan Road, Mong Kok, Kowloon
Tel: 2827 7833
Xia Mian Guan 夏麵館
Among all her shops, I have only tried the one located below – the shopping mall at Kowloon Station Airport Express. Give them a call at 2196 8121 if you want to find out her other shops.
Address: 1079-82 L1/F, Elements, Kowloon Station Airport Express, 1 Austin Road West, Tsim Sha Tsui
Beyond the Specialty
Apart from pork dumplings, most of these shops also serve foods of (or a mix of) the Shanghainess, Peking, Szechan styles, so you may also find their menu
– noodles in spicy sesame soup (dan dan noodles 擔擔麵),
– stir fried rice cakes (炒年糕),
– wontons in red oil (紅油炒手) ,
– braised meat balls (braised lion head 紅燒獅子頭), ….
Jump the Queue
I don't really mean to ask you to jump the queue. Fact is, these restaurants get really crowded both in and out during dinning hours. Unless you really want to kill your time, try to be there earlier (a rough guide is before 12:30p.m and 6:30pm).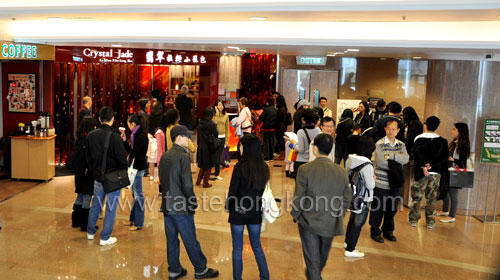 Reminder for Visitors
Eateries here relocate sometimes. I would therefore suggest that you double check your hotel concierge before visiting any one of them. In most cases, they move but still keep the same telephone numbers. So you may also try to call them to check out the situation (Modern China Restaurants in Olympia used to accept booking for her VIP room) . Once again, try to be there earlier and enjoy!.
To get immediate updates and new recipes from my blog, you may also SUBSCRIBE them via RSS feeds. See you there.