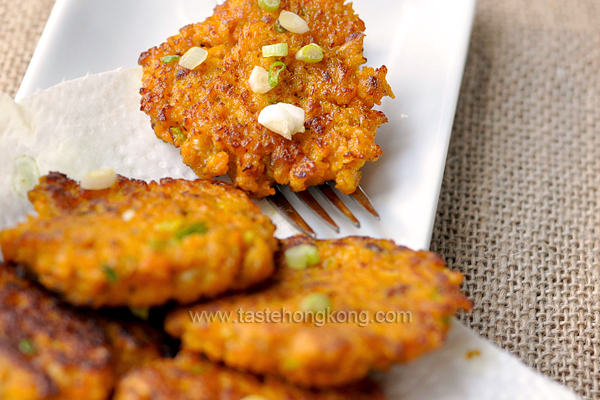 Seeing hubby finished these pumpkin patties made me glad. Although he always empties the dishes I cooked, he usually behaves in a different way toward fishes with tiny bones, sardine is one of them. He thought these are just the usual pumpkin patties I repeatedly made with dried shrimps. Should I correct him?
I have not yet decided. But I decided that these patties, rich in Omega-3, shall soon be as usual as the ones I made with dried shrimps.
I cooked the pumpkin from raw, chopping, blending and mixing everything in my food processor into a mixture for frying into patties.
No pre-cooking and mashing of pumpkin are required.
Honestly, if I were not prepared to take photo of them, I might have had a lazy tweak – use a larger pan and pour the batter into it all at once. After the down side is briefly fried, I'd send the whole pan into the oven, and grill until golden and done. Although the crust may be less crispy, that is a way I steal time from cooking, if required.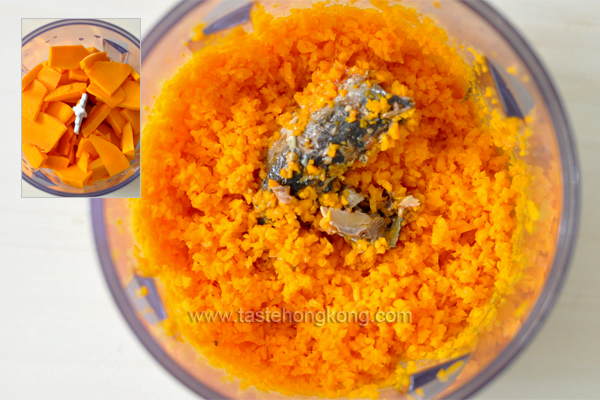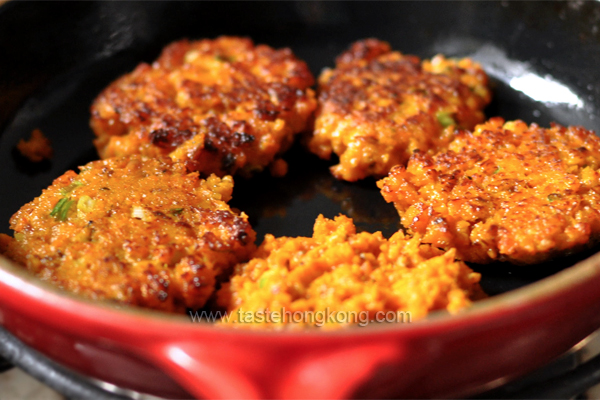 Ingredients
200g pumpkin, peeled, seeded, washed
2 canned sardine fillets
1 egg
4 tbsp plain flour
1 tsp corn starch
1 sprig spring onion, finely sliced
1/8 tsp ground white pepper
1/2 tsp salt, or to taste
1 to 2 tbsp oil for frying
yields about a dozen of patties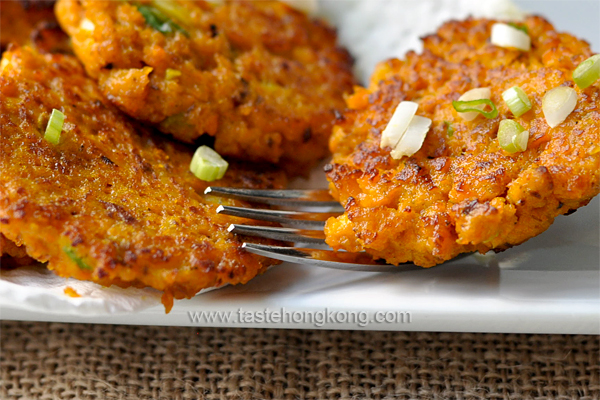 Method
Cut seeded pumpkins into wedges, and slice. Pulverize in a food process until the slices look as if they are very coarsely chopped, 15 to 30 seconds.
Season sardine fillets (drain any sauces first) with ground white pepper, and add them to the pumpkin puree. Blend them together for a couple of seconds. Then drop in egg, sieve in flours, spring onion, and salt. Mix well by a spatula.
Over medium flame, add a thin layer of oil to pan. Heat them enough (if you have doubt about how much is enough, these steps may help).
Turn to low heat. Spoon mixture, about 1 tablespoon, to the frying pan. Flatten the round peak with the back of spoon but do not move the patty, because the mixture is a bit loose at the beginning.
Fry the patties, turning once, until golden brown, about a minute to two for each side. Adjust heat as necessary for even browning. I made them in 3 batches.
Garnish with spring onion. Serve hot but let cool a while cause the patties directly from the pan is heaty.
Enjoy!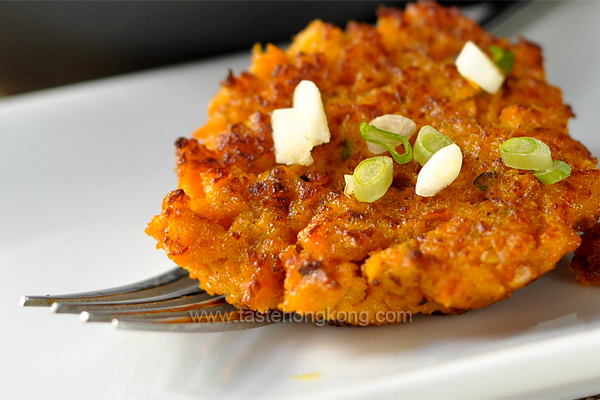 Note:
Do the frying once the batter is mixed. If you find the mixture turn thin (as salt starts to draw moisture from the ingredients), thicken it with a tea spoon or two of plain flour if required.
To get immediate updates and new recipes from my blog, you may also SUBSCRIBE them via RSS feeds. See you there.